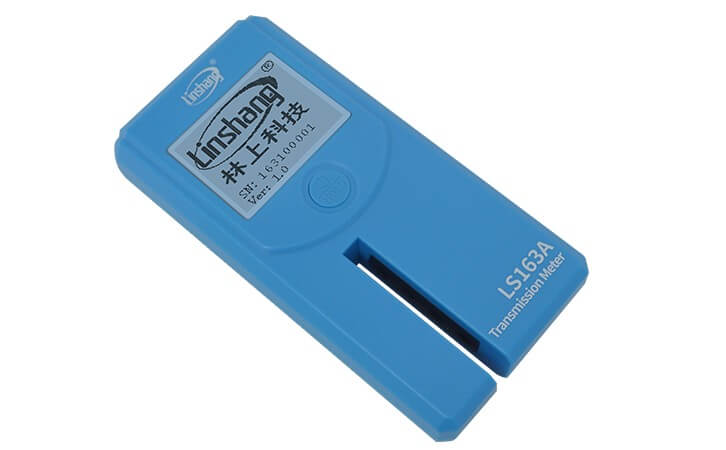 LS163A Transmission Meter
3 light source: visible light, UV and infrared
VLT/UVR/IRR, VLT/UVT/IRT and VLT, three display interfaces are available
Rotatable screen, easy reading
Suitable for testing metalic films and ceramic films
LS163A window film transmission meter is an instrument for measuring the optical properties of uniform and transparent materials such as solar film, glass with film, heat-insulating glass and automobile side windsheild glass. We can select the measurement interface to display the infrared and ultraviolet rejection and transmittance.
Video
LS163A Transmission Meter Feature Video
Application
LS163A window film transmission meter is mainly suitable for various solar film, glass manufacturers, car 4S shops, car beauty shops and other occasions. In addition to solar film and heat insulation film, it can also be used to measure various stick-film glass, automobile side glass and PC materials.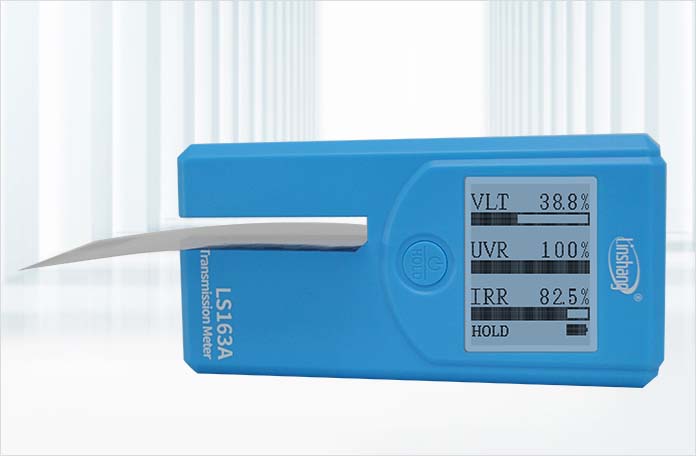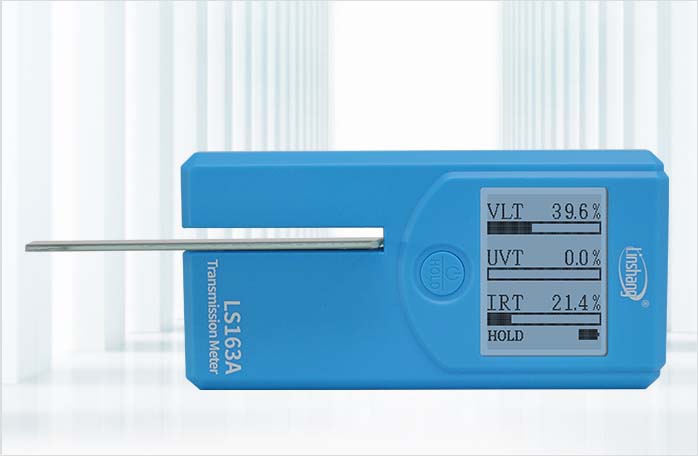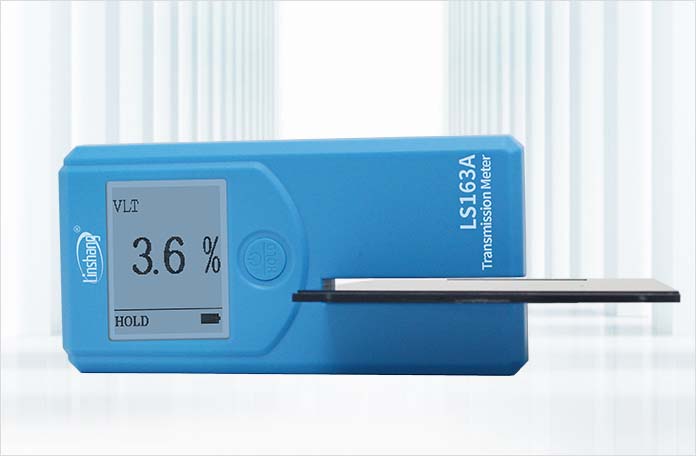 Parameters
| Parameter | Value |
| --- | --- |
| UV Peak wavelength | 365nm |
| IR Peak wavelength | 1400nm |
| Visible light | 380-760nm, conform to the CIE photopic luminosity function |
| Accuracy | ±2% (Colorless and transparent material) |
| Resolution | 0.1% |
| Test Slot | 6mm *58mm (W*D) |
| Dimension | 146 mm ×73 mm ×24 mm (L*W*H) |
| Display | 128*128 Dot matrix LCD |
| Weight | 187g (Include Batteries) |
| Power supply | 4*AAA alkaline batteries |

Easy to operate, fast measurement speed and instant display
The solar film transmission meter has only one button. The three test results will be displayed on the interface immediately after putting the materials into the test slot
Parallel light path, side windshield can be tested
The LS163A Transmission Meter boasts parallel light path design, with a test slot wide 6mm, the instrument can also test large thickness materials such as car side windshield
Humanized design, Rotating display interface
The display interface can be rotated in 4 directions adaptively, which is convenient for reading data when testing at different angles
Real-time automatic calibration function
The LS163A solar film transmission meter has real time dynamic calibration function , the meter will make self-calibration after powering on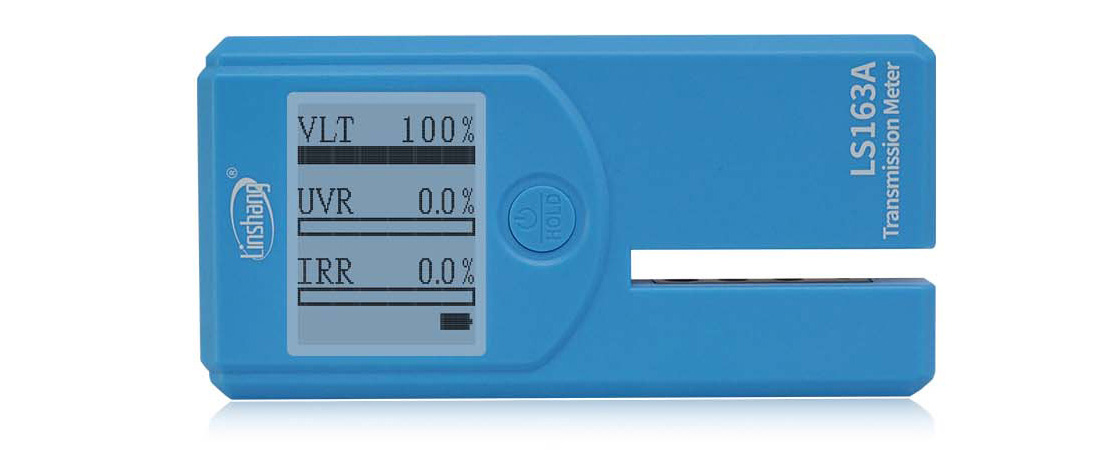 Three display interfaces available
We can set the display interface as UV and IR rejection rate, light transmission rate or light transmittance
Lock testing datas by pressing "Hold" button
The window film transmission meter has data lock function. Press the "Hold" button after testing, the data will remain on the interface after taking away the tested materials
Compact and portable
The window film transmission meter has small size with anti-slip design convenient for holding or carrying out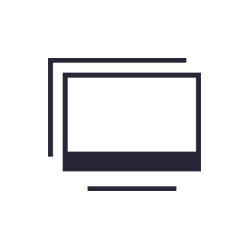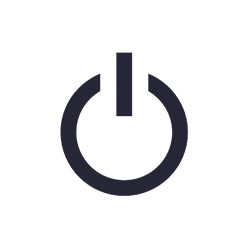 Qualifications and Standards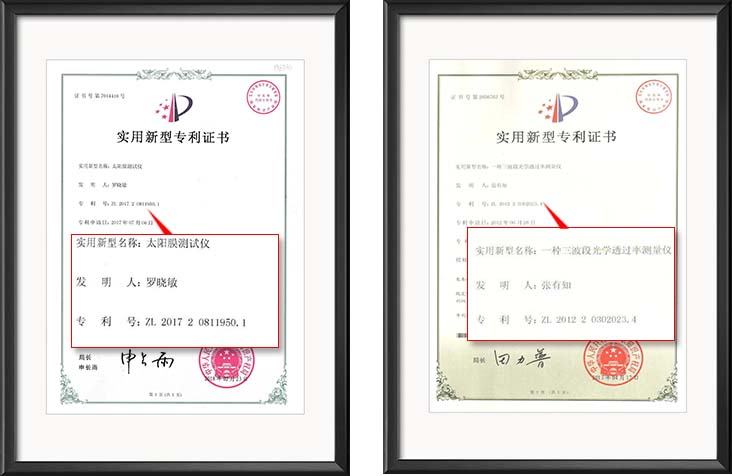 Packing
| No. | Description | Quantity | Unit |
| --- | --- | --- | --- |
| 1 | LS163A Transmission Meter | 1 | set |
| 2 | User Manual | 1 | pcs |
| 3 | AAA Battery | 4 | pcs |
| 4 | Certificate / Warranty Card | 1 | pcs |
| 5 | Drawstring Bag | 1 | pcs |
| 6 | Packing box dimension 18*13*5 cm(L*W*H) | 1 | pcs |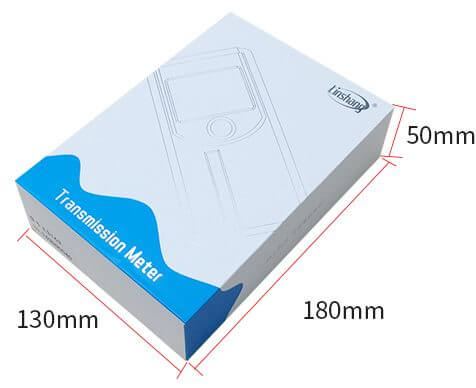 FAQ
1. The difference between LS163 (940nm) and LS163A (1400nm) window film transmission meters

The main difference between LS163 and LS163A is that the peak wavelength of the built-in infrared light source is different, LS163: 940nm, LS163A: 1400nm. These two wavelengths are more representative, most of the absorption film has a better rejection effect at 940nm. The metallic film (insulation by reflecting heat) has a better rejection effect at 1400nm. Please choose the appropriate model according to your own film.

2. What are the advantages of LS163/LS163A over previous window film transmission meters?

The screen can rotate in four directions; 

Three display interfaces can be switched: 

1) UV rejection, IR rejection, VL transmittance

2) UV transmission, IR transmission, VL transmittance

3) VL transmittance
Your product information request
Please let us know your requirements and we will be in contact with you shortly!