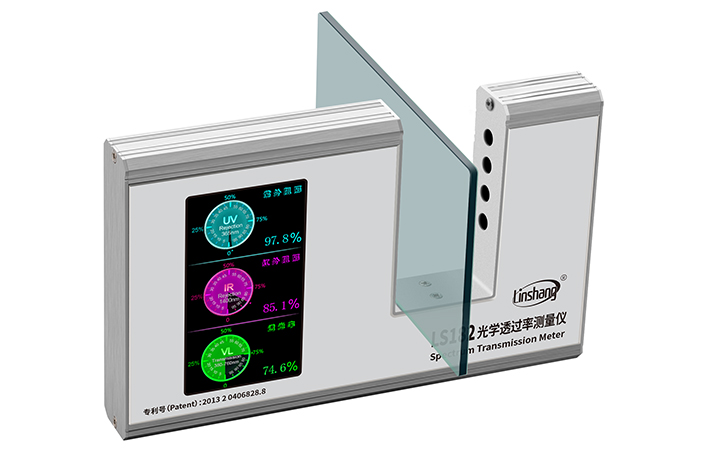 LS182 Spectrum Transmission Meter
Six parameters can be measured
Parallel optical path design allows testing of a wide range of materials with large thicknesses
Large color LCD display for easy to understand readings
Test the SHGC value
LS182 spectrum transmission meter is a device that can test the SHGC value (that is, the total solar transmittance, also called the solar heat gain coefficient), 950nm, 1400nm and Full IR rejection rate, 365nm ultraviolet rejection rate and 380nm-760nm visible light transmittance. The testing principle of the LS182 spectrum transmission meter is to use an ultraviolet light source, a visible light source and an infrared light source to illuminate the measured transparent materials. The sensor detects the incident light intensity of the light source and the light intensity passing through the materials. The ratio is equals to light transmittance which is shown in percentage. For most solar films, the visible light is marked with the transmittance index and the infrared and ultraviolet rays are marked with the rejection rate index. 
The rejection rate = 100% - transmittance
Application
The LS182 spectrum transmission meter has a wide range of applications. Due to its parallel light path and wide test slot, it can be used in the solar film industry to test solar films, laminated glass, etc., as well as various large thickness materials. The instrument is suitable for using on solar film performance exhibition, production, quality inspection, inspection and other occasions.

Parameters
| Parameter | Value |
| --- | --- |
| UV peak wavelength | 365nm |
| IR peak wavelength | 940nm, 1400nm, Full IR and SHGC |
| Visible light | 380-760nm (conform to CIE photopic luminosity function) |
| Resolution | 0.1% |
| Measurement accuracy | ± 2% (colorless and uniform transparent material) |
| Test card slot | 47mm×91mm (W*H) |
| Weight | about 590g |
| Dimension | 216mm × 134mm × 29mm (L*H*W) |
| Power supply | 5V DC/1A (Type-C) |
Six parameters can be measured
Six parameters can be measured: 365nm UV rejection rate, 940nm/1400nm/full infrared rejection rates, visible light transmittance and SHGC total solar transmittance
Large LCD screen to display
The solar film tester has large color LCD display interface which directly display the IR and UV rejection rate
Suitable for testing thick materials
The parallel light path design is used to test large thickness glass with accurate data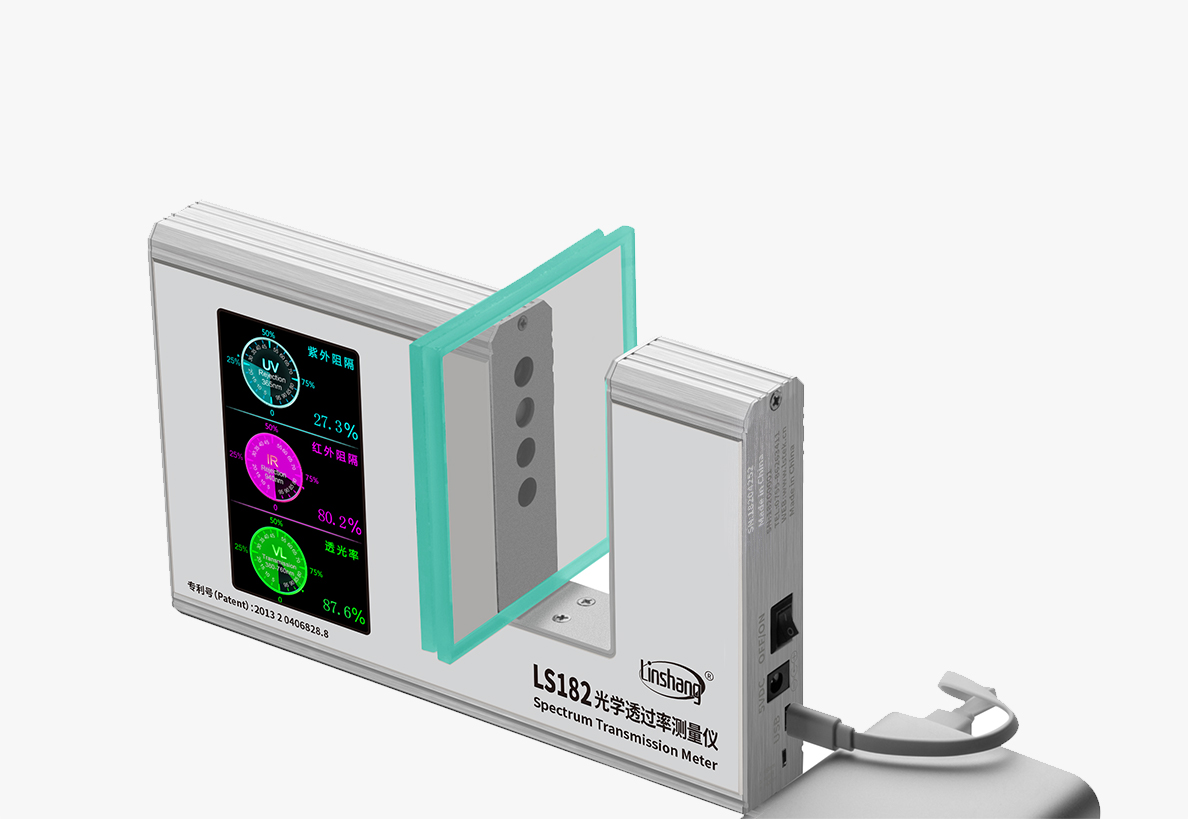 Real-time dynamic self-calibration
The spectrum transmission meter has a real-time dynamic self-calibration function, which is automatically calibrated after power-on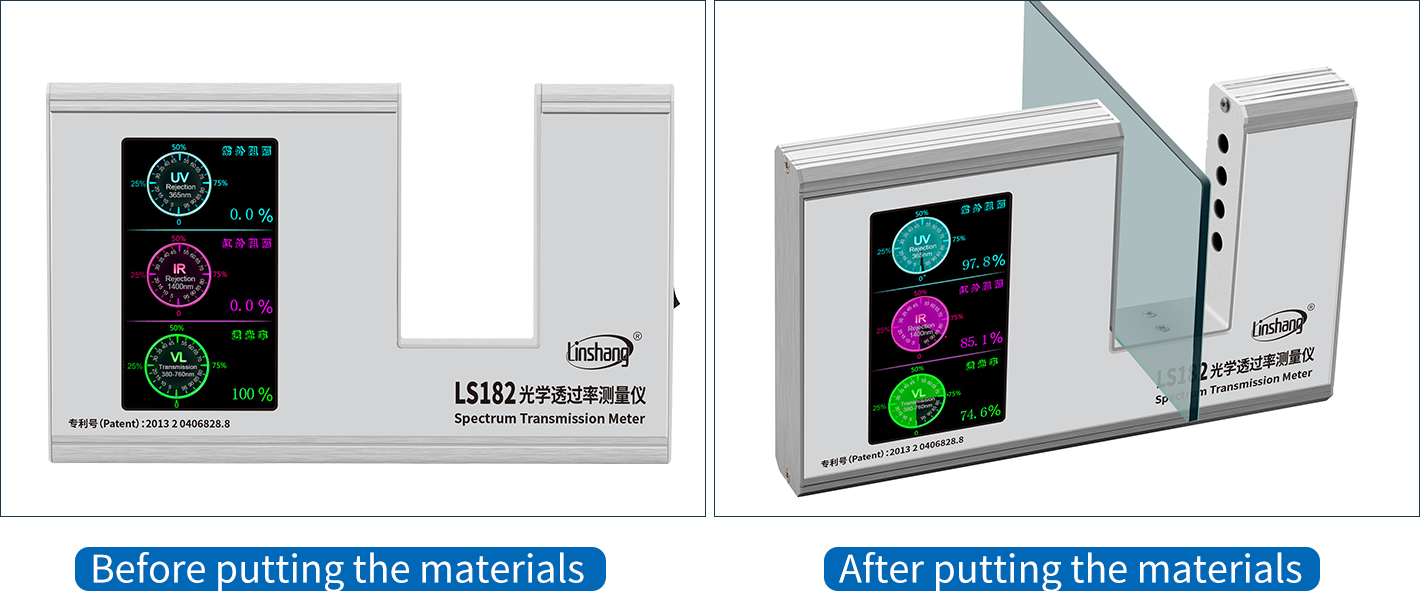 USB Type-C port for direct power connection
The SHGC transmission meter has Type-C interface which can be directly connected to mobile power
Provide a support pillar
A support rod is provided to tilt the instrument for easy reading
Qualifications and Standards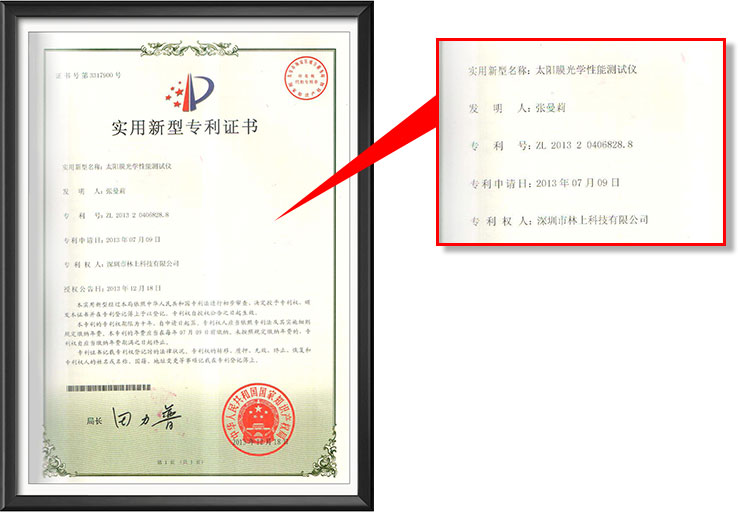 Packing
| No. | Description | Quantity | Unit |
| --- | --- | --- | --- |
| 1 | LS182 spectrum transmission meter | 1 | pcs |
| 2 | DC5V Adapter | 1 | pcs |
| 3 | User Manual | 1 | pcs |
| 4 | Certificate / warranty card | 1 | pcs |
| 5 | Support pillar | 1 | pcs |
| 6 | Packing box dimension 34*29*9 cm(L*W*H) | 1 | pcs |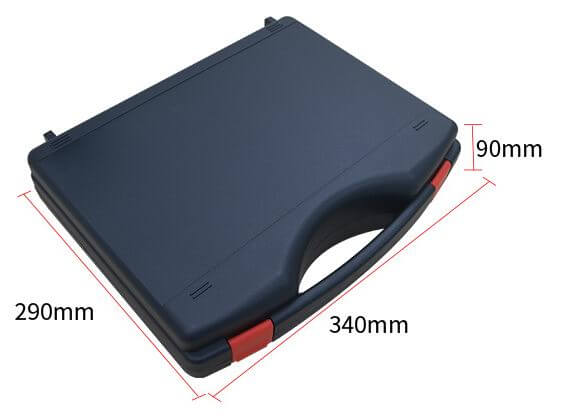 FAQ
1. Why is LS182 so expensive and what advantages does it have compared to other window film transmission meters?

LS182 can measure six parameters: UV rejection rate, visible light transmittance, infrared 940nm and infrared 1400nm rejection rate, full infrared rejection rate and SHGC. Other instruments can only measure three of these parameters, so there is a difference in price;

SHGC is the total transmittance of solar energy, through which the SC shading coefficient can be calculated;

LS182 uses a large color LCD screen, which can switch between graphic display and percentage data, making the reading more intuitive.

2. The difference between LS182 window film transmission meter and LS183 spectrum transmission meter

LS182 can measure six parameters of visible light 380-760nm, ultraviolet 365nm, infrared 940nm, 1400nm, full infrared and SHGC.


LS183 can measure visible light 380-760nm, ultraviolet 365nm, infrared 940nm.
Your product information request
Please let us know your requirements and we will be in contact with you shortly!