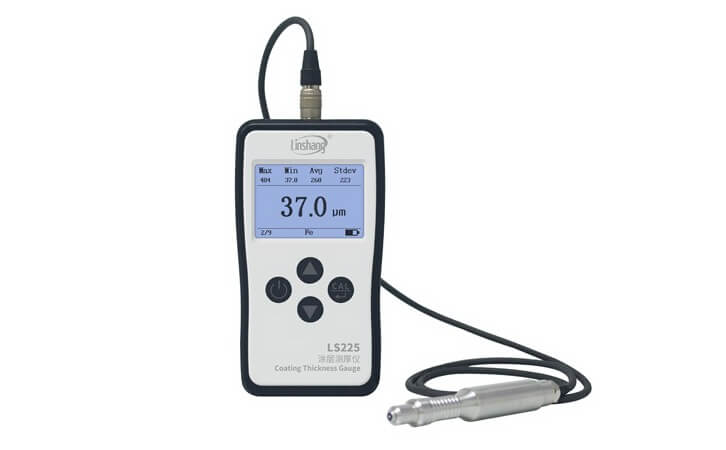 LS225+F500 Plating Thickness Gauge
Ultra-thin plating below 10μm is measurable
Adopt digital oscillation technology
Test fixture optional
Support 1-5 points calibration
LS225+F500 is a plating thickness gauge with separate host and probe. It consists of LS225+F500 multi-probe coating thickness gauge host and F500 probe.
LS225+F500 plating thickness gauge is specially used to detect copper, zinc, tin, chromium and non-magnetic coatings on iron and other ferromagnetic metal substrates. The plating thickness gauge has ultra-high measurement accuracy and repeatability. It can be used to measure the thickness of ultra-thin coatings below 10μm.
The LS225+F500 plating thickness gauge is particularly suitable for testing small-sized materials with a minimum measurement area diameter of only 7 mm. We provide professional test fixtures for users to buy, especially suitable for the measurement of thin coating thickness of small workpieces such as screws and bolts and various irregual shaped materials.
| No. | Instrument configuration | Price (US $) |
| --- | --- | --- |
| 1 | LS225 host | 158 |
| 2 | F500 | 308 |
| 3 | LS225+F500 | 466 |
| 4 | LS225+F500+test fixture | 700 |
Application
LS225+F500 plating thickness gauge is widely used in metal processing industry, hardware and other industries. The following pictures are a few examples of the practical application. (Applicable measurements are shown as following but not limited)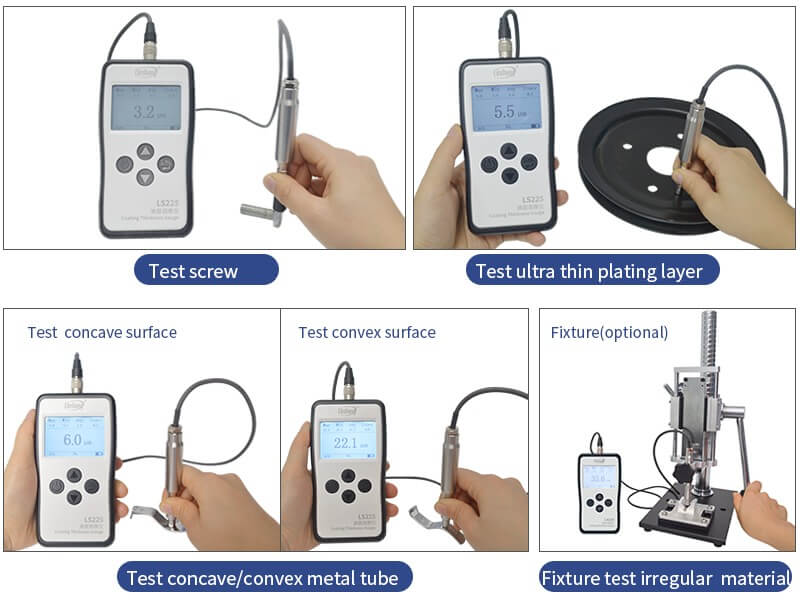 Parameters
LS225 plating thickness gauge host parameters
| Parameter | Value |
| --- | --- |
| Display | 240×160 dot matrix LCD |
| Power supply | 4pcs of 1.5V AAA alkaline battery |
| Operation temperaturerange | 0℃-50℃ |
| Storage temperaturerange | -20℃-60℃ |
| Host size | 148*76*26 mm (L*W*H) |
| Weight (include battery) | 194g |
F500 probe parameters
Parameter
Value
Measuring principle
Magnetic Induction
Measuring range
0.0-500μm
Resolution
0.1μm:(0μm - 99.9μm)
1μm:(100μm - 500μm)
Repeatability
≤ ± (0.8% of reading + 0.1μm)Test with fixture
Accuracy
≤±(2%reading+0.3μm) after calibration of 1-5 points
Unit
μm / mil
Measuring interval
1.5s
Minimum measuring area
Ø = 7mm
Minimum curvature
Convex:1.5mm / Concave:10mm
Minimum substrate thickness
0.1mm
Calibration
Support zero reference adjustment and 1 to 5-points calibration
Probe size
110*15 mm (Without connecting cable)
Probe weight (include battery)
81g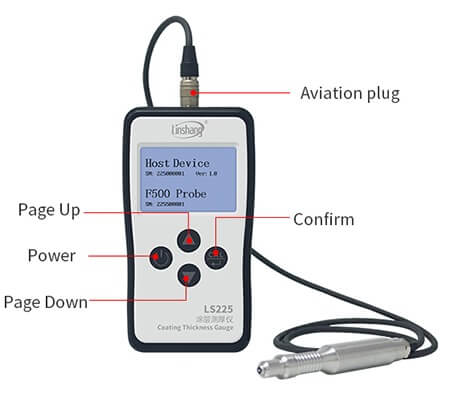 LS225+F500 Plating Thickness Gauge Characteristics
1. LS225+F500 plating thickness gauge use ultra-small probe, which is especially suitable for measuring coatings on small workpieces such as screws and bolts.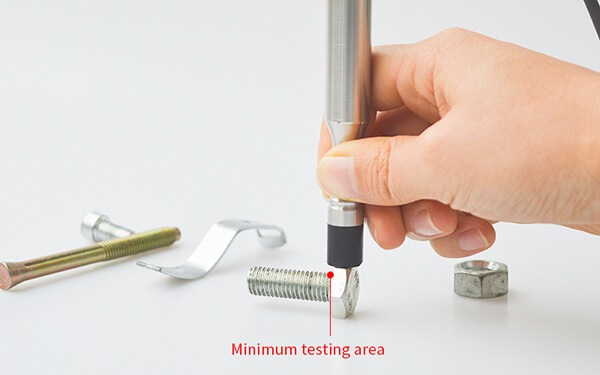 2. The probe adopts digital oscillation technology and high-speed ADC acquisition to ensure the ultra-high stability of the plating thickness gauge. It can measure ultra-thin coatings.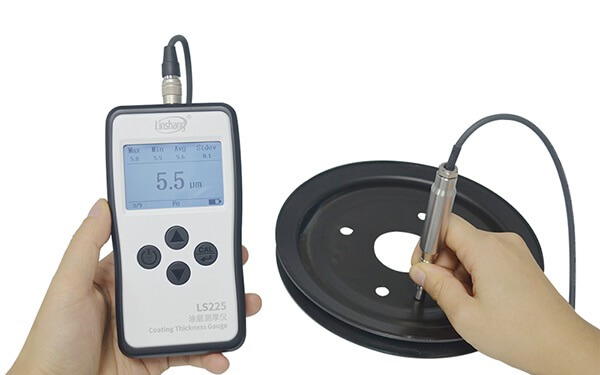 3. Using advanced digital probe technology, digital signal processing is done directly on the probe. The probe is not easily interfered and provides excellent test accuracy. Even if the temperature change does not affect the measurement, the data remains stable to ensure very good repeatability throughout the measurement process. Make sure to pass the inspection of Chinese authoritative metrology agencies.
4. Supports zero adjustment and multi-point calibration (up to 5 points). It is equipped with 7 pieces of standard films of different thicknesses. The curve can be modified according to the standard film or the actual workpiece to make the measurement data more accurate.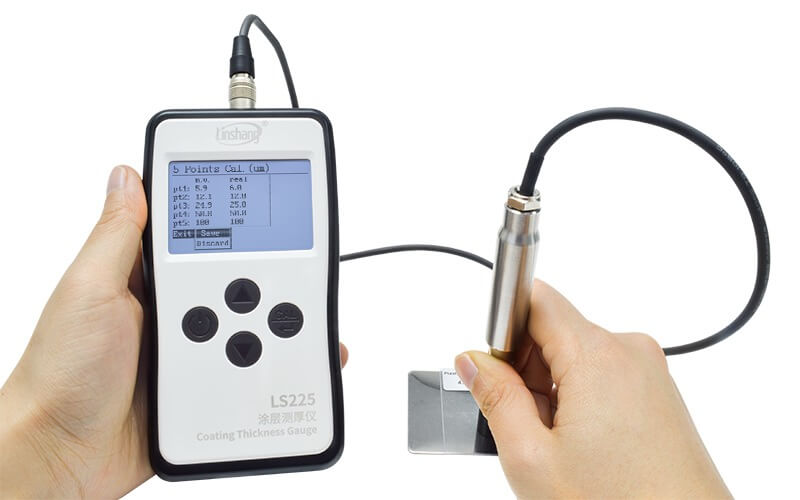 5. With data statistics function, it can store up to 9 measurement values. The plating thickness gauge can automatically calculate the maximum, minimum, average and standard deviation of the measured data.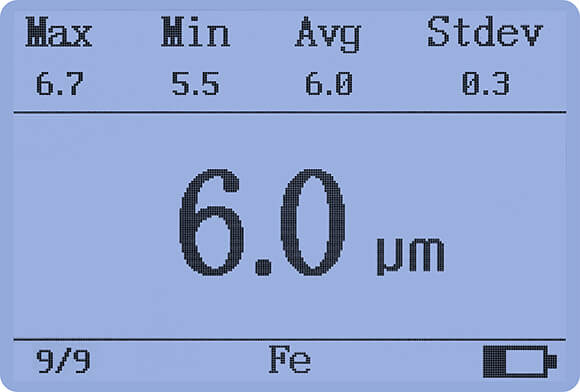 6. The hard probe ensures long-term effective use of the instrument.
7. Dedicated test fixtures are provided for users to purchase, which can make the measurement more convenient and eliminate the measurement errors caused by human factors.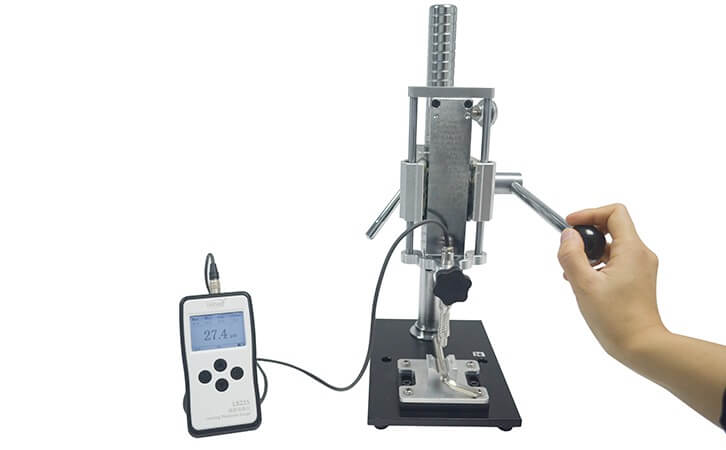 8. Two languages can be switched -Chinese and English and two units can be switched(μm and mil). Customers can set the auto-off time within 1-9 minutes without any operation.

Qualification and Standards
1. LS225+F500 plating thickness gauge conforms to the following standards:
GB/T 4956-2003 Non-magnetic Coatings on Magnetic Substrates-Measurement of Coating Thickness-Magnetic Method

DIN EN ISO 2808 Paints and Varnishes-Determination of Film Thickness

JJG-818-2005 Verification Regulation of Magnetic and Eddy Current Measuring Instrument for Coating Thickness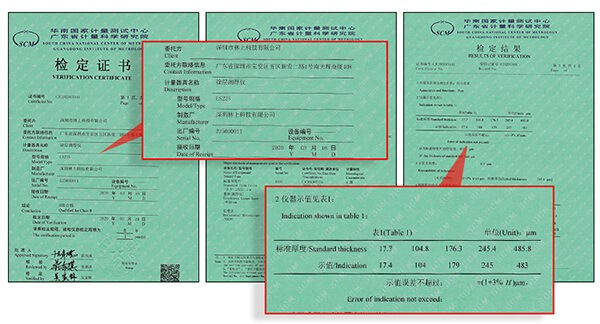 Packaging Details
| No. | Description | Quantity | Unit |
| --- | --- | --- | --- |
| 1 | LS225+F500 Plating thickness gauge | 1 | pcs |
| 2 | F500 probe | 1 | pcs |
| 3 | Fe zero-adjustment plate | 1 | pcs |
| 4 | Standard films | 7 | pcs |
| 5 | User manual | 1 | pcs |
| 6 | Certificate / Warranty card | 1 | pcs |
| 7 | 1.5V AAA alkaline battery | 1 | pcs |
| 8 | Plastic engineering case | 1 | pcs |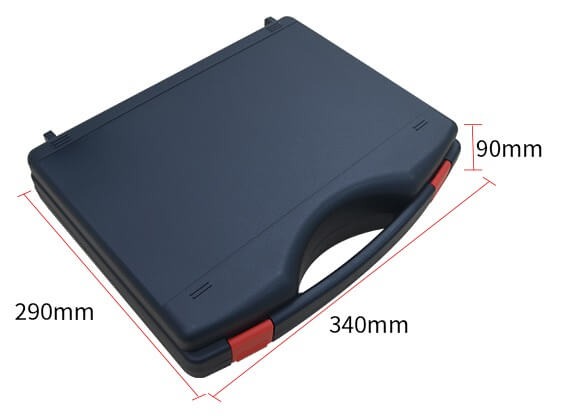 After-sales Service
The plating thickness gauge has one-year warranty. If the gauge works abnormally, please send the whole digital paint thickness gauge to our company for maintenance

Provide users with spare parts and lifelong maintenance services

Provide the users with the meter inspection service

Free technical support for long term
Your product information request
Please tell us a little about yourself and one of our salers will be in touch shortly.
FAQ
1. The difference between LS225 and other coating thickness gauges

Compared with several other coating thickness gauges, LS225 has higher measurement accuracy and data repeatability. With a special test fixture, it can be used to accurately measure ultra-thin coatings below 10μm, small size and special-shaped workpieces. It supports zero adjustment and multi-point calibration. The measurement results can be more accurate after calibration through standard films or uncoated workpieces.

If you want to know more about the Linshang coating thickness gauge, Please click "Coating Thickness Gauge Selection and FAQ".
Recommened Products
● External cable probe and wear-proof ruby probe tip
● Measure coating thickness on ferromagnetic and non-ferromagnetic metal substrates
● Measurement range: 0.0-2000μm
● Accuracy: ≤±(3% reading+2μm)
● No calibration, one button, easy to carry and operate
● Measure coating thickness on ferromagnetic and non-ferromagnetic metal substrates
● Measurement range: 0.0-2000μm
● Accuracy: ≤±(3% reading+2μm)
● Measure coating thickness on ferromagnetic and non-ferromagnetic metal substrates
● Measurement range: 0.0-3000μm
● Accuracy: ≤±(3% reading+2μm)
● Suitable for measuring thick anticorrosive, fireproof coating, etc