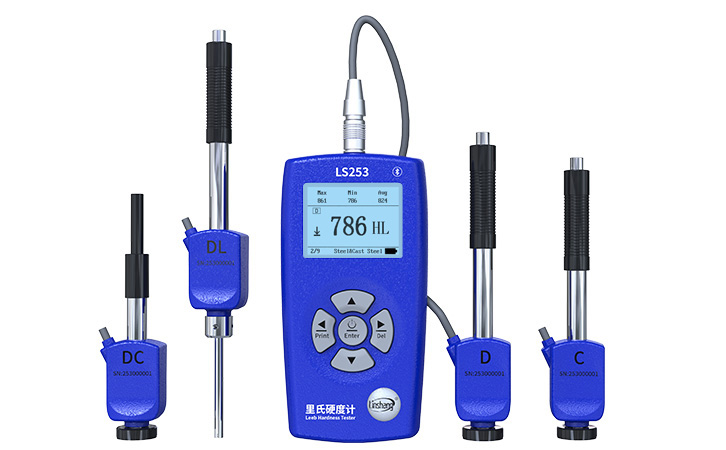 LS253 Multi-probe Leeb Hardness Tester
Support D\DL\DC\C four kinds of impact devices
Optional bluetooth wireless printer to quickly print measurement results
Double-coil digital probe, accurate measurement
Automatic switching of various hardness standards, eliminating the cumbersome manual table lookup
Built-in orientation sensor and 360-degree impact mitigation for the probe
LS253 is a split-type Leeb hardness tester. The probe and the host are connected by aviation plugs, and the host is capable of automatically identifying the impact device. The instrument adopts advanced digital double-coil probe technology, which provides precise measurement results and great interference-resistance. Providing a variety of hardness scales , such as Leeb scale (HL), Vickers scale (HV), Brinell scale (HB), Shore scale (HS), Rockwell scale (HRA/HRB/HRC), and they can make a mutual conversion to avoid cumbersome manual calculation. Besides the hardness, the instrument can measure the strength of the materials. For various measuring needs, the instrument may be fitted with four different impact devices, D, DC, DL, and C.
Application
LS253 Leeb hardness tester is suitable for testing the hardness of materials such as steel, cast steel, alloy steel, stainless steel, gray cast iron, ductile iron, cast aluminum alloy, copper-zinc alloy, copper-tin alloy, pure copper and forged steel. The instrument can be widely used in machine tool guides, automotive chassis, heavy workpieces, mold cavities, bearings, pressure vessels and installed machinery or assembly parts and can help manufacturers to carry out product quality inspection and reasonable process analysis.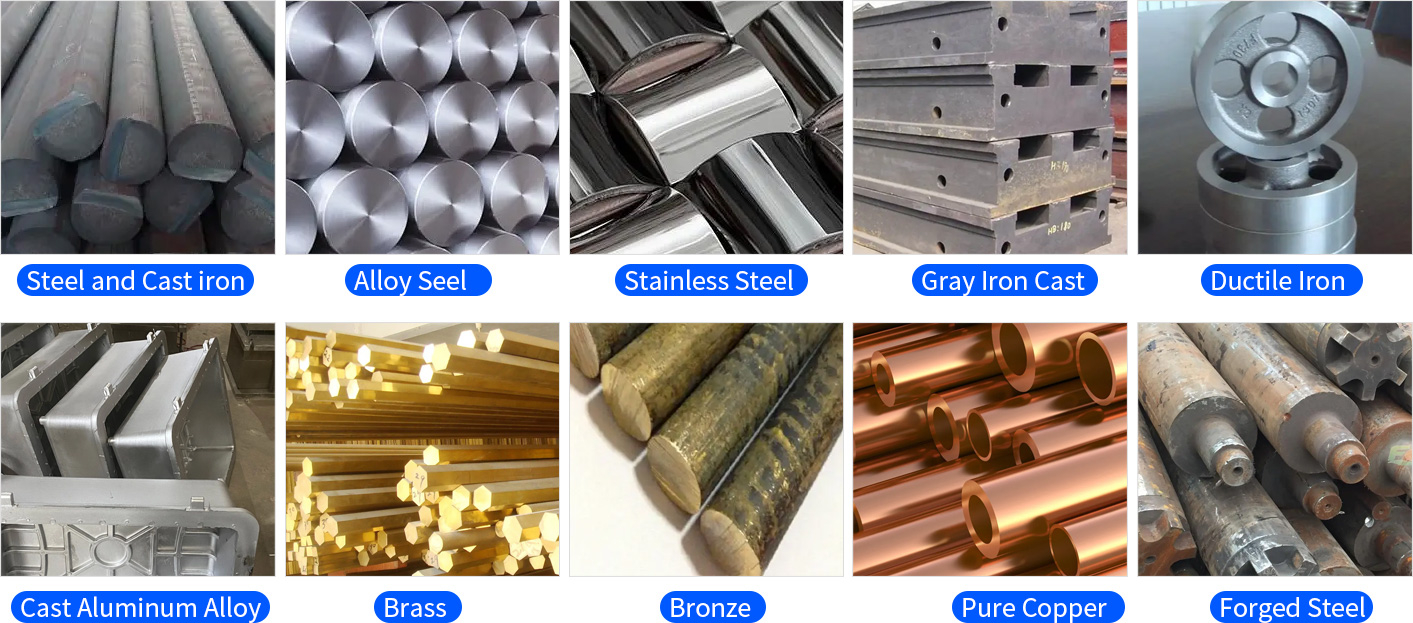 Impact device selection
| No | Impact type | Application |
| --- | --- | --- |
| 1 | D | Ordinary metal parts |
| 2 | DC | Short size, suitable for internal holes or narrow areas |
| 3 | DL | Slender narrow groove, tooth flank or bottom of bore |
| 4 | C | Hardfacing and small or thin components |
Parameter
Parameter
Value
Probe
Impact device D/ Impact device DC / Impact device DL/ Impact device C
Hardness Scales
HL, HV, HB, HS, HRA, HRB, HRC
Measurement Range
Impact device D/DC:HLD: (170-960); HV(83-976); HB(30-651); HRC(17.6-68.5); HS(26.4-99.5); HRB(13.5-100); HRA(60-85.8)
Impact device DL:HLDL(170-960); HV(194-976); HB(140-651); HRC(19.8-68.5); HS(26.4-99.5); HRB(59.6-99.6); HRA(60-85.5)
Impact device C:HLC(170-960); HV(80-996); HB(80-683); HRC(20-69.5); HS(31.9-102.3)
Resolution
1HL
Accuracy
±12 HL, ±6 HL (typical)
Repeatability
6HL
Display
240 * 16 dot matrix LCD
Power Supply
2 AA alkaline dry batteries
Host Size
142*72*28 mm
Probe Size
148*31*25 mm
Weight
247g
Working Temperature Range
-10~50℃,0~85%RH(no condensation)
Storage Temperature Range
-10~60℃,0~85%RH(no condensation)
Free to match 4 kinds of impact devices.
Aviation plugs link the host and impact device, and one host may be freely matched with up to four impact devices to meet various measuring settings.
Equipped with Bluetooth APP
The instrument is connected to the mobile phone APP through Bluetooth to realize multiple sets of data storage, and the measurement data can be shared.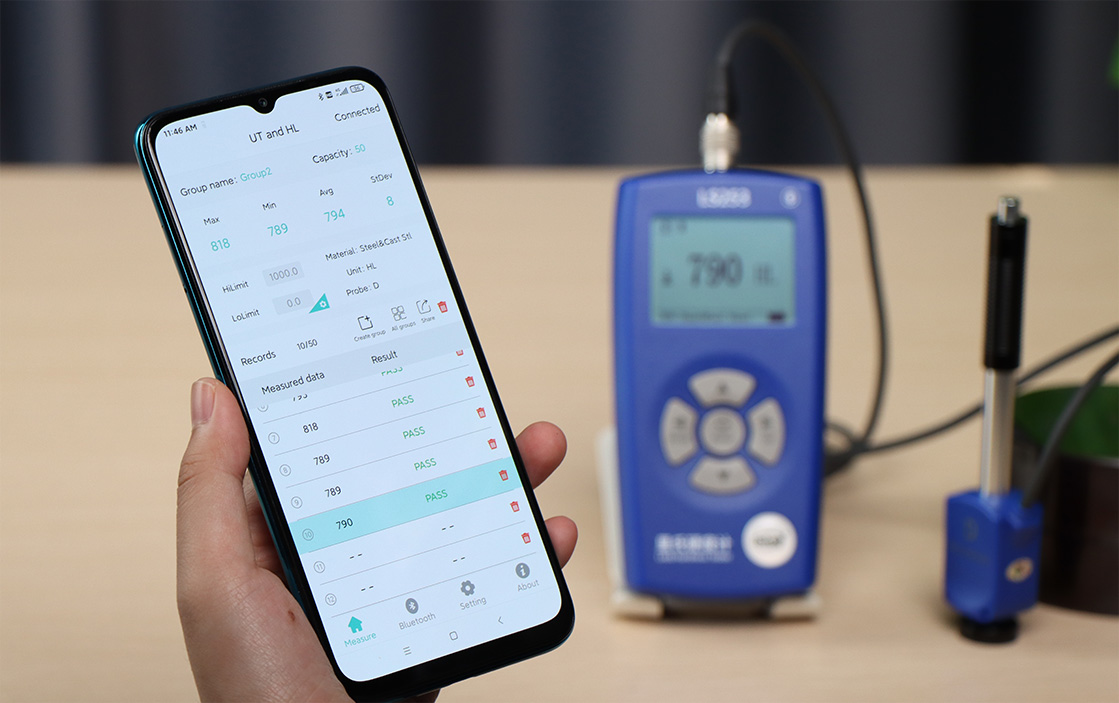 Double coil technology, high precision, good repeatability
Using advanced dual-coil technology, it has good measurement accuracy and repeatability
Built-in direction sensor, all-round impact compensation
The probe contains an integrated direction sensor that accomplishes 360° all-around worry-free measurement by automatically compensating measurement mistakes in various direction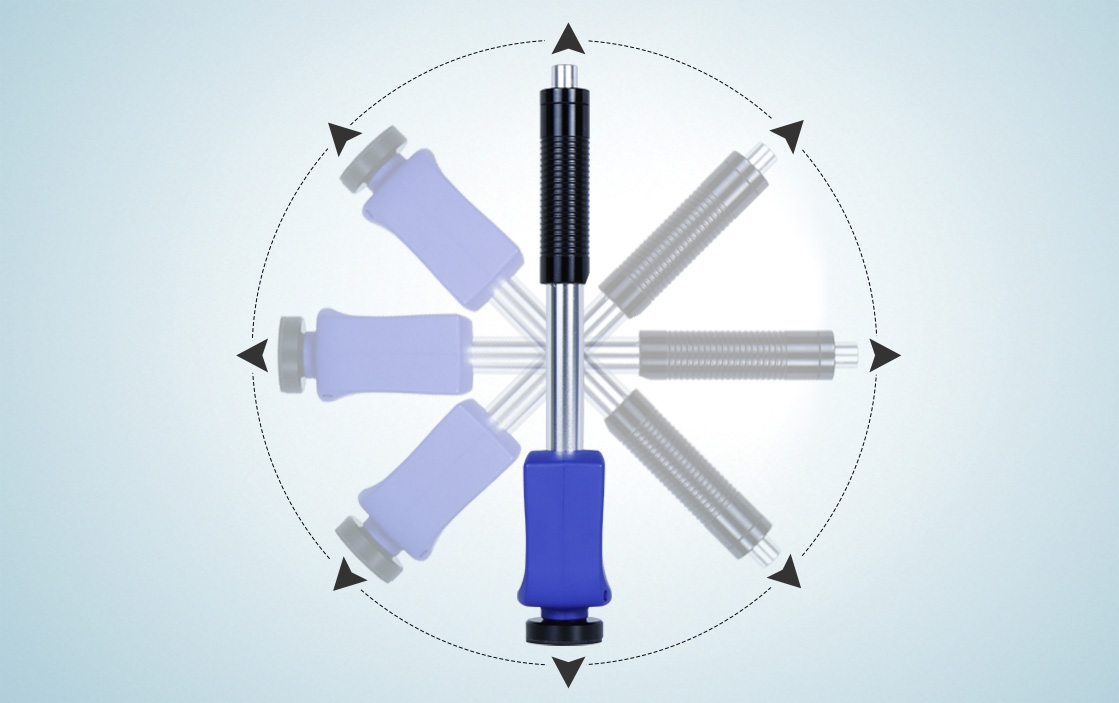 Conversions to different hardness scales
LS253 hardness tester provides a variety of hardness scales, which can be converted between Leeb (HL), Vickers (HV), Brinell (HB), Shore (HS) and Rockwell (HRA/HRB/HRC) eliminating the cumbersome steps of manual table lookup.
High-precision, ensuring that it can pass the inspection of the Chinese authoritative metrology institute
The LS253D's measurement precision may be as high as 6HL, enabling it to pass examination by the Chinese national authoritative metrology institution.
Optional Bluetooth thermal printer
The measurement results may be printed on-site by connecting through Bluetooth to a thermal printer.
Two measurement modes are optional
Two measurement modes, QC mode and statistical mode, can be selected to meet different measurement needs. The tester can automatically count the maximum value, minimum value, and average value of the lastest 9 measured values. The tester can set the upper ad lower limits and judge whether the hardness of the materials is qualified which is convienent for batch inspection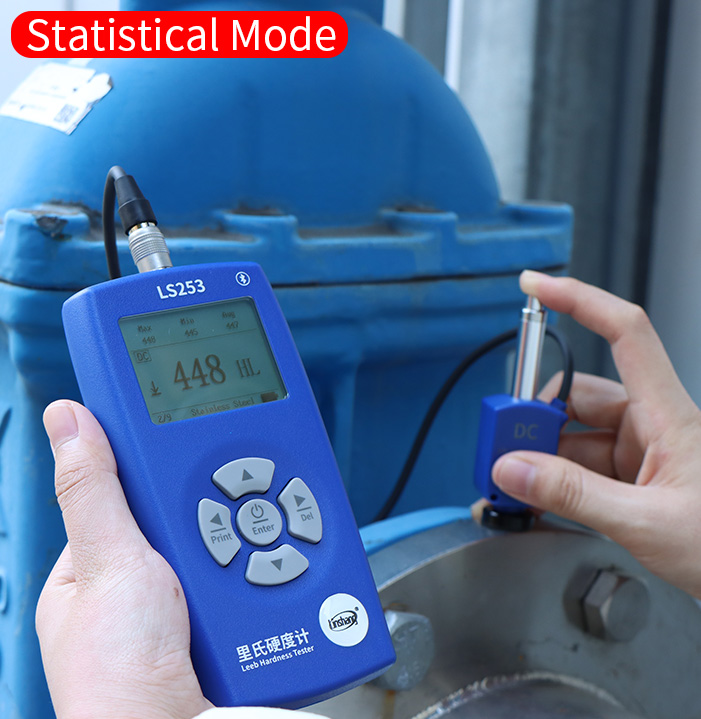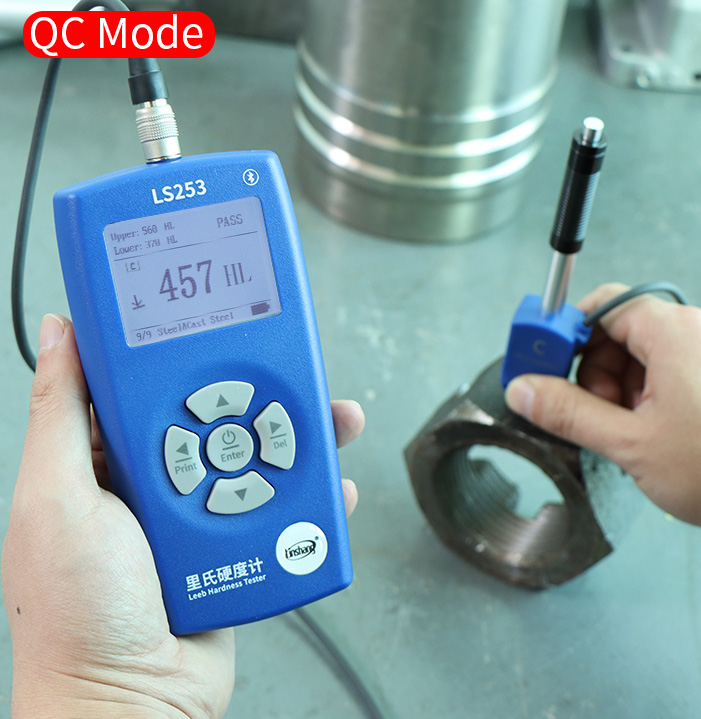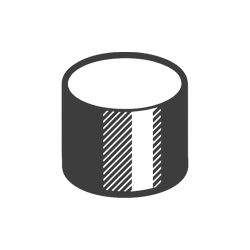 Qualifications and Standards
LS253 Leeb Hardness Tester conforms to the following standards:
GB/T 13794.1  Metallic materials-Leeb hardness test-Part 1: Test method

GB/T 13794.2  Metallic materials-Leeb hardness test-Part 2: Verification and calibration of hardness tester 

GB/T 13794.4  Metallic materials-Leeb hardness test-Part 4:Tables of hardness values conversion 

JB/T 9378-2001  Industry standard of Leeb hardness tester 

JJG 747-1999 Verification regulation of Leeb hardness tester

Precaution
The Leeb hardness tester is only suitable for large, heavy workpieces. Small, thin workpieces should be coupled to a firm support for testing.
| Impact device type | Minimum mass | Minimum thickness (uncoupled) | Minimum thickness (coupling) |
| --- | --- | --- | --- |
| D、DL、DC | 5kg | 25mm | 3mm |
| C | 1.5kg | 10mm | 1mm |
Software Download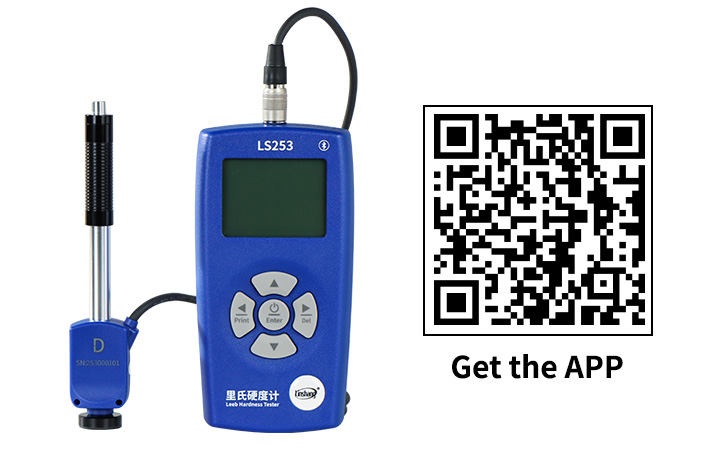 APP supports Android operating system version 7.0 or higher.
It can be installed by:
1) Use your mobile browser or WeChat to scan the QR code on the instrument, follow the prompts to download and install.
2) Click the link https://www.linshangtech.cn/a/253/ to install the APP.
3) Search for "UT and HL" (case insensitive) in the Google Play to install the application.
Packaging
No.
Product Name
Quantity
Unit
1
Leeb Hardness Tester Host
1
Set
2
Leeb Hardness Tester Probe
According to the numbers of probe ordered
3
Bluetooth Printer
According to the numbers of printer ordered
4
Standard Leeb hardness block
1
pcs
5
Nylon Brush
1
pcs
6
Small support ring
1
pcs
7
1.5V AA alkaline battery
2
pcs
8
User Manual
1
pcs
9
Certificate / Warranty card
1
pcs
Selection of Leeb Hardness Tester
If you want to know more about the price and product selection of Linshang Leeb Hardness Tester, please click the text below to view
Your product information request
Please let us know your requirements and we will be in contact with you shortly!