Details
I.IR Power Meter Introduction
Linshang LS122 infrared power meter is the same model of Weigu energy tester, also called infrared energy receiver. This is an instrument with a wide receiving range. It is mainly used to measure the infrared blocking rate of materials. It is suitable for the display of thermal insulation effects of thermal insulation glass, solar film and other materials. It can also be used to measure the radiant energy power density of various light sources, that is, the radiant energy power per square meter, the unit is W / m².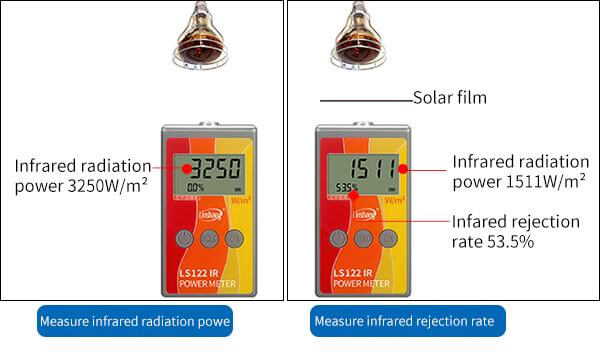 II.IR Power Meter Parameters
| | |
| --- | --- |
| Power range | 0-40000 W / m² |
| Measurement accuracy | ± 10% |
| Infrared rejection rate | -999%-100% |
| Spectral response | 1000nm-1700nm |
| Photosensitive aperture | 10mm |
| Dimension | 125mm × 69mm × 24.5mm (L*W*H) |
| Weight | about 140 g (including battery) |
| Working temperature | -20 ° C-+ 70 ° C |
| Power supply | AAA alkaline dry batteries |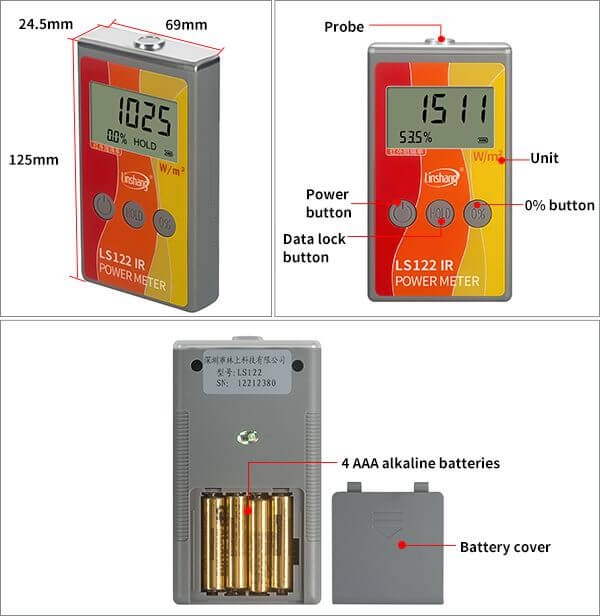 III.IR Power Meter Characteristics
1. The LS122 solar power meter is suitable for testing the infrared rejection performance of architectural film, automobile thermal insulation film, solar film, thermal insulation glass and solar equipment.
2. It can be used to measure the radiation intensity (infrared power density) of infrared light sources (sun, infrared lamps, etc.).
3. The infrared power meter has a fast measurement speed which can automatically convert the infrared rejection rate of the material. The rejection rate will be displayed on the interface directly for easy reading.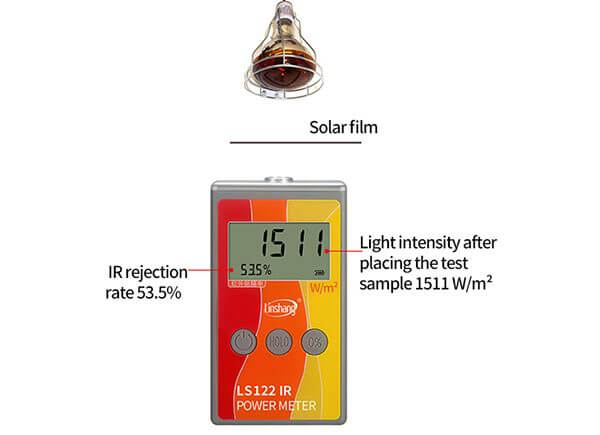 4. The solar power meter has wide spectral response which can test the infrared intensity from 1000nm-1700nm wavelength.
V.IR Power Meter Packing Details
| | | | |
| --- | --- | --- | --- |
| No. | Description | Quantity | Unit |
| 1 | LS122 Infrared Power Meter | 1 | pcs |
| 2 | AAA battery | 4 | pcs |
| 3 | User Manual | 1 | pcs |
| 4 | Certificate / warranty card | 1 | pcs |
| 5 | Packing box dimension21*13*6 cm(L*W*H) | 1 | pcs |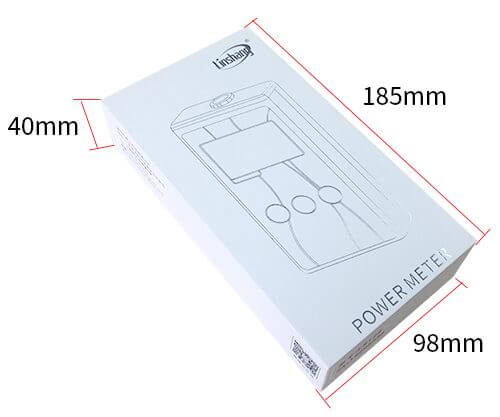 VI. IR Power Meter After-Sales Service
The meter has one-year warranty. If the instrument works abnormally, pleasesend the whole instrument to our company for maintenance

Provide users with spare parts and lifelong maintenance services

Provide the users with the meter inspection service 

Free technical support for long term
Manufacturer: Shenzhen Linshang Technology Co.,Ltd. Website: https://www.linshangtech.com/      
Service hotline: 0755-86263411 Email: sales21@linshangtech.com
For more information about the window film transmission meter selection, please click on the article below for details
VII. Recommended products
● Detect UV insulation property of window film and glass
● Test ultraviolet radiation power and UV rejection rate
● Power range: 0-40000 W / m²
● Spectral response: 260nm-380nm, λp=365nm