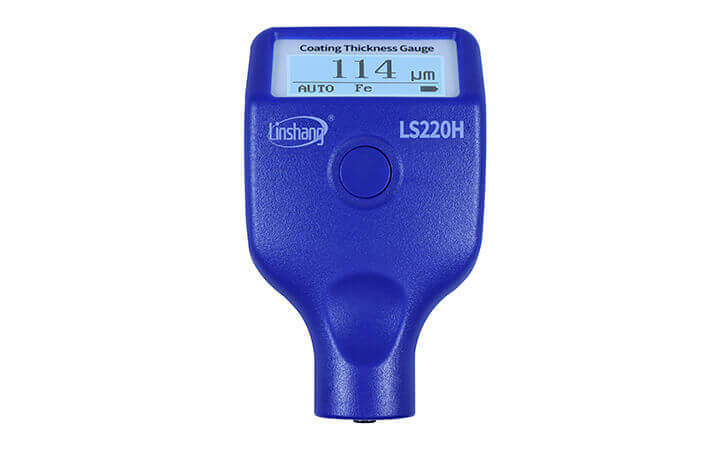 LS220H Dry Film Thickness Gauge
High accuracy and good stability
Measure coating on ferrous/non-ferrous substrates
Dry film thickness measurement range: 0-5000μm
Video
The introduction of LS220H Coating Thickness Gauge
LS220H is an integrated high-precision coating thickness gauge, which combines the Hall effect and Eddy current thickness measurement principles. Based on the Hall effect, the instrument can measure non-ferromagnetic coatings on ferromagnetic metal substrates, while under the Eddy current principle effect, it can measure non-conductive coatings on non-magnetic metal substrates.

There are only four types of ferromagnetic metal elements at room temperature: iron, cobalt, nickel, and gadolinium.
Common non-ferromagnetic metals: copper, aluminum, zinc, chromium, etc.
Hall effect: can be used for the measurement of non-ferromagnetic coatings on ferromagnetic metal substrates.
Eddy current: can be used for the measurement of non-conductive coatings on non-magnetic metal substrates.
Substrate
Coating
Examples
Yes/No
Ferromagnetic materials:
iron, cobalt, nickel, gadolinium
Non-ferromagnetic metal
1. Galvanized iron copper plating
√
Non-metal materials
1. Iron spray paint
2. Iron spray powder coating
√
Ferromagnetic material: Iron, cobalt, nickel and gadolinium
Iron nickel plating
×
Non-ferromagnetic metal:
Copper, aluminum, magnesium, zinc, etc.
Non-conductive material
1. Anodized ; aluminum surface
2. copper, spray paint
√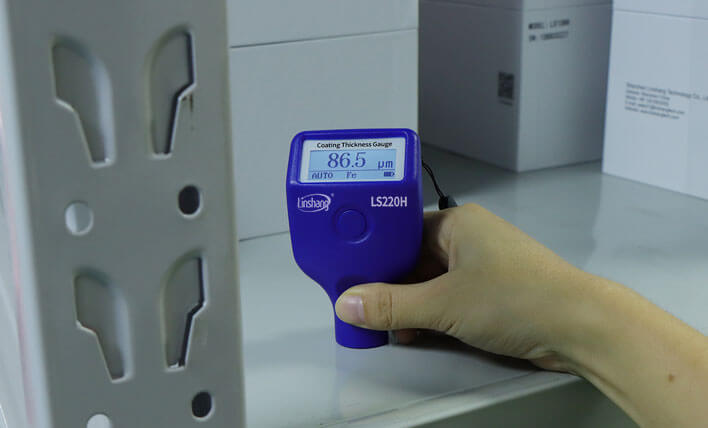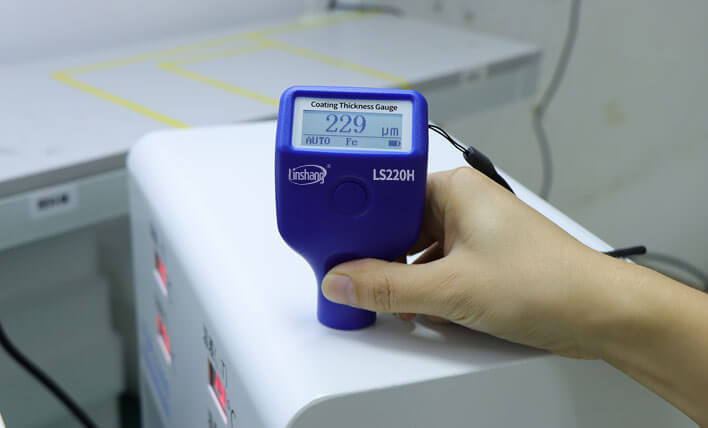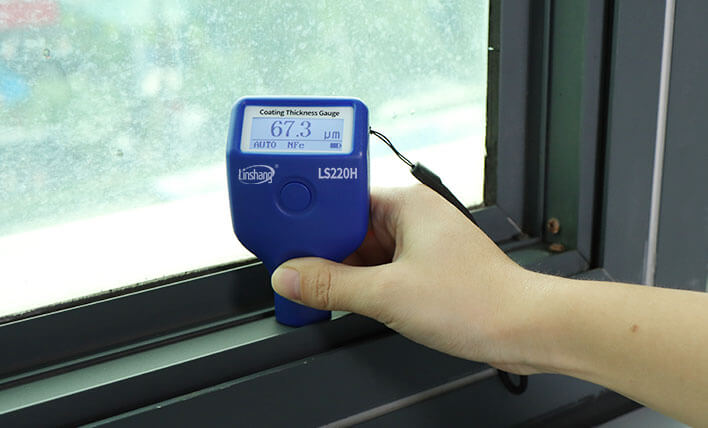 Parameter
Parameter
Value
Probe tip
Ruby fixed
Measuring principle
Ferrous: Hall Effect / Non-ferrous: Eddy current
Probe type
Integrated probe
Measuring range
0.0-5000μm
Resolution
0.1μm: 0μm - 99.9μm
1μm: 100μm - 999μm
0.01mm: 1.00mm - 5.00mm
Accuracy
≤±(3%H+2μm), H is the standard value
Unit
μm / mil
Measuring interval
0.5s
Minimum measuring area
Ø = 25mm
Minimum curvature
Convex:5mm / Concave:25mm
Minimum substrate thickness
Fe:0.2mm / NFe:0.05mm
Display
128×48 dot matrix LCD
Power supply
2pcs of 1.5V AAA alkaline battery
Operation temperature range
0℃-50℃
Storage temperature range
-20℃-60℃
Gauge size
101*62*28 mm
Weight(with battery)
79 g
Powerful and dual-use for ferrous and non-ferrous substrate
Dual-use probe for both iron and aluminum. The dry film thickness gauge has intelligent identification of measurement substrate and fast automatic transfer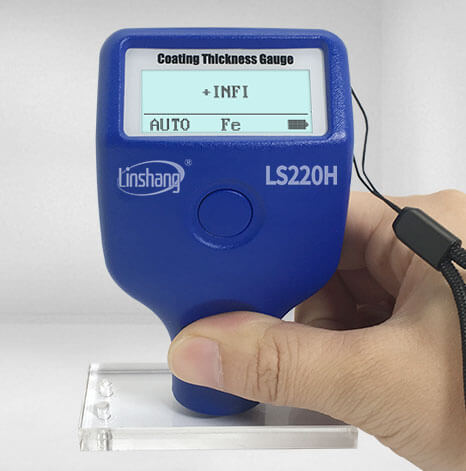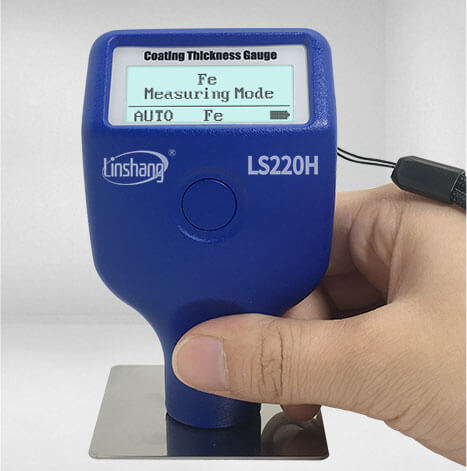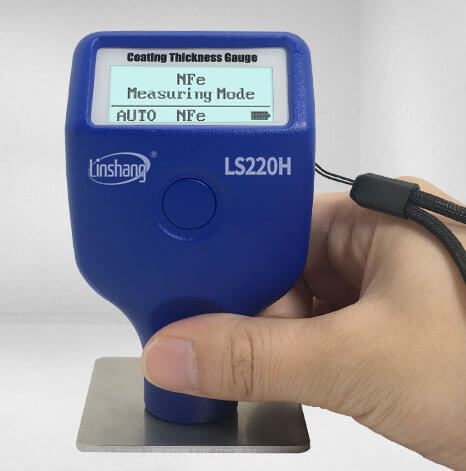 Precise measurement and good repeatability
The accurate measurement data and good repeatability to ensure that it passes the inspection of Chinese national metrological testing
Available in three different modes
The LS220H coating thickness gauge has three measurement modes:Fe mode, NFe mode and Fe/NFe mode
Small, Lightweight and Portable
The LS220H dry film thickness gauge has simple design and small size. It is easy to carry and operate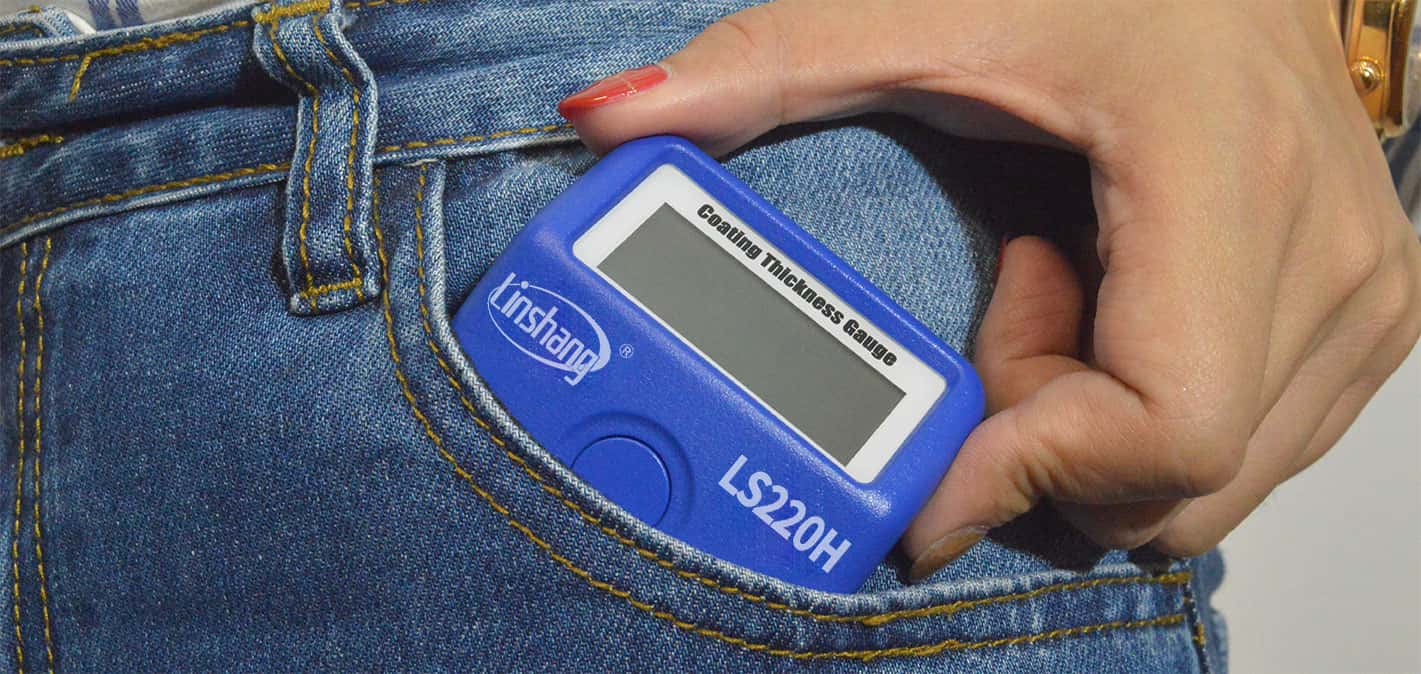 High-quality digital probe ensures accurate measurement and stable data
The advanced digital probe is used to keep the zero position stable for a long time without drifting. The test data is stable after testing the same position for multiple times
Robust and durable
Ruby probe with abrasion and corrosion resistance to ensure long service life. Avoids errors caused by wear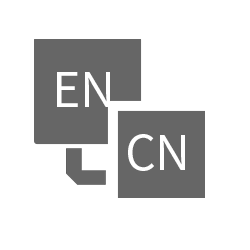 Qualifications and Standards
LS220H dry film thickness gauge conforms to the following standards:
GB/T 4956-2003 Non-magnetic Coatings on Magnetic Substrates-Measurement of Coating Thickness-Magnetic Method
GB/T 4957-2003 Non-conductive Coatings on Non-magnetic Basis Metals-Measurement of Coating Thickness-Eddy Current
DIN EN ISO 2808 Paints and Varnishes-Determination of Film Thickness
JJG-818-2005 Verification Regulation of Magnetic and Eddy Current Measuring Instrument for Coating Thickness

Packing
| No. | Description | Quantity | Unit |
| --- | --- | --- | --- |
| 1 | LS220H coating thickness gauge | 1 | Set |
| 2 | Fe zero-adjustment plate | 1 | pcs |
| 3 | NFe zero-adjustment plate | 1 | pcs |
| 4 | Standard film | 1 | pcs |
| 5 | User manual | 1 | pcs |
| 6 | Drawstring bag | 1 | pcs |
| 7 | Certificate / Warranty card | 1 | pcs |
| 8 | 1.5V AAA alkaline battery | 2 | pcs |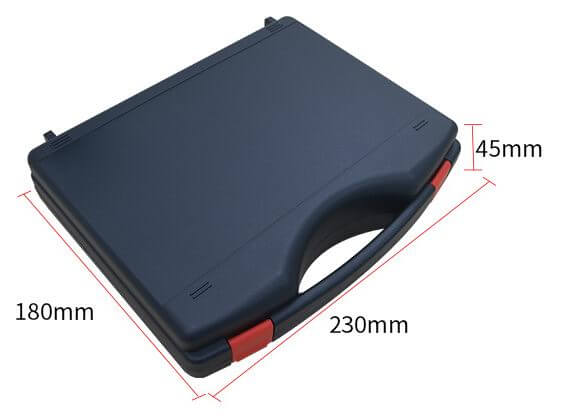 Your product information request
Please let us know your requirements and we will be in contact with you shortly!
FAQ
1. The difference between LS220H and LS221

The functions and parameters of LS220H and LS221 are exactly the same, but the LS220H coating thickness gauge adopts an integrated design and can be operated with one hand; while the LS221 adopts a split design, the probe size is smaller, which is suitable for measuring narrow spaces and some special positions.

If you want to know more about the Linshang coating thickness gauge, Please click "Coating Thickness Gauge Selection and FAQ".