LS220H Dry Film Thickness Gauge
Highly sensitive probe, 0.5s measuring interval
Measure coating on ferrous/non-ferrous substrates
Dry film thickness measurement range: 0-2000μm
High accuracy and good repeatability
LS220H is an integrated high-precision coating thickness gauge, which combines the Hall effect and eddy current thickness measurement principles. This gauge can be used for coating thickness on various metal substrates.
There are only four types of ferromagnetic metal elements at room temperature: iron, cobalt, nickel, and gadolinium.

Common non-ferromagnetic metals: copper, aluminum, magnesium, zinc, chromium, etc.

Hall effect: can be used for the measurement of non-ferromagnetic coatings on ferromagnetic metal substrates.

Eddy current: can be used for the measurement of non-conductive coatings on non-magnetic metal substrates.
Substrate
Coating
Examples
Yes/No
Ferromagnetic materials:
Iron, cobalt, nickel, gadolinium
Non-ferromagnetic metal
1. Galvanized iron copper plating
√
Non-metal materials
1. Iron spray paint
2. Iron spray powder coating
√
Ferromagnetic material: Iron, cobalt, nickel and gadolinium
Iron nickel plating
×
Non-ferromagnetic metal:
Copper, aluminum, magnesium, zinc, etc.
Non-conductive material
1. Anodized ; aluminum surface
2. copper, spray paint
√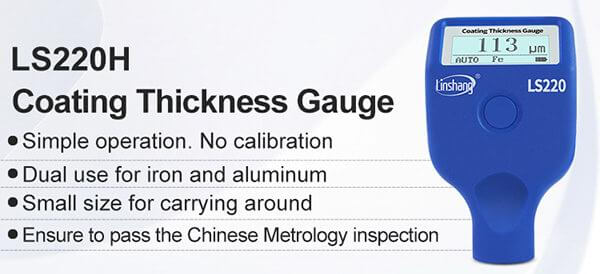 Technical Parameters
Parameter
Value
Probe tip
Ruby fixed
Measuring principle
Fe: Hall Effect / NFe: Eddy current
Probe type
Built-in integrated probe
Measuring range
0.0-2000μm
Resolution
0.1μm:(0μm - 99.9μm)
1μm:(100μm - 999μm)
0.01mm:(1.00mm - 2.00mm)
Accuracy
≤±(3% reading+2μm)
Unit
μm / mil
Measuring interval
0.5s
Minimum measuring area
Ø = 25mm
Minimum curvature
Convex:5mm / Concave:25mm
Minimum substrate thickness
Fe:0.2mm / NFe:0.05mm
Display
128×48 dot matrix LCD
Power supply
2pcs of 1.5V AAA alkaline battery
Range of operation temperature
0℃-50℃
Storage temperature range
-20℃-60℃
Gauge size
101*62*28 mm
Weight(with battery)
79 g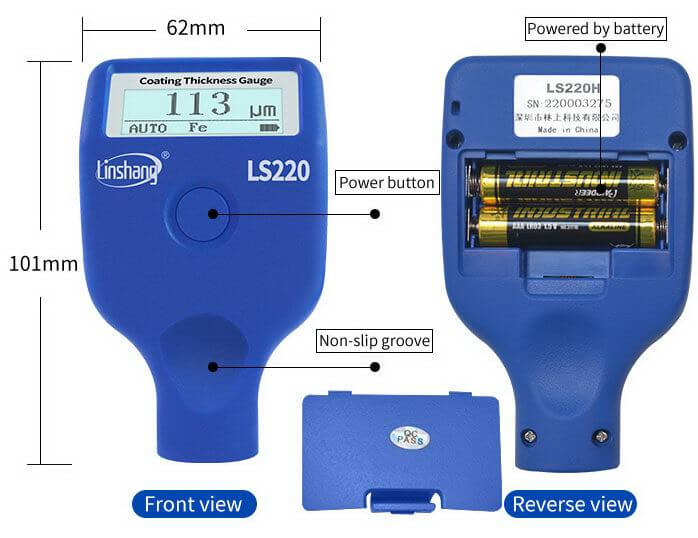 LS220H Dry film thickness gauge Characteristics
1.The LS220H dry film thickness gauge has simple design and small size. It is easy to carry and operate.
2.0.5S fast measurement, showing results as fast as your operation.
3.The advanced digital probe is used to keep the zero position stable for a long time without drifting. The test data is stable after testing the same position for multiple times.
4.The accurate measurement data and good repeatability to ensure that it passes the inspection of Chinese national metrological testing.
5.Dual-use probe for both iron and aluminum. The dry film thickness gauge has intelligent identification of measurement substrate and fast automatic transfer.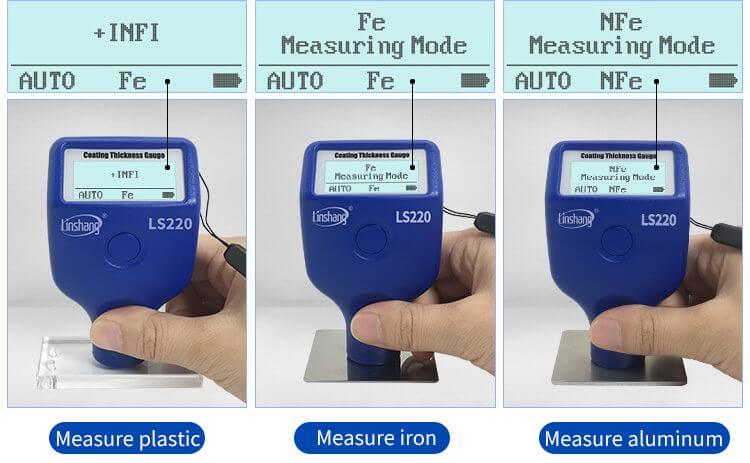 6.Using temperature compensation technology, the mil gauge can be used at minus 20 degrees Celsius. Ensure measurement accuracy at different temperatures.
7.Ruby probe with abrasion and corrosion resistance to ensure long service life. Avoids errors caused by wear.
8.This coating thickness gauge can be used for coating measurement on ultra-thin substrates: Fe: 0.2mm / NFe: 0.05mm.
9.  The LS220H coating thickness gauge has three measurement modes:Fe mode, NFe mode and Fe/NFe mode.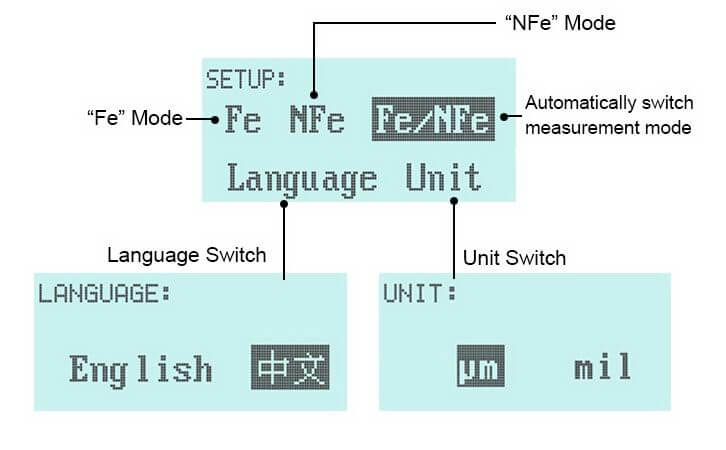 Qualification and Standards
1. LS220H dry film thickness gauge conforms to the following standards
GB/T 4956-2003 Non-magnetic Coatings on Magnetic Substrates-Measurement of Coating Thickness-Magnetic Method
GB/T 4957-2003 Non-conductive Coatings on Non-magnetic Basis Metals-Measurement of Coating Thickness-Eddy Current
DIN EN ISO 2808 Paints and Varnishes-Determination of Film Thickness
JJG-818-2005 Verification Regulation of Magnetic and Eddy Current Measuring Instrument for Coating Thickness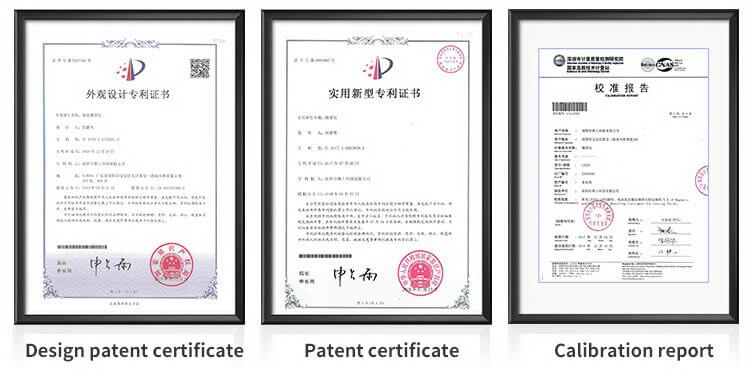 Packaging Details
| No. | Description | Quantity | Unit |
| --- | --- | --- | --- |
| 1 | LS220H coating thickness gauge | 1 | Set |
| 2 | Fe zero-adjustment plate | 1 | pcs |
| 3 | NFe zero-adjustment plate | 1 | pcs |
| 4 | Standard film | 1 | pcs |
| 5 | User manual | 1 | pcs |
| 6 | Drawstring bag | 1 | pcs |
| 7 | Certificate / Warranty card | 1 | pcs |
| 8 | 1.5V AAA alkaline battery | 2 | pcs |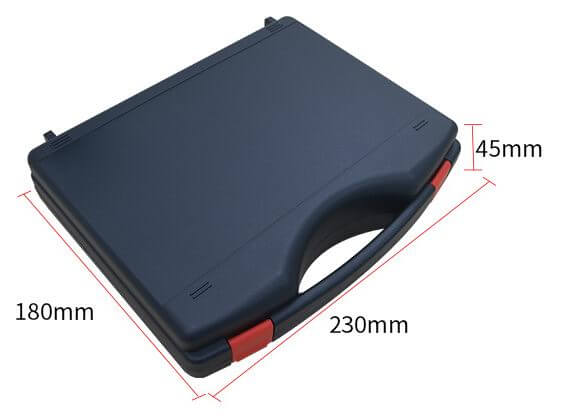 After-sales Service
The gauge has one-year warranty. If the gauge works abnormally, please send the whole gauge to our company for maintenance. 

Provide users with spare parts and lifelong maintenance services.

Provide the users with the gauge calibration service.

Free technical support for long term.
Manufacturer: Shenzhen Linshang Technology Co., Ltd.
Website: www.linshangtech.com
Service hotline: +86-755-86263411
Email: sales21@linshangtech.com
Your product information request
Please tell us a little about yourself and one of our salers will be in touch shortly.
FAQ
1. The difference between LS220H and LS221

The functions and parameters of LS220H and LS221 are exactly the same, but the LS220H coating thickness gauge adopts an integrated design and can be operated with one hand; while the LS221 adopts a split design, the probe size is smaller, which is suitable for measuring narrow spaces and some special positions.

If you want to know more about the Linshang coating thickness gauge, Please click "Coating Thickness Gauge Selection and FAQ".
Recommended Products
● External cable probe and wear-proof ruby probe tip
● Measure coating thickness on ferromagnetic and non-ferromagnetic metal substrates
● Measurement range: 0.0-2000μm
● Accuracy: ≤±(3% reading+2μm)
● Measure coating thickness on ferromagnetic and non-ferromagnetic metal substrates
● Measurement range: 0.0-3000μm
● Accuracy: ≤±(3% reading+2μm)
● Suitable for measuring thick anticorrosive, fireproof coating, etc
● Suitable for ultra-thin coating and small workpiece
● Measure plating thickness on ferromagnetic metal substrates
● Measurement range: 0-500μm
● Accuracy: ≤±(2%+0.3μm) after calibration of 1-5 points
● Test fixture is optional to eliminate the measurement errors