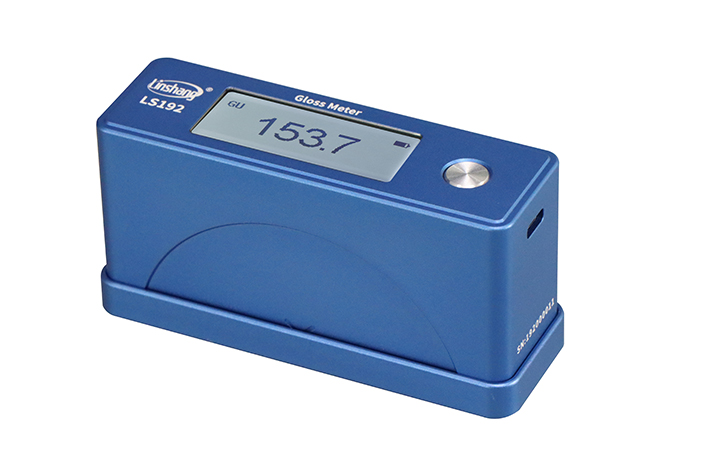 LS192 Gloss Meter
In line with 1st class working machine standard
Universal angle 60°, large range up to 1000GU
Free PC software allows for better quality control
Normal mode: put-and-measure
QC mode: automatically judge whether the data is qualified
LS192 is a hand-held gloss meter with universal angle 60° and range of  1000GU, widely applicable to surface gloss test on paint, coating, metal, ceramics, stone, printed material, easy operation, no need to press button. QC mode is optional to conduct quick QC process. Intelligent data statistics and test report can be generated by connecting PC software. 
Feature
Easy Operation
Great Interactive design, easy operation, put and test after power-on, one-key to lock data.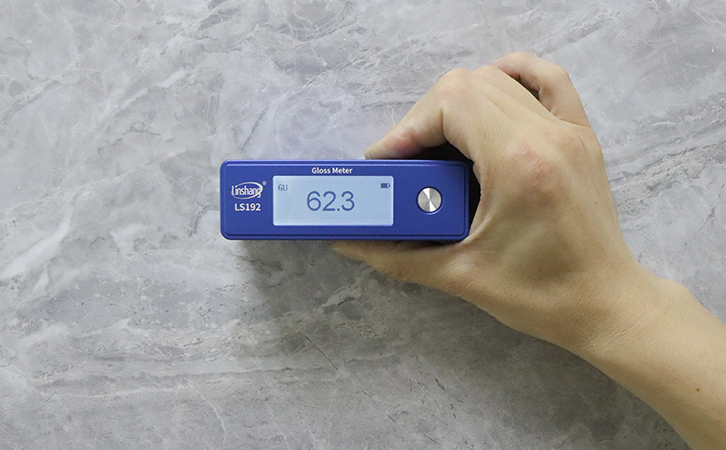 Precise measurement
LS192 Gloss Meter could pass calibration by any national metrology institute, in line with 1st class working machine standard of JJG696-2002. Its test result can compete with that of famous brands.

| Calibration Device | Standard Gloss Meter | First Class Gloss Meter | Second Class Gloss Meter |
| --- | --- | --- | --- |
| Stability | 0.2GU | 0.4GU | 1.0GU |
| Zero Error | 0.1GU | 0.2GU | 1.0GU |
| Indication Error | ±1.0GU | ±1.5GU | ±2.5GU |
Stable data
The device has temperature compensation function, ensuring stable data, allowing long period calibration. Great repeatability: ±0.2GU for 0-100GU; ±0.2% reading for 100-1000GU.
Dual Mode
Support switch between normal mode and QC mode, applicable to different scenes. Normal mode: quick reading after put and test; QC mode: realize quick check on incoming material by setting upper and lower limit value and judge "Pass"or not.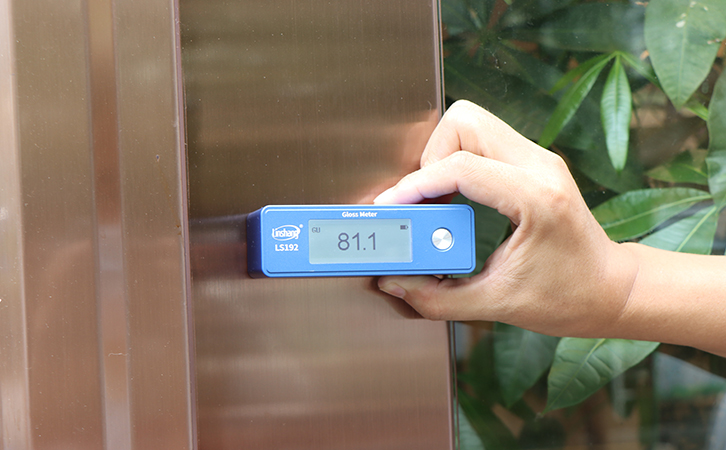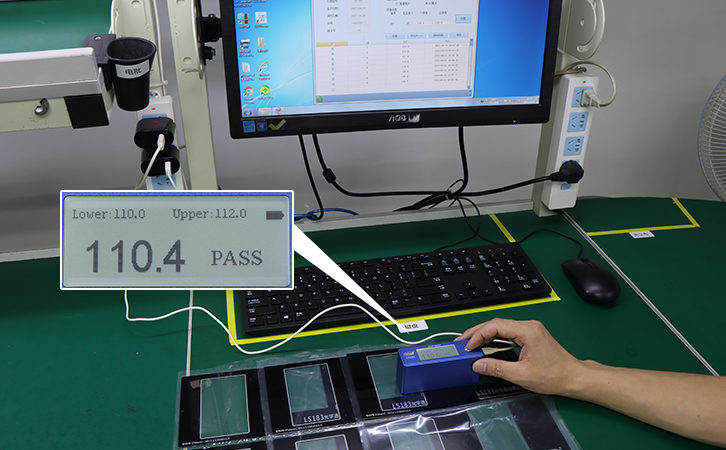 Portable and Smart
Portable size, aviation aluminum shell, fine design, super texture.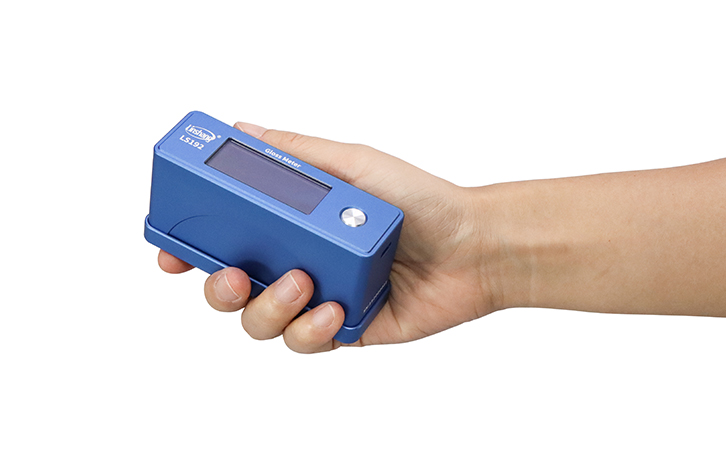 Powerful PC software support
Equipped with PC software ( supporting Windows only), can measure, generate and print test report by connecting PC.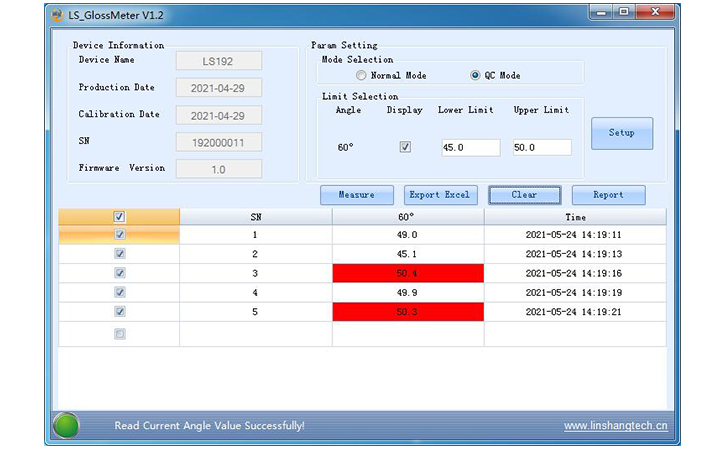 Standard in the bottom
Magnetic bottom design, combined with standard, no worry about the standard getting lost. Automatic calibration after powered-on.
Energy-saving, long navigation
Built-in high-performance rechargeable lithium battery offers low energy consumption. Once full charged the device can last for 48 hour navigation. 
Applicable Industries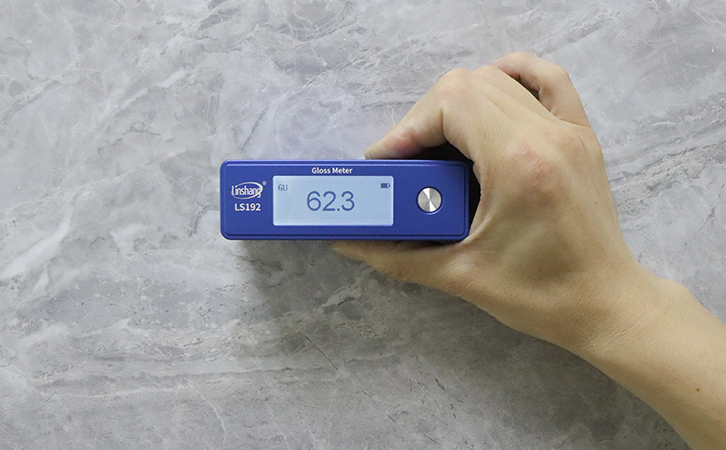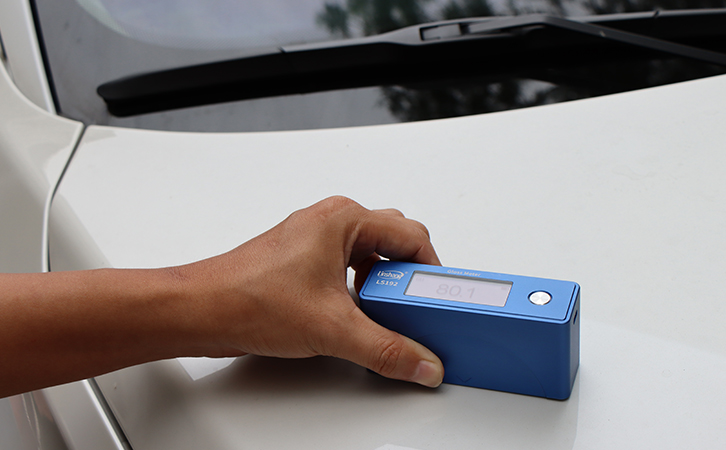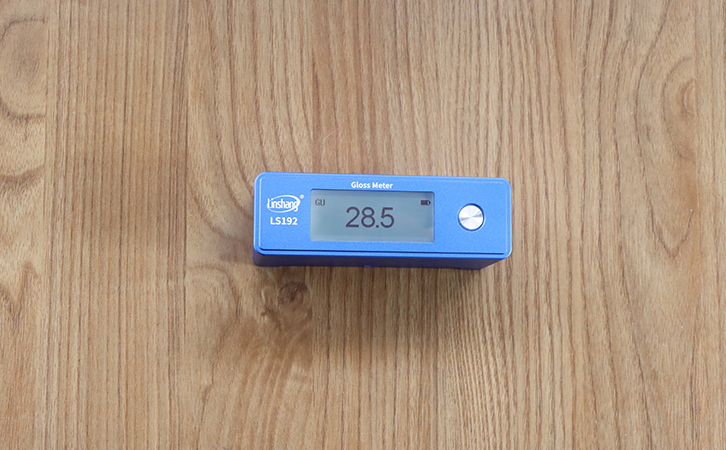 Product Specification
| Specification | Value |
| --- | --- |
| Measure angle | 60° |
| Measuring aperture | 9mm*15mm |
| Minimum test material size | 20mm*10mm |
| Test Range | 0-1000GU |
| Resolution | 0.1GU |
| Repeatability | 0-100GU:±0.2GU ;100-1000GU:±0.2% reading |
| Reproducibility | 0-100GU:±0.5GU; 100-1000GU:±0.5% reading |
| Zero error | 0.1GU |
| Error of indication | 0-100GU:±1.5GU; 100-1000GU:±1.5% reading |
| Weight | 300g |
| Battery capacity | rechargeable lithium3.7V@1000mAh |
| Display | 192×64 |
| System language | Chinese(Simplified), English |
| Charging interface | USB(Type-C) |
| Data Interface | USB |
| Working temperature | 10~45℃,0~85%RH(no drew) |
| Storage temperature | -10~60℃,0~85%RH(no drew) |
| Packing List | Gloss meter, USB cable, U disk with software, special lens cloth,user manual, warranty card |
Product Qualification and Standards
LS192 gloss meter conforms to following national standards
ISO2813,ISO7668,ASTM D523,ASTM D2457,DIN 67530,GB/T9754, GB/T13891,GB/T7706, GB/T8807, also meeting all the requirements of 1st class working machine calibration in JJG 696-2002 Verification Regulation of Specular Gloss Meters and Gloss Plates
LS192 gloss meter certificates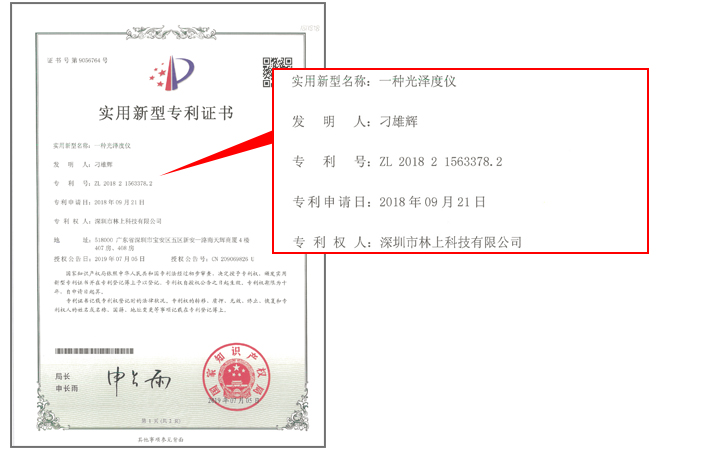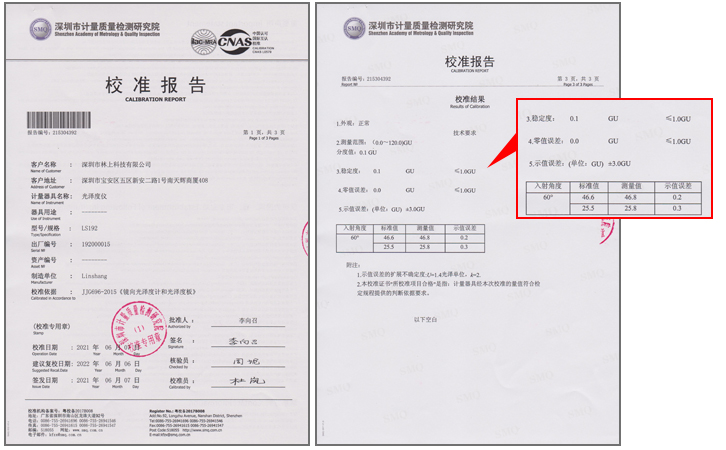 Operation
Software download
Use software to measure, set parameters, generate report and print test report by Connecting PC via USB cable( PC software only support Windows system).Software can be installed by the options as following: 
run the PC software in the U-disk in the packing, no need of installation; 

download online to save in the local disk, and run after unzipping. Click to download
Remarks
The device allows long term calibration thanks to its temperature compensation function. It is suggested to calibrate once a week. Device should be recalibrated if environment temperature changessignificantly. 

Gloss meter needs to closely fit the surface of measured material to keep external light from leaking in.

Save the bottom cover in clean area to keep the standard from dirt and scratches. 

Don't probe anything into the measuring area for cleaning or any other purpose, as this could cause damage, affect measurement resolution and operation safety. 

Please clean the device and standard before storing and measurement. Standard should be cleaned by special lens cloth. Ensure there is no small particles on the standard to avoid damage as the surface of standard is quite precise.  

If you have more than one gloss meters, please calibrate each device with respective standard. 

Please recharge the device when the battery volume shows zero. 

If not used over 6 months, the device should be recharged from time to time to prevent from battery damage caused by over discharge. 

Advised calibration cycle is 1 year. You can deliver devices back to our address for calibration. 
After Sales Service
The meter has one-year warranty. If the instrument works abnormally, please send the whole pack of device to our company for maintenance.

Provide users with spare parts and lifelong maintenance services.

Provide users with the calibration service.

Offer long-term technical support free of charge.
Your product information request
Please tell us a little about yourself and one of our salers will be in touch shortly.