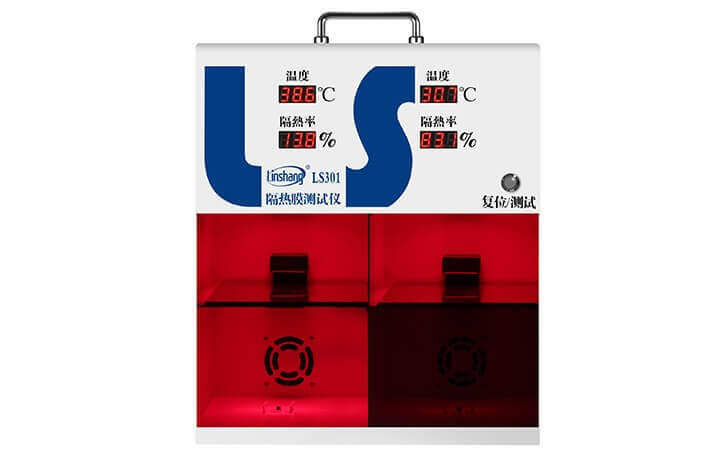 LS301 Solar Film Temperature Meter
Real-time Temperature + Heat-Insulation Rate
Visualise the insulation capacity of different materials
Test the thermal insulation rate of materials directly
LS301 thermal insulation film temperature tester is a temperature test box that can directly demonstrate the thermal insulation rate of solar film and energy-saving glass thermal insulation rate. It can also compare the thermal insulation effects of two different materials by temperature while testing the thermal insulation rate of 940nm.
Parameters
| Parameter | LS301 Solar Film Meter |
| --- | --- |
| Unilateral temperature measurement accuracy | ± 0.5°C |
| Temperature unevenness of double lamps | 2°C |
| Temperature measurement range | -55°C ~ + 125°C |
| Temperature test time | 1 minute |
| IR peak wavelength | 940nm |
| Insulation rate measurement accuracy | ± 2% (colorless and uniform trasparent materials) |
| Maximum thickness of material | 20mm |
| Test glass size (not included) | 200mm × 160mm |
| Weight | about 13 kg |
| Dimension | 340mm * 200mm * 400 mm(L*W*H) |
| Power supply | 220V AC |
Employing 150W Philip infrared lamp
Using 150W genuine Philips infrared light with better insulation effect
Measure temperature and insulation rate together
The LS301 solar film temperature meter can simultaneously display the real-time temperature value and the insulation rate of tested materials during the test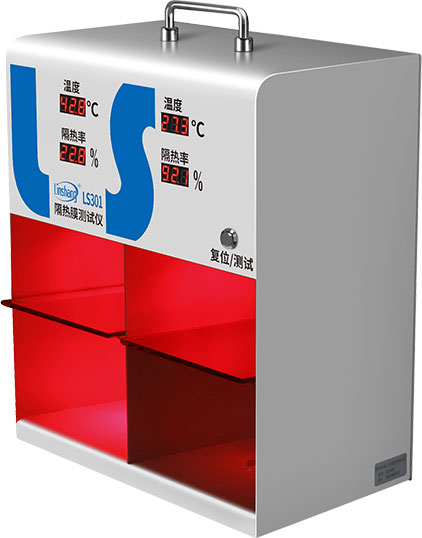 Demonstration of how to use LS301 for testing
Packing
No.
Description
Quantity
Unit
1
LS301 Solar Film Temperature Meter
1
pcs
2
User Manual
1
pcs
3
Certificate/warranty card
1
pcs
4
Packing box dimension 29*49*41
cm (L*W*H)
1
pcs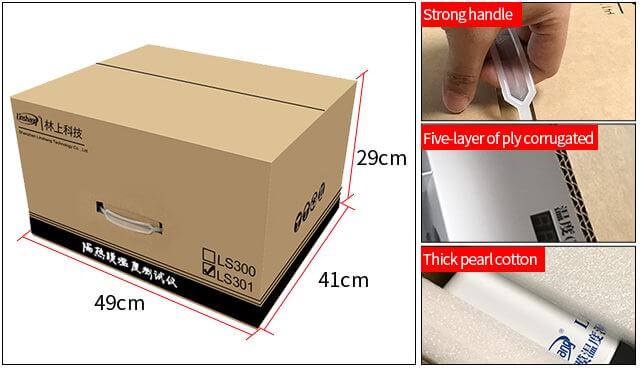 FAQ
1. Why is the shipping cost of this device so expensive?

The device is made of stainless steel, with a net weight of 13kg, so the freight is relatively high.

2. What is the difference between LS300 and LS301?

LS300 can display the real-time temperature and temperature difference before and after powering on the IR lamps.

LS301 can display the real-time temperature and heat rejection rate. (Actually it's the 950nm IR rejection rate of the sample)

3. What is the suitable glass size for LS300 and LS301?

The glass size is 20*16cm, the thickness should not exceed 5mm.

4. What is the specification of the plug? Can you provide plugs of other specifications?

It uses a three-wire socket, which is a 220V power socket for household appliances in China. Currently, plugs of other specifications are not provided, please purchase adapters or transformers yourself.
Your product information request
Please let us know your requirements and we will be in contact with you shortly!