Details
I. LS132 UV Energy Meter Introduction
LS132 UV energy meter is a professional ultraviolet measurement tool for detecting UV energy and UV intensity in high-pressure mercury lamps, halogen lamps and other light sources. The LS132 UV power puck can be used to test the UV light intensity, UV energy and temperature of UV light sources in various curing machines, UV coating machines, dryers, exposure machines, printing machines and other equipment. This UV power puck adopts ultra-small size design, no need to worry about being restricted by the space of the use occasion. You can watch the video below, LS132 UV integrator test the UV light intensity and energy of high pressure mercury lamp.
II. LS132 UV Energy Meter Parameters
| | |
| --- | --- |
| Application | Light intensity, energy and temperature measurement of high pressure mercury lamp |
| Spectral range | 315nm --- 400nm, λp = 365nm |
| Power measuring range | 0 --- 2000 mW/cm² |
| Power resolution | 0.1 mW/cm² |
| Energy measuring range | 0 - 999999mJ/cm² |
| Energy measuring accuracy | ± 10% , ± 5% (typical) |
| Sampling speed | 2048 times/second |
| Recording period | 32 min |
| Power supply | Rechargeable lithium battery 3.7V@400mAh |
| Display | 128X64 Dot matrix OLED |
| Dimension | 95mm X 44mm X7.6mm(L*W*H) |
| Weight | 57g |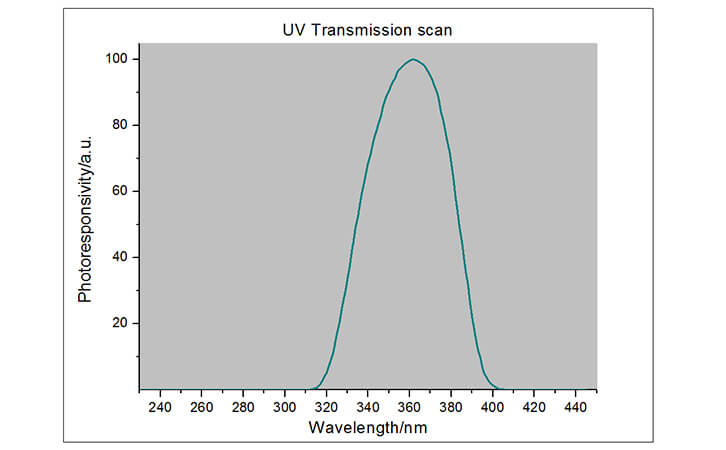 III. LS132 UV Energy Meter Characteristics
1. With a thickness of only 7.6mm and a width of 44mm, there is no need to worry about being limited by the measurement space.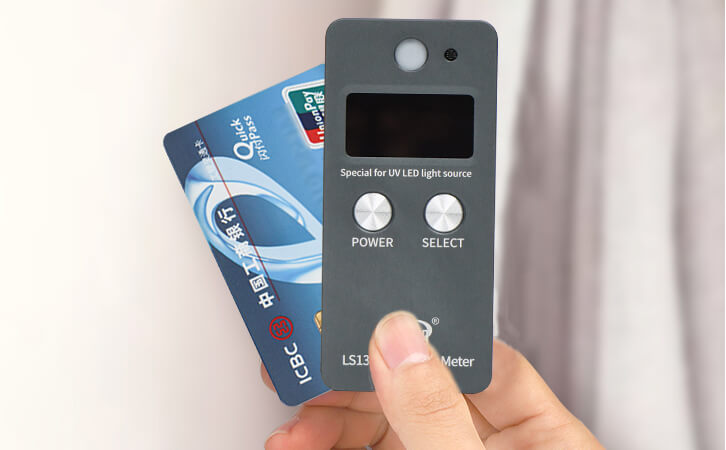 2. The sampling speed of 2048 times per second provides accurate data for the UV energy meter and can pass and obtain the calibration certificate from China Institute of Metrology.
3. The real-time power value can be dynamically displayed during measurement and the accumulated UV energy value and the maximum power value can be automatically counted after the measurement is completed.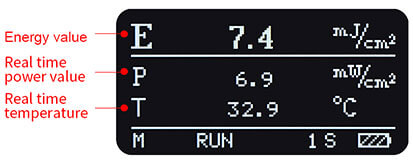 4. The built-in high-precision and high-sensitivity temperature detector and timer can dynamically display the actual temperature in the UV curing machine and other equipment and. The built-in timer can also accurately record the measurement time.
5. With high temperature resistant design, the UV radiometer can work normally for a long time in an environment of 100℃.
6. The last test data will be displayed automatically when power on, so there is no need to worry about data loss.
7. When the UV integrator is off, long press the "POWER" button to enter the setting interface to set the measurement mode, trigger power value and smooth processing parameters. The parameter setting steps are shown in the following figure: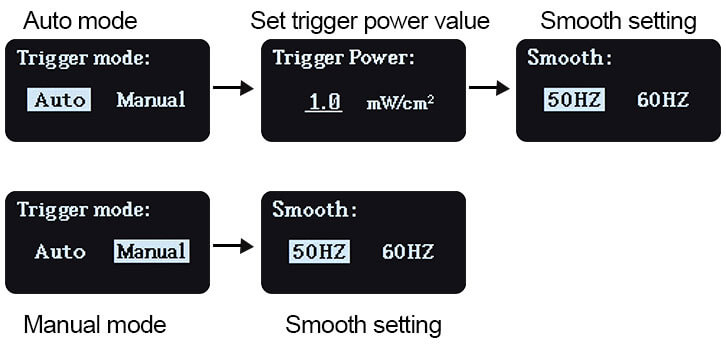 8. Manual measurement mode is suitable for most measurement occasions, while automatic measurement mode is suitable for occasions where the instrument needs to run for a long time with the conveyor belt to receive ultraviolet rays.
IV. Product Qualifications and Standards
1. Standards that LS132 UV energy meter meets
"JJG 879-2015 Verification Regulations of Ultraviolet Radiometers"
2. LS132 UV energy meter product qualification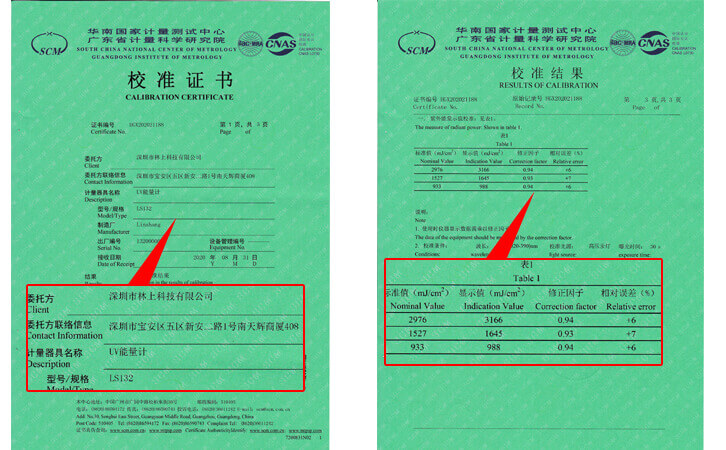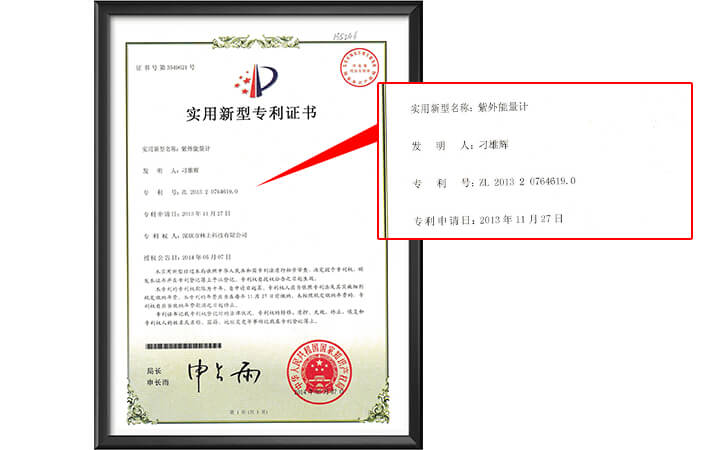 VI. LS132 UV Energy Meter Packaging Details
| | | | |
| --- | --- | --- | --- |
| No. | Description | Quantity | Unit |
| 1 | LS132 UV Energy Meter | 1 | pcs |
| 2 | USB cable | 1 | pcs |
| 3 | DC5V power adapter | 1 | pcs |
| 4 | User manual | 1 | pcs |
| 5 | Certificate/Warranty card | 1 | pcs |
| 6 | Plastic engineering box | 1 | pcs |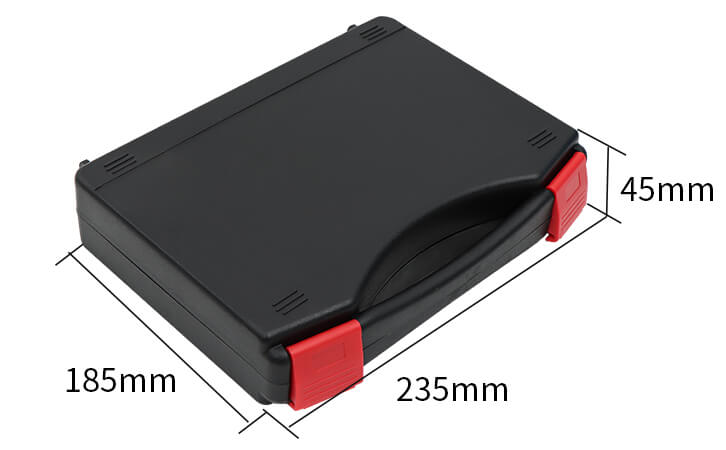 VII. LS132 UV Energy Meter After-sales Service
1. The meter has one-year warranty. If the meter works abnormally, please send the whole meter to our company for maintenance
2. Provide users with spare parts and lifelong maintenance services
3. Provide the users with the instrument inspection service
4. Free technical support for long term