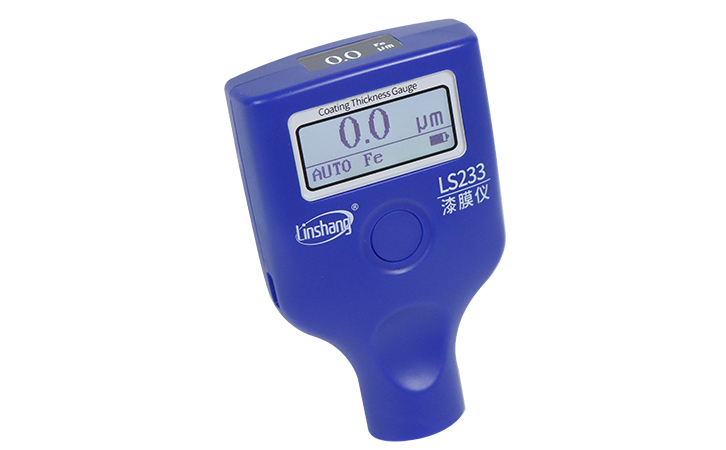 LS233 Automotive Paint Meter (Dual screen)
Low Temperature Resistant OLED
+ High-definition LCD
Ferrous and non-ferrous metal substrate
Normal use at -40℃
Product Introduction
Linshang LS233 automotive paint meter is a low-temperature-resistant car paint thickness measuring instrument equipped with two displays. It can be used normally at an ultra-low temperature of -40℃. The dual-screen design can ensure that users can quickly read when measuring cars at any angle. The paint film measuring instrument adopts the dual principles of Hall Effect and eddy current. It is dual-use for both ferrous (iron) and non-ferrous (aluminum) metal substrate. It can automatically identify iron and aluminum substrates and non-metallic substrates. It is easy to operate, compact and portable. Using this automotive paint meter, car appraisers can easily solve their problems of car evaluation.
Product Characteristics
1.  Effortless reading.: adopting the front (LCD) and top (OLED) dual-screen design, automobile paint thickness can be measured and read in any angle.
2. Available at low temperature of -40℃. The top is equipped with a low temperature resistant OLED screen, which can display the measured data normally at a low temperature of -40°C. (The working temperature of the front LCD screen is -20℃~50℃)
3. The measurement is fast. 0.5 s measurement interval, sensitive response, fast and efficient.
4. Dual use for both ferrous and non-ferrous mode. The instrument can identify iron and aluminum bodies and non-metallic substrates and automatically switch the measurement mode.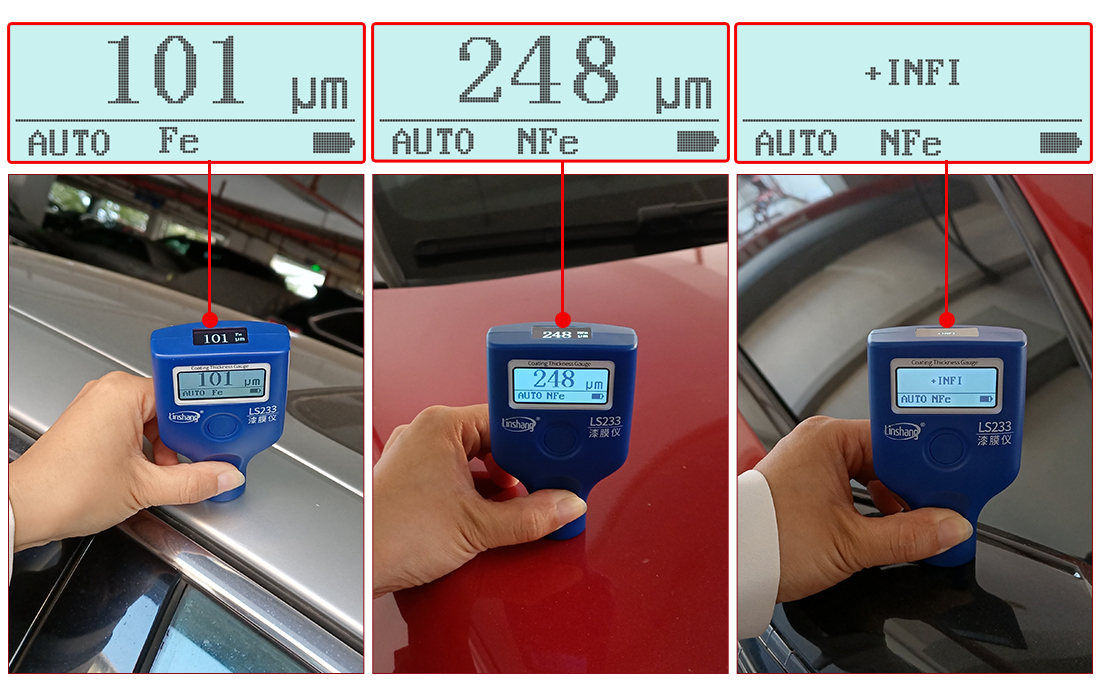 5. Wear-resistant and durable. The probe tip uses high-hardness ruby to ensure a long service life.
6. Accurate and stable. With digital probe and temperature compensation design, the measurement is not easily disturbed and provides excellent accuracy and repeatability.
7. Easy to use. Single-button operation, no calibration required, measurement can be started after simple zero adjustment.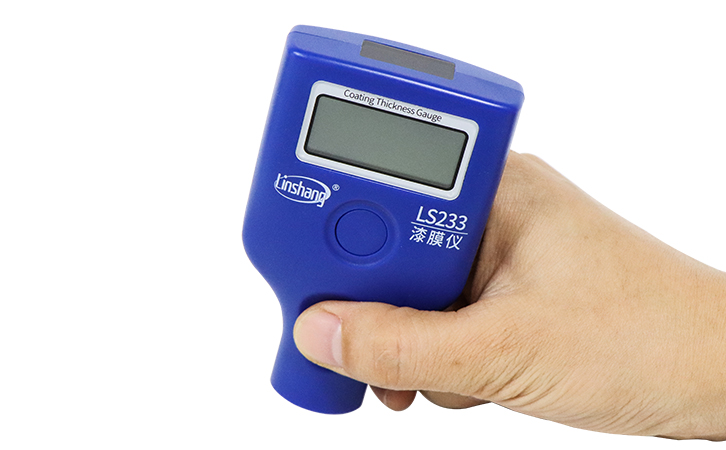 8. "Fe", "NFe", "Fe/NFe" three modes, Chinese and English bilingual. μm/mil can be switched.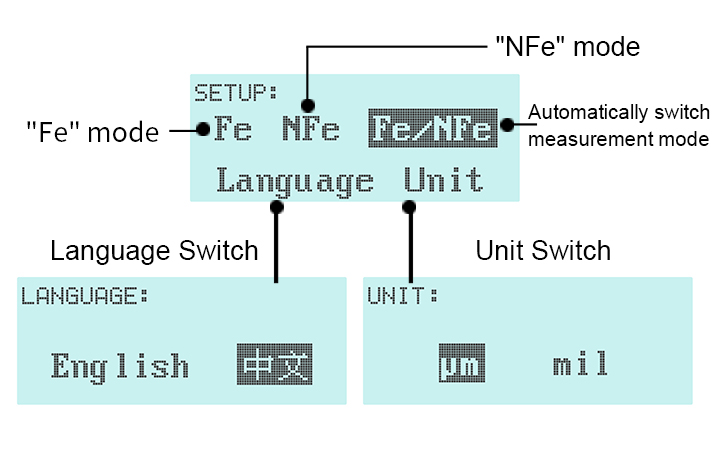 Technical Parameters
Parameter
Value
Probe tip
Ruby
Measuring principle
Fe: Hall Effect / NFe: Eddy current
Probe type
Built-in integrated probe
Measuring rang
0.0-2000μm
Resolution
0.1μm:(0μm-99.9μm)
1μm:(100μm-999μm)
0.01mm:(1.00mm-2.00mm)
Accuracy
≤±(3% reading+2μm)
Unit
μm / mil
Measuring interval
0.5s
Minimum measuring area
Ø = 25mm
Minimum curvature
Convex:5mm / Concave:25mm
Minimum substrate thickness
Fe:0.2mm / NFe:0.05mm
Display
Front: 128×48 dot matrix LCD
Top: 128×64 dot matrix OLED
Power supply
2 pcs of 1.5V AAA alkaline battery
Range of operation temperature
-40℃-50℃
Storage temperature range
-50℃-60℃
Host size
100*60*24mm
Weight
80g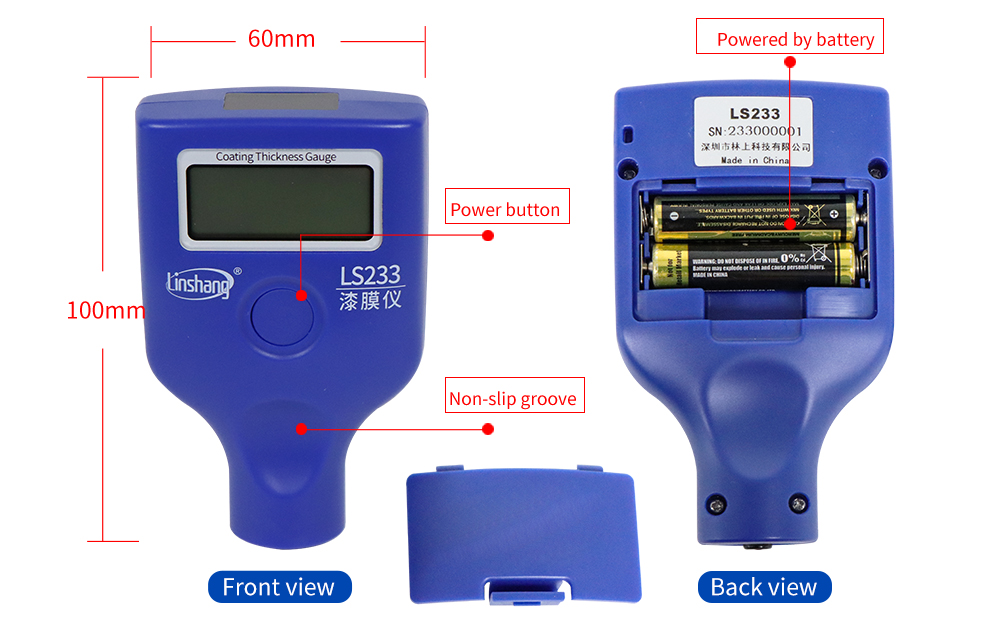 Qualification and Standards
1. LS233 automotive paint meter conforms to the following standards:
DIN EN ISO 2808 Paints and Varnishes-Determination of Film Thickness

JJG-818-2005 Verification Regulation of Magnetic and Eddy Current Measuring Instrument for Coating Thickness 

GB/T 4956-2003 Non-magnetic Coatings on Magnetic Substrates-Measurement of Coating Thickness-Magnetic Method

GB/T 4957-2003 Non-conductive Coatings on Non-magnetic Basis Metals-Measurement of Coating Thickness-Eddy Current
2. LS233 automotive paint meter production standards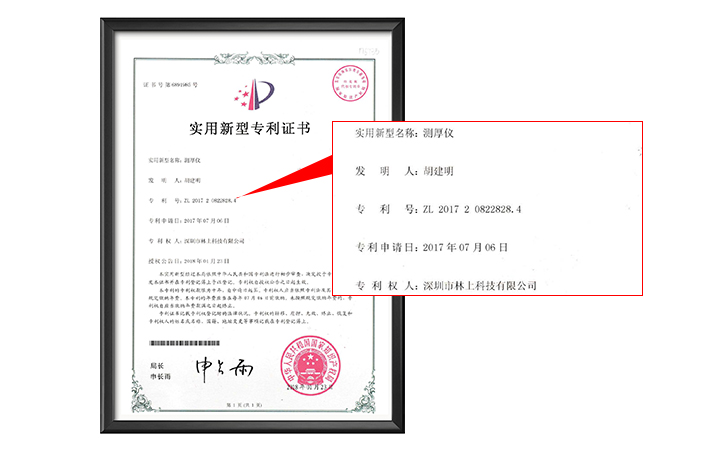 Packaging Details
| No. | Item | Quantity | Unit |
| --- | --- | --- | --- |
| 1 | LS233 Coating Thickness Gauge | 1 | Set |
| 2 | Fe plate of zero adjustment | 1 | Pcs |
| 3 | NFe plate of zero adjustment | 1 | Pcs |
| 4 | Standard film | 1 | Pcs |
| 5 | Cloth bag | 1 | Pcs |
| 6 | User manual | 1 | Pcs |
| 7 | Certificate/Warranty card | 1 | Pcs |
| 8 | 1.5V AAA alkaline battery | 2 | Pcs |
After-sales Service
The coating thickness gauge has one-year warranty. If the gauge works abnormally, please send the whole coating thickness gauge to our company for maintenance

Provide users with spare parts and lifelong maintenance services

Provide the users with the meter inspection service

Free technical support for long term
Your product information request
Please tell us a little about yourself and one of our salers will be in touch shortly.