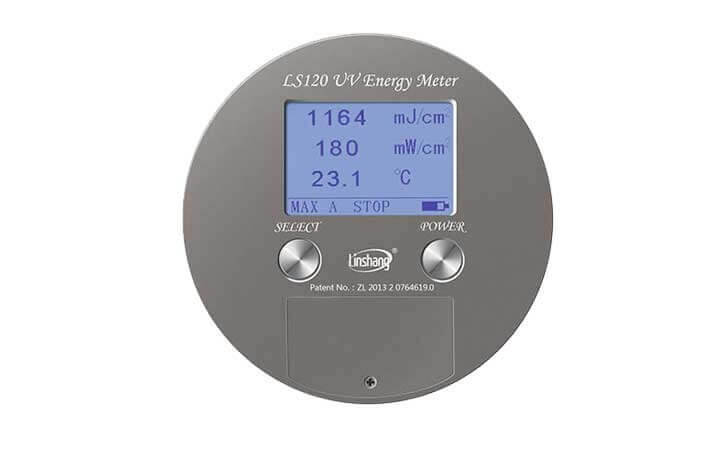 Details
I. LS120 UV Energy Meter Introduction
LS120 UV energy meter is a Chinese famous UV energy meter that can measure energy, power, temperature, time at the same time. The UV power puck can display the energy and power curves, export data and print test report. This "guaranteed product" can be directly comparable to the American EIT UV energy meter and the Japanese ORC UV energy meter dedicated to mercury lamp. The LS120 UV energy meter has created many firsts in the UV energy meter industry:
The first UV energy meter that can display the temperature curve

The first UV energy meter can measure real-time temperature and power

The first UV energy meter with a built-in timer that accurately records the curing time

The first UV energy meter that can print a test report via a USB connection to a computer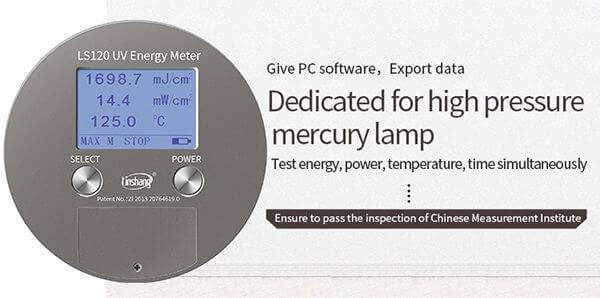 II. LS120 UV Energy Meter Application
LS120 UV energy meter is widely used in UV exposure, UV adhesive curing, UV ink curing, UV digital printing, optical communication, UV 3D printing and other fields. It is suitable for energy measurement of high pressure mercury lamps, halogen lamps, gallium lamps, iron lamps, xenon lamps and other light sources.
III. LS120 UV Energy Meter Parameters
Application
Light intensity, energy and temperature
measurement of high pressure mercury lamp
Spectral range
315nm --- 400nm Peak Wavelength = 365nm
Irradiance measuring range
0 --- 2000 mW/cm²
Irradiance resolution
0.1 mW/cm²
Energy measuring range
0 - 999999mJ/cm²
Energy measuring accuracy
± 10% , ± 5% (typical)
Temperature measuring range
-55°C - +125°C
Sampling speed
2048 times/second
Irradiance data storage interval
32 times/second
Temperature data storage interval
2 times/second
Recording period
32 min
Power supply
2 AAA alkaline dry batteries
Display
Dot matrix LCD
Dimension
Diameter 120mm * thickness 13mm
Weight
327g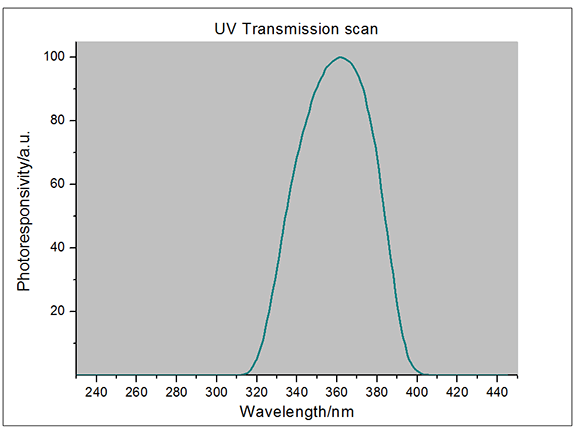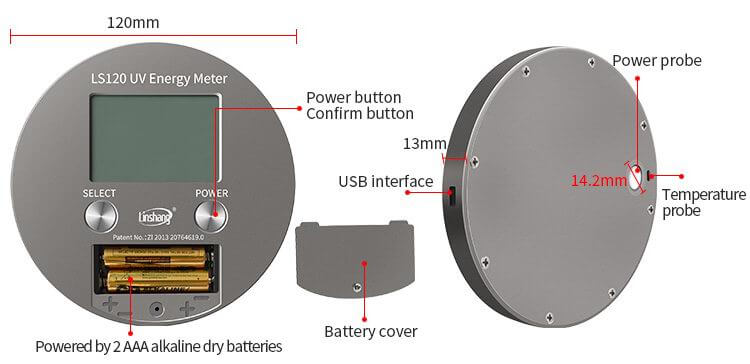 IV. LS120 UV Energy Meter Characteristics
1. Real intelligent UV energy meter, four interfaces (maximum value, real-time value, temperature curve and power curve) can be switched.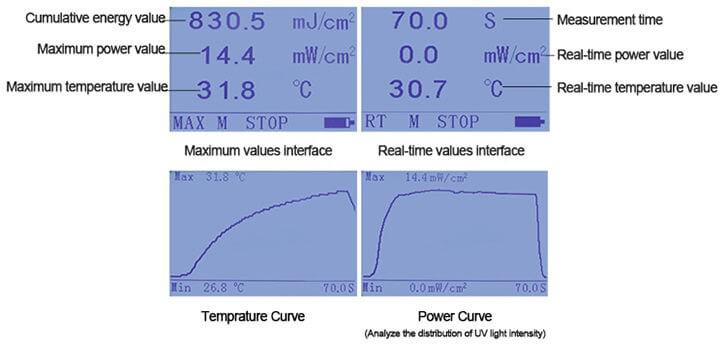 2. The UV integrator has a USB interface and is distributed with computer software. The computer software can read detailed test data and can perform curve analysis. The test reports can also be printed out.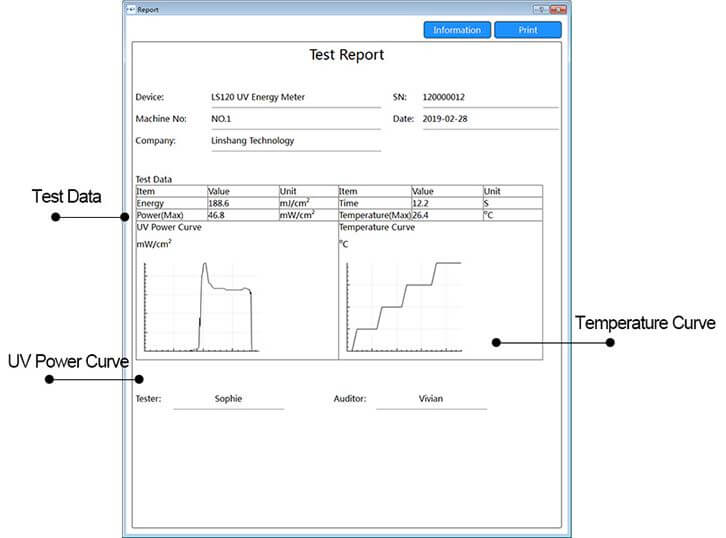 3. High-accuracy and fast-response temperature detector, truly dynamic measurement of the actual temperature in the curing machine.
4. Built-in heat shield, high temperature resistant design. The UV energy meter can run in the environment of 100 degrees Celsius for a long time. For details on the high-temperature resistance experiments of the Linshang UV energy meter, you can click the article below to check "Use Time of Linshang UV Energy Meter at Different High Temperature". 
5. Built-in large-capacity memory.
6. Built-in timer can accurately record the UV curing time.
7. 2048 times / second high-speed data acquisition, the measurement data is more accurate.
8. Two measurement modes, automatic measurement mode and manual mode, suitable for various detection environments
9. The stored data will not be lost when the power is turned off. The last test data will be displayed automatically when the power is turned on. You need to manually delete the test data.
10. High accuracy. The UV energy meter passed and obtained test certificates from many authoritative testing agencies.
11. Long press the power button in the off state to enter into the parameters setting mode, the setting steps are shown as below: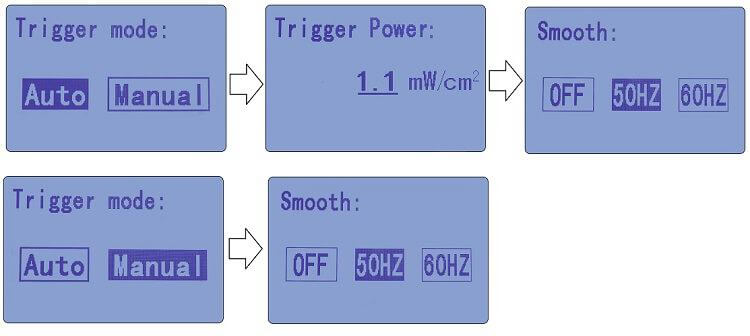 V. Product Qualification and Standards
1、Standard
JJG 879-2015 Verification Regulation of Ultraviolet Radiometers
2、Qualification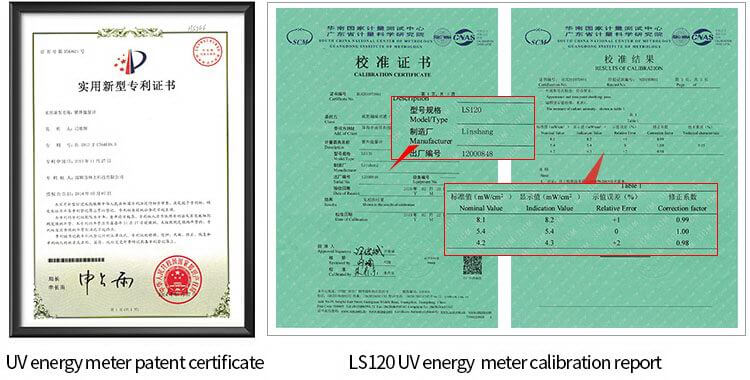 VII. LS120 UV Energy Meter Packing Details
| | | | |
| --- | --- | --- | --- |
| No. | Description | Quantity | Unit |
| 1 | LS120 UV Energy Meter | 1 | pcs |
| 2 | USB able | 1 | pcs |
| 3 | AAA battery | 2 | pcs |
| 4 | Antistatic gloves | 1 | pcs |
| 5 | Cross head screw-river | 1 | pcs |
| 6 | User manual | 1 | pcs |
| 7 | Certificate/Warranty card | 1 | pcs |
| 8 | Plastic box dimension 25*21*7 cm(L*W*H) | 1 | pcs |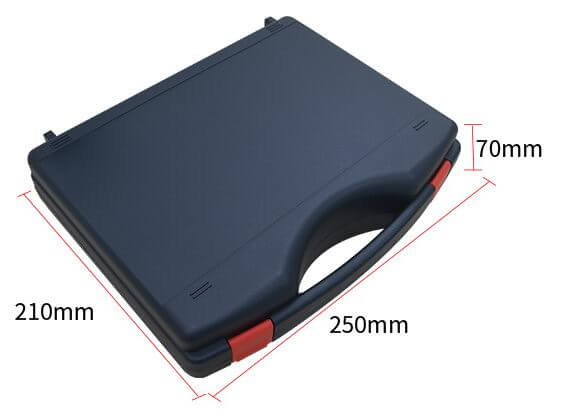 VIII. LS120 UV Energy Meter After Sales Service
The meter has one-year warranty. If the instrument works abnormally, please send the whole instrument to our company for maintenance

Provide users with spare parts and lifelong maintenance services

Provide the users with the meter inspection service 

Free technical support for long term
Manufacturer: Shenzhen Linshang Technology Co.,Ltd. Website: https://www.linshangtech.com/ 
Service hotline: 0755-86263411 Email: sales21@linshangtech.com
For the UV energy meter selection, please click "UV Energy Meter Selection and FAQ".
X. Recommended Products
● Test intensity and energy of UV LED (365, 385, 395, 405nm, etc.)
● Response range: 340-420nm, calibrated at 395nm LED
● UV intensity measuring range: 0 - 40000 mW/cm²
● Measure energy, power and temperature, provide PC software to export the data
● Suitable for high pressure mercury lamp used in curing machine
● Spectral response range: 315nm-400nm, λp = 365nm
● UV power (intensity) measuring range: 0-2000 mW/cm²
● Measure UV energy and power (intensity), provide PC software to export the data
● Widely used in PCB exposure, UV glue curing, UV ink curing and other fields
● Detect intensity and energy of 365nm high pressure mercury lamp
● Spectral response range: 315nm-400nm, λp = 365nm
● Power measuring range: 0 - 2000mW / cm²