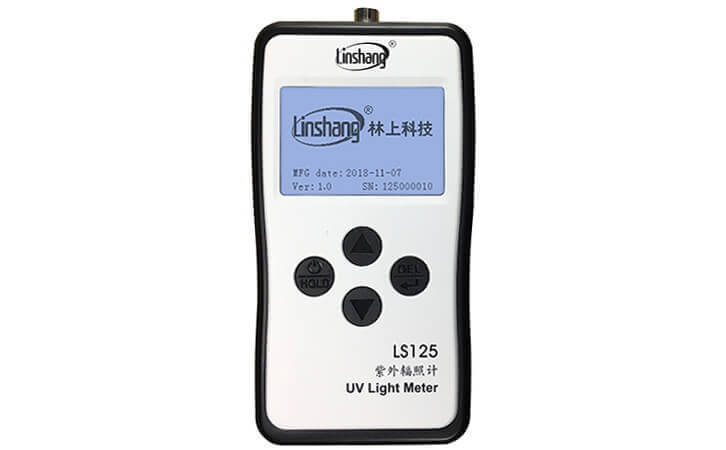 LS125 Multi-probe UV Light Meter Host
Support 9 different probes for UVA, UVB, UVC, etc.
Record record UV power, UV energy and test duration
Automatic statistics of maximum, minimum and average power
LS125 is a smart host that can support 9 different probes. It can intelligently identify different probes. This host is connected to the probe through an aviation plug. The main function of the host is to display test data. The host equipped with the probe can be used for ultraviolet intensity and energy detection. To use the host, you need to buy the corresponding probe to use with it as per your test requirements.
Parameters
| Parameters | LS125 UV Light Meter |
| --- | --- |
| Weight | About 194g |
| Dimension | 148mm × 76mm × 26mm (L*W*H) |
| Display | 240*160 dot matrix LCD |
| Power supply | 4 AAA alkaline batteries |
| Probe connection | Push pull (Snap-in style),Aviation socket |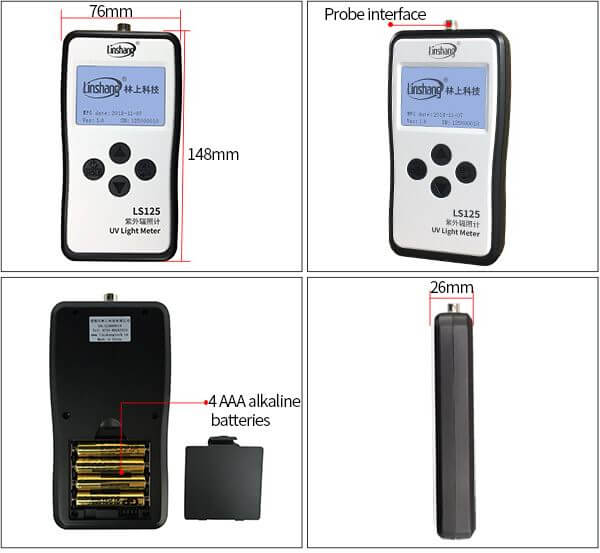 LS125 UV Light Meter Application
Ultraviolet light includes UVA band (315nm-420nm), UVB band (280nm-315nm) and UVC band (200nm-280nm). UVA band is mainly used in photocuring, lithographic exposure, ultraviolet light source, integrated circuit lithography and other industries; UVB band UV lamps mainly include physiotherapy lamps in hospitals and health care places, plant growth lamps and UVB fluorescent lamps for reptiles; UVC band also known as short-wave sterilization ultraviolet, ultraviolet germicidal lamps emit UVC short-wave ultraviolet. Ultraviolet germicidal lamps are mainly used for disinfection and sterilization. They are often used in hospitals, transfer windows of drug factories, disease control centers and sewage treatment plants.
The LS125 handheld UV measurement device is widely used. Many of the above industries require different ultraviolet probes to detect the radiation intensity or energy value. We can select the appropriate probe to use with the host refer to the application of the measured light source, the spectral response range and the probe test aperture.
Probe Selection
According to the spectral response range, application, measuring range and test aperture size of the light source, we have introduced 9 different types of probes (probe must be purchased separately). The selection table is as follows:
Select according to the spectral response range and application of the light source
| No. | Probetype | Spectral response | Application | Link |
| --- | --- | --- | --- | --- |
| 1 | UVC-X0 | 230-280nm | 254nm UV sterilization mercury lamp | More details |
| 2 | UVCWP-X1 | 230-280nm | 254nm UV sterilization mercury lamp,waterproof | More details |
| 3 | UVCLED-X0 | 240-320nm | 260nm-285nm UV LED germicidal lamp | More details |
| 4 | UVB-X0 | 280-315nm | General UVB intensity and energy measurement | More details |
| 5 | UVA-X0 | 315-400nm | High pressure mercury lamp in UV curing industry | More details |
| 6 | UVA-X1 | 315-400nm | General UVA intensity and energy measurement | More details |
| 7 | UVALED-X0 | 340-420nm | Area light source of UV LED in UV curing industry | More details |
| 8 | UVALED-X1 | 340-420nm | Point light source of UV LED in UV curing industry | More details |
| 9 | UVALED-X3 | 340-420nm | General UVA+UVV LED, low power measuring range | More details |
Select according to the range and the test light hole size
Suggestion of Probes for Classic Industry Application
No.
Application
Suggested Probe
1
Detect UV aging box
UVA-X1、UVB-X0
2
Detect ambient light
and sunlight
UVA-X1、UVB-X0
3
Detect welding arc
UVA-X1、UVB-X0、UVC-X0
4
Detect UV light of
non-destructive testing
UVA-X0
5
Detect UV Nail Lamp
UVALED-X3
6
Detect plant growth lamp or
reptile lamp
UVB-X0
LS125 UV Light Meter Characteristics
1. Multi-probe UV light meter. The host and probe are linked by aviation plugs. One host can intelligently match 9 different UV probes to meet different test needs.

2. Digital probe: adopt advanced digital probe technology, the probe is not easy to be interfered and provides excellent measurement accuracy.
3. The instrument can intelligently identify the probe model and the probe will adapt the display interface automatically.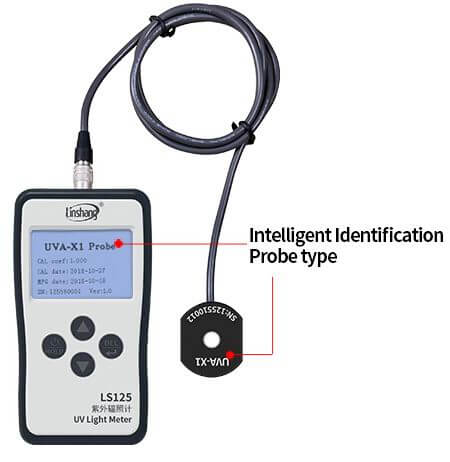 4. A variety of units are available: The instrument can provide different unit selections based on the identified probe model. After connecting the probe, you can choose the appropriate unit in the setting mode.
5. Abundant data statistics function: real-time power value, maximum value, minimum value, average value, measurement time, energy value can be displayed at the same time. (You can also choose not to display the energy value in the setting mode)

6. Data recording: 9 sets of measurement data can be saved. During the measurement, press the "HOLD" to lock the maximum value and the current value during the measurement at the same time. The data will be saved even after the power is turned off. (Except when the battery is removed)
7. Ultra-low power consumption: The instrument is powered by four AAA batteries. The UV measurement device will automatically shut down after 10 minutes without any operation, which can avoid wasting battery power and prolong the service life of the instrument.
Qualifications and Compliant Standards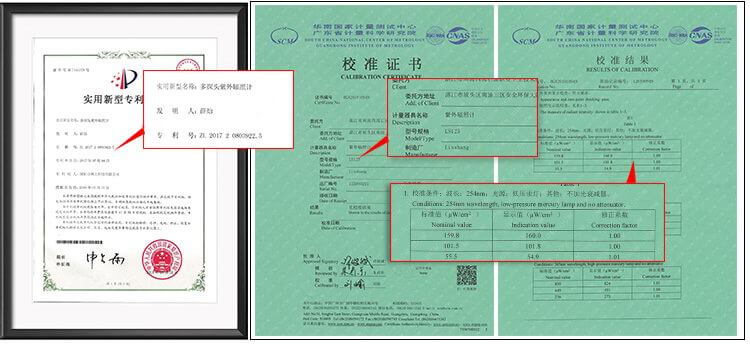 Packaging Details
No.
Item
Quantity
Unit
1
LS125 UV light meter
1
Pcs
2
Probe
According to the
numbers of probe ordered
Pcs
3
AAA battery
4
Pcs
4
User manual
1
Pcs
5
Certificate/Warranty card
1
Pcs
6
Plastic box
1
Pcs
7
Packing box dimension
1
Pcs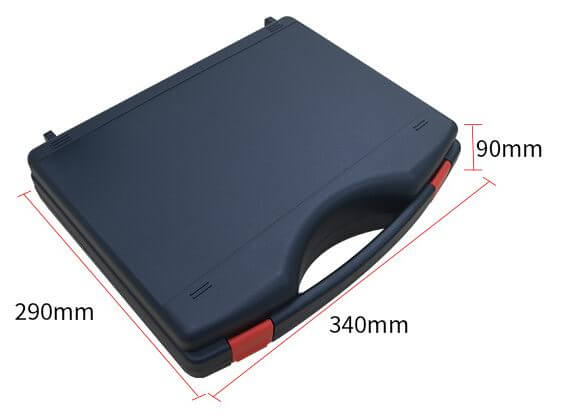 After-Sales Service
The meter has one-year warranty. If the UV light meter works abnormally, please send the whole UV light meter to our company for maintenance

Provide users with spare parts and lifelong maintenance services

Provide the users with the meter inspection service

Free technical support for long term
Manufacturer: Shenzhen Linshang Technology Co.,Ltd. Website: www.linshangtech.com
Service hotline: 0755-86263411        Email: sales21@linshangtech.com
If you want to know more about the price and selection of Linshang UV light meter, please click article below to view:
" UV Light Meter Selection and FAQ".
FAQ
1. Can the test data of LS125 UV light meter be exported to a computer or can it connected to a mobile APP?

No, the test data of LS125 UV light meter can only be read on the display screen of the host. If you need to export the data, you can learn about our UV energy meter (measuring UVA band) and UV light meter LS126C (measuring 254nm UVC germicidal lamp).

2. Can I get a 1-meter test hook if I buy a LS125 UV light meter?

The 1-meter hook is not a standard accessory for LS125 UV light meter, but you can purchase this accessory seperately.
Recommended Products
● Test irradiation intensity of UVC germicidal lamp (low-pressure mercury lamp)
● Provide 1 meter test hook, Bluetooth APP and PC software
● Spectral response range: 230nm-280nm, λp = 254nm
● Measuring range: 0 - 20000 μW / cm²
● Bluetooth transmission distance: 50 meters (open area)
● Test intensity and energy of UVA LED (365, 385, 395, 405nm, etc.)
● Adopts ultra-small size design, which can measure the narrowest width of 7.2 mm.
● Response range: 340-420nm, calibrated at 395nm LED
● Power measurement range: 0 - 20000 mW/cm²
● Online monitor UV power and energy value in real time
● With standard RS485 and MODBUS communication protocol
● Can be connect to computer, PLC and human-machine interface, etc.
● UVALED,UVA,UVC - three probes can be selected
Your product information request
Please tell us a little about yourself and one of our salers will be in touch shortly.