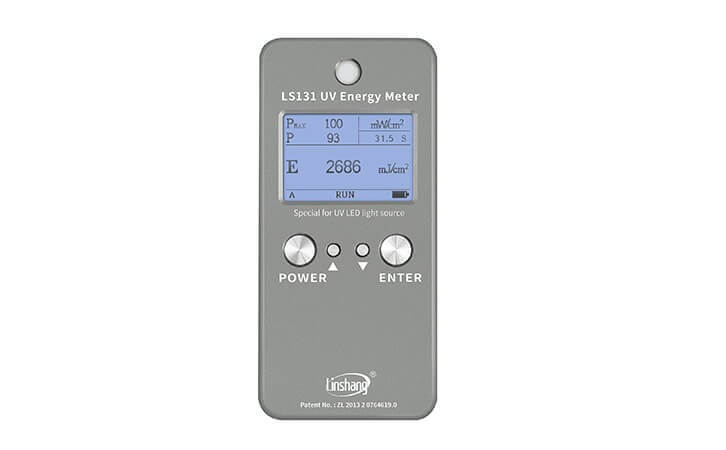 LS131 UV Energy Meter
Special for UV LED (365, 385, 395, 405nm, etc.)
UV light intensity measuring range: 0 - 40000 mW/cm²
Record real-time / maximal power, energy and curing time
Provide PC software to export the test data
LS131 UV energy meter is a professional instrument for UV LED light source detection. The UV energy meter can detect the power and energy value of UV light source. The UV radiometer puck has wide spectral response and can test UV LED light sources in various bands such as 365nm, 375nm, 385nm, 395nm, 405nm. It is widely used in UV exposure, UV curing, UV flat printing, optical communications and other industries.
Parameters
| Parameter | LS131 UV Energy Meter |
| --- | --- |
| Spectral range | 340nm-420nm, calibrated at 395nm LED light sourse |
| Irradiance measuring range | 0-40000mW/cm² |
| Irradiance resolution | 1mW/cm² |
| Energy measuring range | 0-999999mJ/cm² |
| Energy measuring accuracy | ±10%,±5% (typical) |
| Sampling speed | 2000 times/second |
| Irradiance data storage interval | 32 times/second |
| Recording period | 32 minutes |
| Power supply | 4 AAA alkaline dry batteries |
| Display | 240*160 Dot matrix LCD |
| Dimension | 160mm × 75mm × 13mm (L*W*H) |
| Weight | 303 g |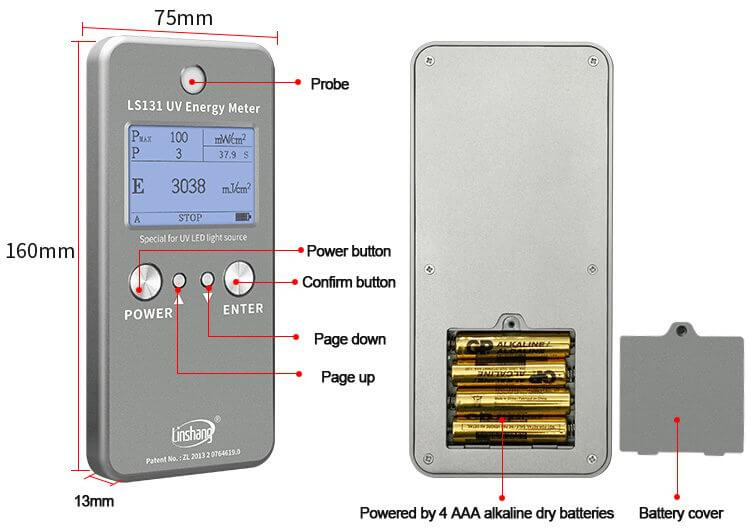 Characteristics
1. It can detect the intensity and energy of UV UV LED light source at the same time. It has rich statistical functions and can display the real-time power value, maximum power value, energy value and measurement time at the same time.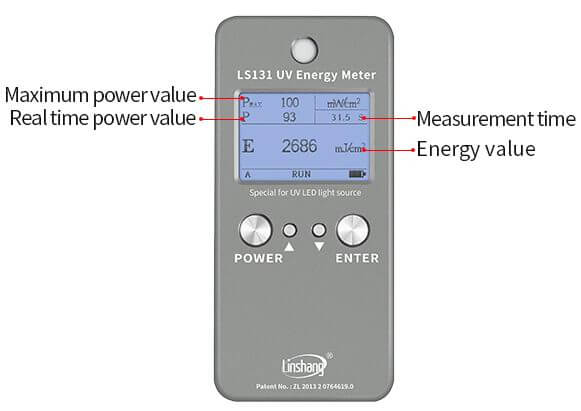 2.The LS131 UV energy meter has a power curve diagram, which can analyze the light intensity distribution of the UV light source through the power curve diagram.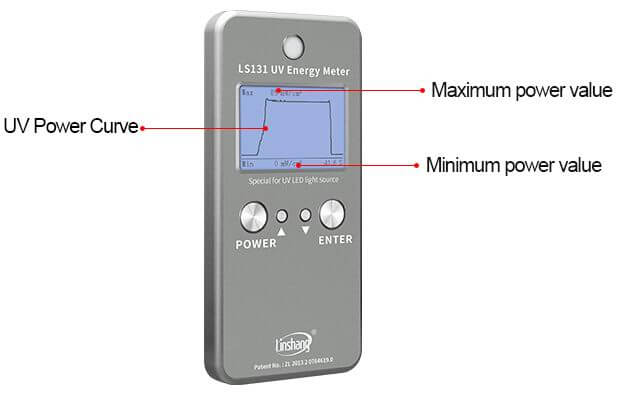 3.High temperature resistant design, can run in the environment of 100 degrees Celsius for a long time. We also provide high temperature resistant protective cover for customers to choose (high temperature cover is not included as standard). The method of using high temperature cover is shown in the figure below. For the detailed process and conclusion of the high temperature resistance experiment of the Linshang UV energy meter, you can click the article below to see the details "Use Time of Linshang UV Energy Meter at Different High Temperature"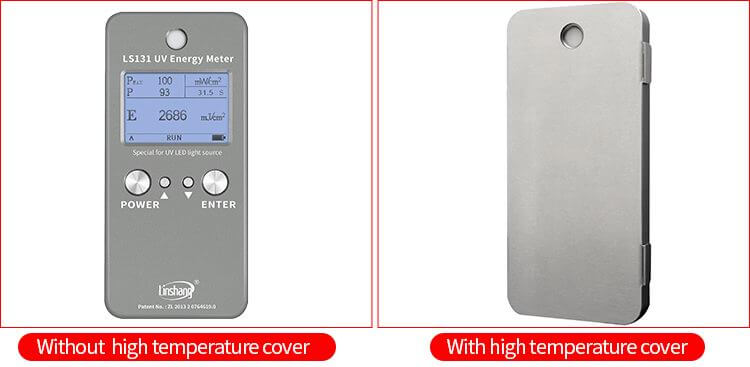 4.The front detector design facilitates data reading during the test.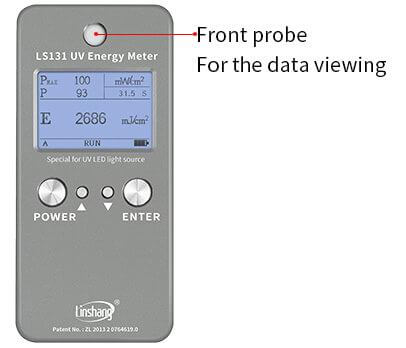 5.High-speed acquisition of 2048 times / second makes the test data more accurate. With the provided PC software, each test data can be exported to EXCEL form after connecting to the computer, and a test report can be generated. The test report can be printed as a PDF file for archiving.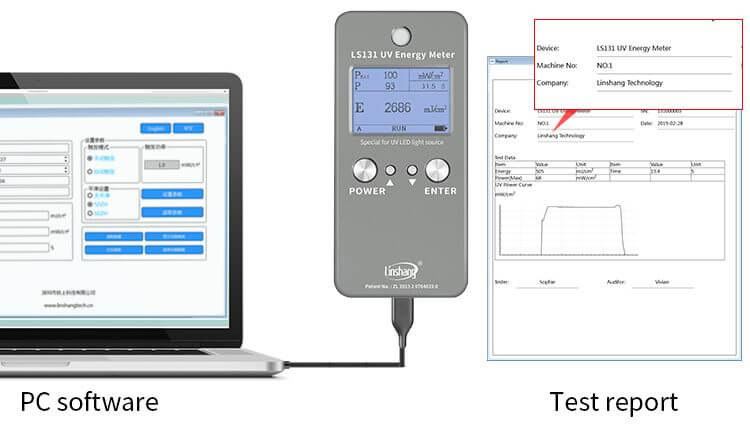 6.Wide spectral response, can measure UV LED light sources of various wavelengths such as 365nm, 375nm, 385nm, 395nm, 405nm.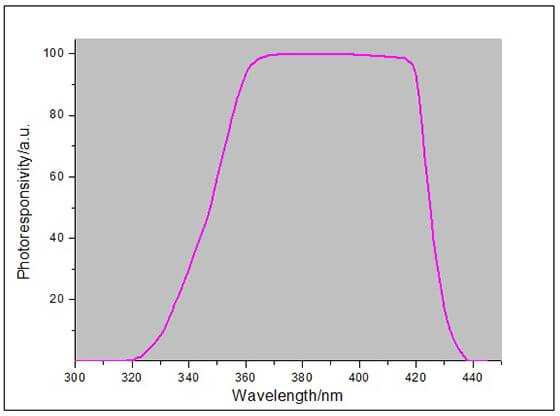 7.Built-in timer can accurately record the length of UV curing time. The instrument has a built-in large-capacity memory, which can record up to 60,000 pieces of power data.
8.The stored data will not be lost when the power is turned off, and the last test data will be displayed automatically when the power is turned on. You need to manually delete the test data.
9. Long press the power button in the off state to enter into the parameters setting mode, the setting steps are shown as below:
Qualification and Standards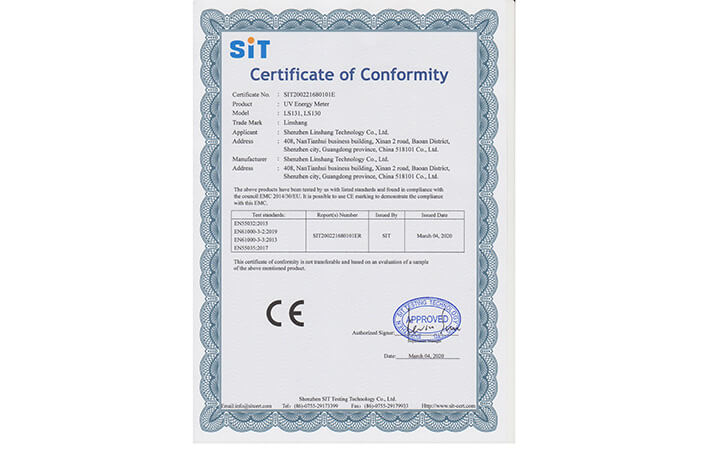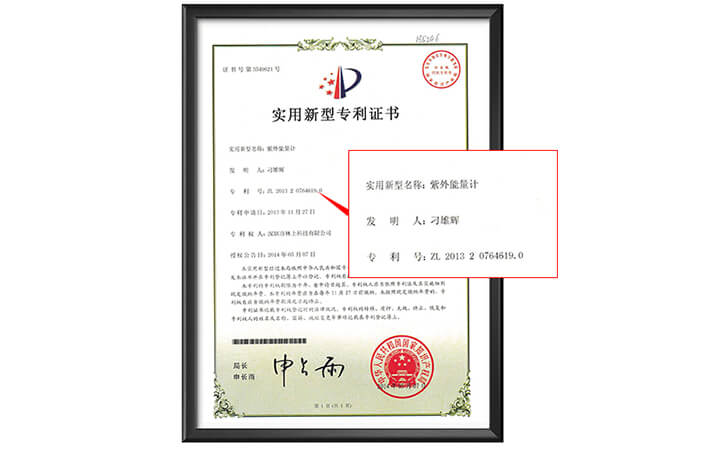 Packaging Details
| No. | Description | Quantity | Unit |
| --- | --- | --- | --- |
| 1 | LS131 UV Energy Meter | 1 | pcs |
| 2 | USB cable | 1 | pcs |
| 3 | Software USB flash disk | 1 | pcs |
| 4 | AAA battery | 4 | pcs |
| 5 | Cross screw-driver | 1 | pcs |
| 6 | User Manual | 1 | pcs |
| 7 | Certificate/Warranty card | 1 | pcs |
| 8 | Plastic box dimension 25*21*7cm (L*W*H) | 1 | pcs |
After Sales Service
The meter has one-year warranty. If the instrument works abnormally, please send the whole instrument to our company for maintenance

Provide users with spare parts and lifelong maintenance services

Provide the users with the meter inspection service 

Free technical support for long term
Manufacturer: Shenzhen Linshang Technology Co.,Ltd. Website: https://www.linshangtech.com/ 
Service hotline: 0755-86263411 Email: sales21@linshangtech.com
For the UV energy meter selection, please click "UV Energy Meter Selection and FAQ". 
FAQ
1. The difference between LS130 and LS131 UV energy meters

LS130 UV energy meter is mainly used to detect 365nm UV high pressure mercury lamp, while LS131 UV energy meter is mainly used to detect 365nm, 385nm, 395nm and 405nm UV LED light sources.

2. The difference between LS128 and LS131 UV energy meters

Both LS128 and LS131 are UV energy meters used to detect 365nm, 385nm, 395nm and 405nm UV LED light sources. They can measure the power value (irradiation intensity) of the UV lamp, the energy value and display the power curve; in addition, LS128 can also measure the temperature in the curing machine, and display temperature curve, but LS131 does not have this function.

3. Whether a traceable calibration certificate is included?

LS120 and LS130 are professional UV energy meters used to detect 365nm high-pressure mercury lamps, which can be ensured to pass the inspection of the Metrology Institute and obtain a calibration certificate (approved by CNAS and ilac-MRA). The cost of the calibration certificate is about US$200 ; LS128 and LS131 are UV energy meters that are professionally used to detect UV LED light sources. There is no unified inspection standard for LED light sources, each light source and UV energy meter manufacturer has their own calibration standards. We can provide the factory calibration reports for these two UV LED energy meters, but no calibration certificates can be provided.

LS130 and LS131 have certified to CE.

4. How to calibrate UV energy meter, how often do I need to calibrate and how much does it cost?

To calibrate the UV energy meter, please send the instrument back to the manufacturer. Generally, it is recommended to calibrate it once a year. If the storage environment is good and the frequency of use is not high, the calibration period can also be extended according to user needs. The first calibration is free, and the cost of each subsequent calibration is US $32.
Your product information request
Please tell us a little about yourself and one of our salers will be in touch shortly.
Recommended Products
● Suitable for high pressure mercury lamp used in curing machine
● Spectral response range: 315nm-400nm, λp = 365nm
● UV power (intensity) measuring range: 0-2000 mW/cm²
● Measure UV energy and power (intensity), provide PC software to export the data
● Test intensity and energy of UV LED (365, 385, 395, 405nm, etc.)
● Response range: 340-420nm, calibrated at 395nm LED
● UV intensity measuring range: 0 - 40000 mW/cm²
● Measure energy, power and temperature, provide PC software to export the data
● Detect intensity and energy of UVA LED plane light sources
● Used in UV curing, PCB exposure, 3D printing, etc.
● Spectral response range: 340nm-420nm, calibrated with 395nm UV LED
● Power measuring range: 0 - 20000 mW / cm²