Details
I. LS181 Solar Film Transmission Meter Introduction
Linshang as a professional solar film transmission meter manufacturer provides the LS181 solar film transmission meter for sale, which is suitable for automotive window film transmittance and UV, IR rejection rate detection. The window film measurement device use parallel light path design and the test data will not be affected by sample placement. This instrument is a high-precision automotive film detector.
II. LS181 Solar Film Transmission Meter Working Principle
The testing principle of the LS181 tint tester is to illuminate the tested transparent material through an ultraviolet light source, an infrared light source and a visible light source. Then use the sensor on the other side to detect the incident light intensity of the three light sources and the light intensity after passing through the material. The ratio of transmitted light intensity to incident light intensity is the transmittance, expressed as a percentage. Most solar film parameters will be marked with three indicators, namely visible light transmittance, infrared and ultraviolet rejection rate, where the rejection rate = 100% -transmittance.
Linshang LS181 window tint tester is such an instrument that directly measures and displays ultraviolet rejection rate, infrared rejection rate and visible light transmittance, which is more convenient for users to read and understand.
III. LS181 Solar Film Transmission Meter Application

IV. LS181 Solar Film Transmission Meter Parameters
| | |
| --- | --- |
| UV peak wavelength | 365nm |
| IR peak wavelength | 940nm |
| Visible light | 550nm |
| Resolution | 0.1% |
| Measurement accuracy | better than ± 2% (colorless an uniform transparent material) |
| Test card slot | 47mm×91mm (W*H) |
| Weight | about 590g |
| Dimension | 216mm × 134mm × 29mm (L*H*W) |
| Power supply | 5V AC/DC Adapter or mobile power (optional) |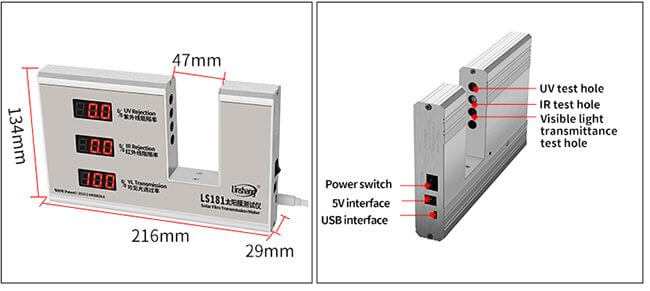 V. LS181 Solar Film Transmission Meter Characteristics
1. The window tint tester has simple operation and fast measurement. The test data will be displayed on the interface immediately after putting the materials into the test slot.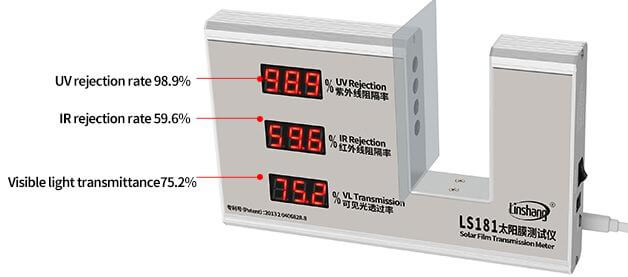 2.  The light transmission meter has real-time dynamic self-calibration function, which will make self-calibration after it is turned on.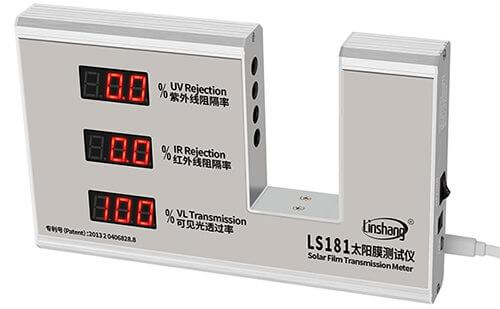 3. The parallel light path design is used to ensure the data accuracy wherever the tested material is placed. The large thickness materials can also be tested with the same accuracy.
4.A support is provided to tilt the instrument for easy reading.
5. The window tint detector is powered by 5V power supply and has USB interface. The meter can be directly connected to 5V mobile power and mobile power is not delivered.
VI. LS181 Solar Film Transmission Meter Qualification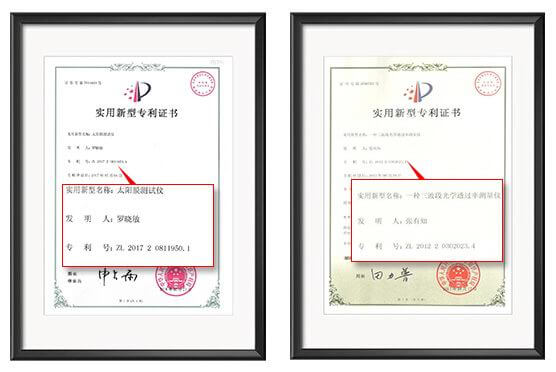 VIII.LS181 Solar Film Transmission Meter Packaging Details
| | | | |
| --- | --- | --- | --- |
| No. | Description | Quantity | Unit |
| 1 | LS181 Solar Film Transmission Meter | 1 | pcs |
| 2 | DC5V Adapter | 1 | pcs |
| 3 | User Manual | 1 | pcs |
| 4 | Certificate / warranty card | 1 | pcs |
| 5 | Packing box dimension 34*29*9 cm(L*W*H) | 1 | pcs |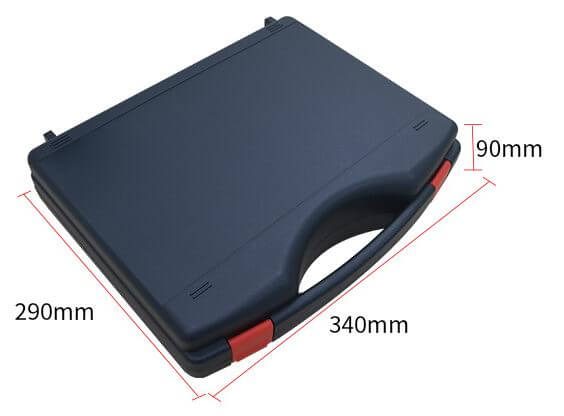 IX. LS181 Solar Film Transmission Meter After-Sales Service
The meter has one-year warranty. If the instrument works abnormally, please send the whole instrument to our company for maintenance

Provide users with spare parts and lifelong maintenance services

Provide the users with the meter inspection service 

Free technical support for long term
Manufacturer: Shenzhen Linshang Technology Co.,Ltd. Website: https://www.linshangtech.com/
Service hotline: 0755-86263411 Email: sales21@linshangtech.com
For more information about the solar film transmission meter selection, please click article below for details

Window Film Solar film transmission meter Selection and FAQ.
X. FAQ about LS181 Solar Film Transmission Meter
1. The difference between LS181 (940nm) and LS180 (1400nm) window film transmission meters

The main difference between LS181 and LS180 is that the peak wavelength of the built-in infrared light source is different, LS181: 940nm, LS180: 1400nm, these two wavelengths are more representative, most of the absorption film has a better rejection effect on 940nm infrared. The metallic film (insulation by reflecting heat) has a better rejection effect on 1400nm infrared. Please choose the appropriate model according to your own film.

2. The difference between LS180, LS181 and LS182 window film transmission meters

LS182 can measure six parameters of visible light 380-760nm, ultraviolet 365nm, infrared 940nm, 1400nm, full infrared and SHGC.

LS180 can measure visible light 550nm, ultraviolet 365nm, infrared 1400nm.

LS181 can measure visible light 550nm, ultraviolet 365nm, infrared 940nm.
XI. Recommended products
● Split design with strong magnetic force
● VLT (380-760nm), UV rejection rate (365nm), IR rejection rate (940nm)
● Suitable for measuring all kinds of transparent and homogeneous materials,such as abosorbing window film, automotive windshield, etc
● Thickness of testing sample: <8mm
● VLT (380-760nm), UV rejection rate (365nm), IR rejection rate (940nm)
● Test visible light transmittance, UV and Infrared rejection rate of absorbing films, automotive windshield,etc
● Light course: VL(380-760nm), UV(365nm), IR(940nm,1400nm)
● Measure VLT, UV rejection, IR rejection and SHGC
● Three gears 940nm,1400nm and full IR can be switched
● Suitable for absorbing, ceramic, metallic film,insulating glass,etc