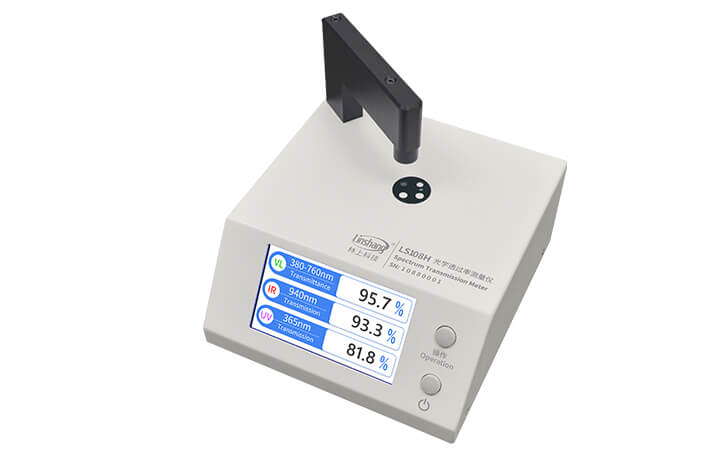 LS108H Spectrum Transmission Meter
Test UV 365nm, IR 940nm Transmittance and 380-760nm VLT

Obtain three data by one measurement
Parallel light path design
1mm test aperture
LS108H spectrum transmission meter is a desktop instrument, which is exclusively designed for optical transmittance test of various materials such as lens, glass, coating material, organic material and paint, etc. The test aperture of the meter is 1mm, which is suitable for the measurement of light transmittance, infrared and ultraviolet transmittance of small size materials. The flat bench-top meter is available for placing various test samples. The test is fast and accurate. Once the test material is placed on the meter, the test results will be displayed immediately. The meter use parallel light path design that can measure thick materials.
The LS108H optical transmittance tester use ultraviolet light source, infrared light source and visible light source to illuminate the transparent material. The sensor detects the incident light intensity of the three light sources and light intensity after passing through the transparent material under test. The ratio of the over light intensity to the incident light intensity is the transmittance shown in percentage.
Application
It is suitable for measuring the transmittance of various uniform transparent materials, such as glass, PC, coated glass, IR hole on the remote control window, plastic, paint, lens, organic glass (acrylic), etc.
Parameters
| Parameter | Value |
| --- | --- |
| UV peak wavelength | 365nm |
| IR peak wavelength | 940nm |
| Visible light | 380nm-760nm full wavelength,in line with CIE photopic luminosity function |
| Resolution | 0.1% |
| Measurement accuracy | ±2% (colorless uniform transparent material, 0-90% transmittance) |
| Minimum test sample size | ¢ 1mm |
| Dimension | 170 mm ×180 mm ×144 mm (L*W*H) |
| Weight | about 1570 g |
| Display | 480px * 272px color LCD |
| Power supply | DC5V/1A |
Three-in-one light source path
Three light sources share a test hole, which can obtain 380nm-760nm visible light transmittance, 940nm infrared and 365nm ultraviolet transmittance in one measurement, easy to operate and save time
Parallel beam light design
Parallel light design enables stable and accurate results on testing large thickness materials
Small aperture
The test aperture is 1mm, applicable to test transmittance of small-sized materials
Real-time dynamic self-calibration
The light transmission meter has a real-time dynamic self-calibration function, which automatically calibrates to 100% transmittance after startup
LCD screen, fashionable and easy for reading
Large LCD screen display, exquisite and stylish appearance, can be used in exhibitions and so on
5V power supply
5V mobile power, easy to connect
Qualifications and Standards

Packing
| No. | Description | Quantity | Unit |
| --- | --- | --- | --- |
| 1 | LS108H Spectrum Transmission Meter | 1 | pcs |
| 2 | DC5V Adapter | 1 | pcs |
| 3 | User Manual | 1 | pcs |
| 4 | Certificate / warranty card | 1 | pcs |
| 5 | Packing box dimension 231*241*161cm(L*W*H) | 1 | pcs |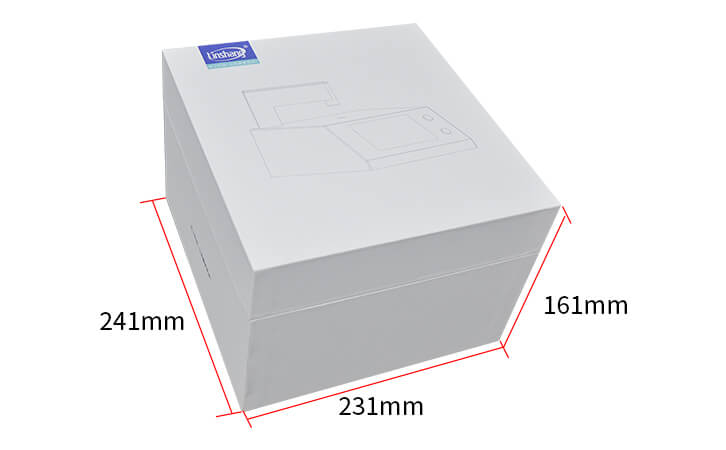 Transmission Meter model selection
More about Linshang transmission meter price, product model selection, parameter comparison and question
FAQ
1. The difference between LS108H and LS183 spectrum transmission meter

Both LS183 and LS108H spectrum transmission meters can measure the transmittance of infrared, ultraviolet and visible light.

1) LS183 use a card slot design with a detector hole diameter of 10mm and width between the light source and the receiver is 47mm. 

2) LS108H use a desktop design, the detector hole diameter is only 1mm and the height between the light source and the receiver is 20mm. 

LS108H is suitable for measuring small-sized materials and more widely used, so the price of LS183 is slightly higher. LS183 is suitable for measuring large-sized materials.
Your product information request
Please let us know your requirements and we will be in contact with you shortly!