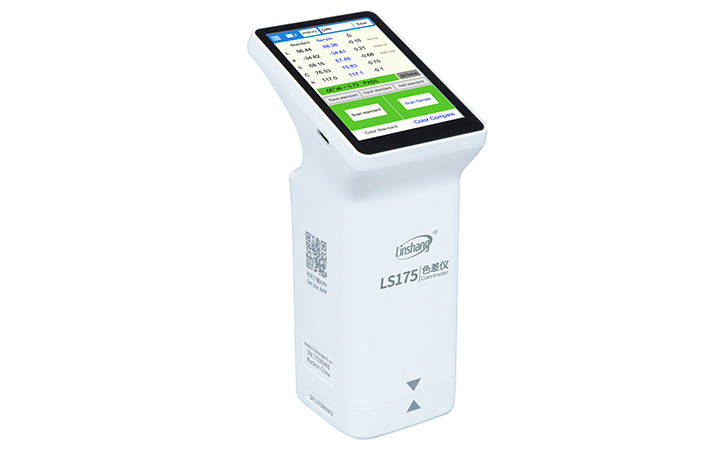 LS175 45/0 Colorimeter with 20mm Aperture
Provide Touch Screen, APP and PC software
Suitable for color measurement on textured or rough surface materials such as textiles, leather and meat, etc
Color comparison and color scan
LS175 is a handheld 45°/0° Illumination geometry colorimeter with a large 20mm measuring aperture, a 3.5-inch IPS color display and capacity touch panel, can connect with mobile phone or PC. Boasted with its color comparison and color scan functions, this device is applicable to color measurement on textured materials such as textiles, leather, wood furniture and meat, etc.. Compared with LS170 and LS171, this device can work independently without connecting APP on mobile phone or PC software. Several color charts integrated helps matching the closest color number of scanned color in short time. The device also has color comparison function, support multiple methods of adding standard. Availability of setting threshold of color difference, flexibility of choosing color difference formulas ensures QC quick check. The device can connect APP on mobile phone via Bluetooth or connect PC software via USB cable, offering various functions of scanned color sharing, printing report, color data import and export.
Application Industries
LS175 has wide application in color measurement and management, product/ incoming material color difference quality check in industries of textiles, leather, wood furniture and meat, etc., as it can measure larger area with its large 20mm measuring aperture, it can acquire more even color data when measuring textured or rough surface materials. APP on mobile phone and PC software with various functions are optional.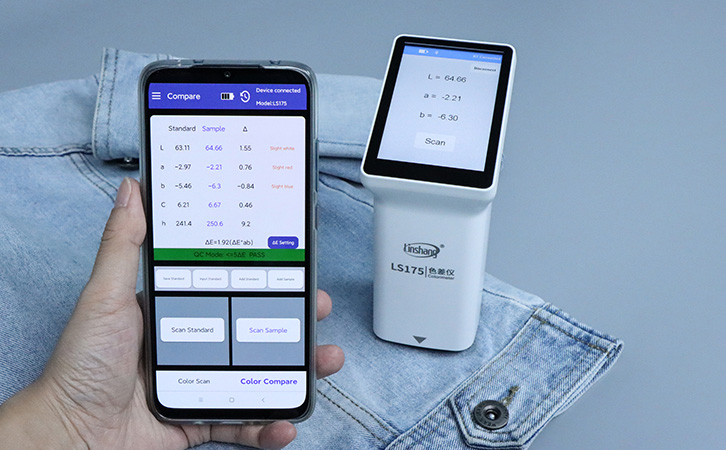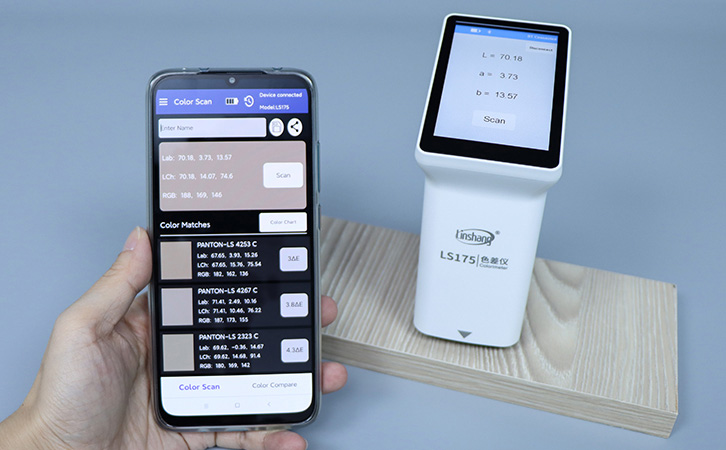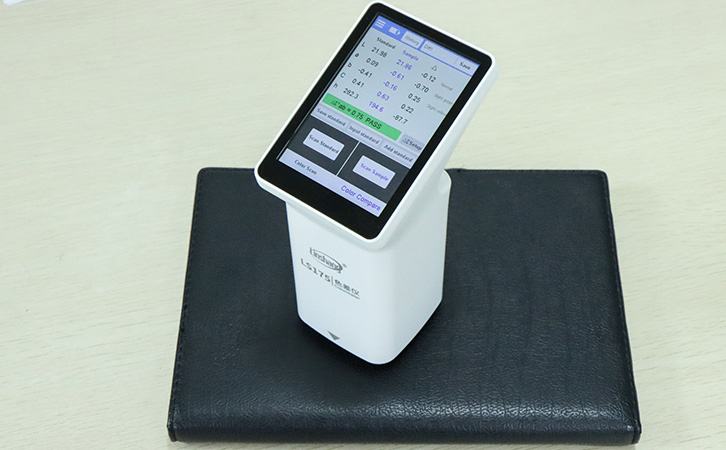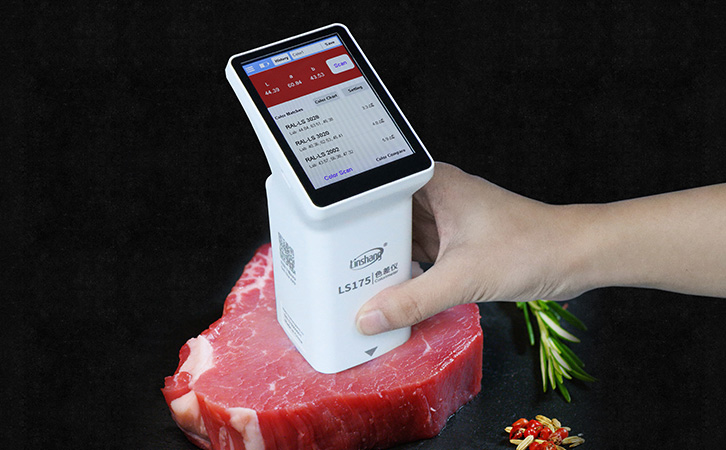 Feature
Large measuring aperture, higher precision on textured material measurement
As it can measure larger area thanks to its large 20mm measuring aperture, the device ensures higher precision on the test results as it acquires more even color data when measuring textured or rough surface materials.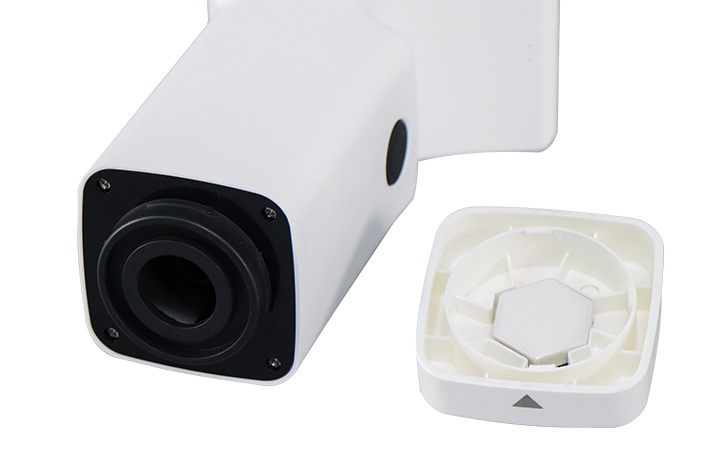 The large 3.5-inch touch screen makes the operation more convenient
The device adopts a 3.5-inch IPS color display and capacity touch panel, no need to operate by pressing button. It offers smooth user operation experience and interactive interface, simple operation.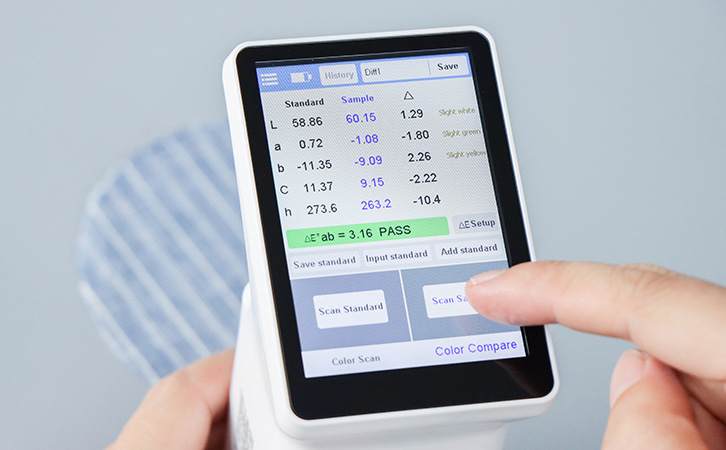 Portable size
Portable size; durable and stable architecture with Ergonomic design, ensures more stable test results.
integrating multiple sets of electric color charts
The device integrates multiple sets of electric color charts applicable for many industries (RAL, Pantone, NCS), can quickly match 3 closest serial numbers in the color charts with precision rate over 90%,  keeping your hands free from carrying heavy color charts.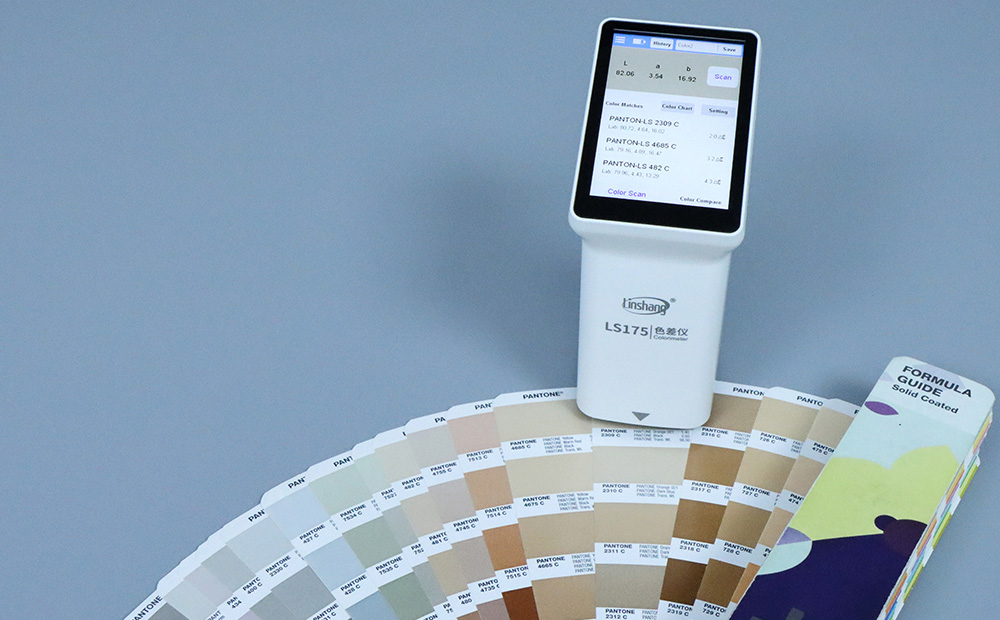 Color scan and Color Compare function
Press "Color Scan"on the screen or press power supply to scan color and get result within 1 second. Two clicks can complete color comparison. Quality Control inspection function can be conducted in batch by defining threshold in QC mode. In this mode, color deviation on 3 Lab color channels will be prompted, offering reference for color toning.
Multiple color spaces and color difference formulas to match demands of various industries
Multiple color spaces as Lab\Lch\CMYK and color difference formulas optional to match various color scan demands of different industries
Equipped with APP and PC software, support bilingual system
The device is equipped with APP on mobile phone and PC software, covering operation system of Android, iOS and Windows for more powerful functions. It can switch between Chinese and English to meet requirements of different application scenes.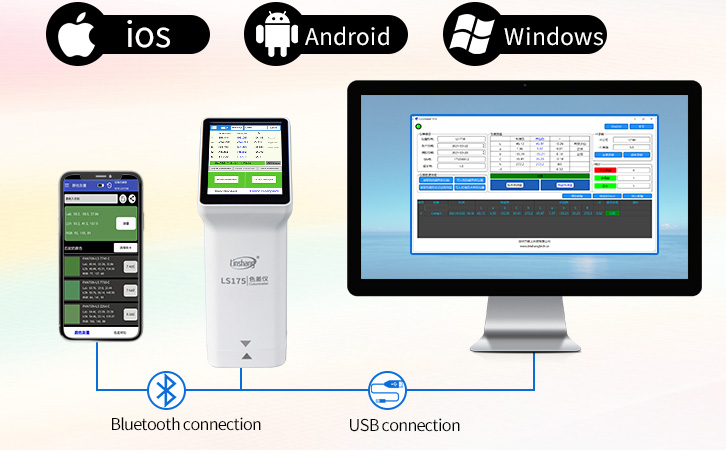 Chip-level color sensor 
LS175 adapts chip-level color sensor AS7261 newly launched by ams AG,  whose precise XYZ tristimulus color sensing function simulates the human eye response curve of the standard observer defined in the CIE1931 and CIE1976 color systems.
Compensation light path technology, whiteboard calibration
Compensation light path installed in the device enables long circle calibration and stable result. Whiteboard for calibration get integrated in the bottom cover, no worries about getting lost and frequent operation.
Energy-saving, eco-friendly, low power consumption
2-in-1 Type-C port for recharging and exporting data, built-in lithium battery offers continuous test up to 10000 times after fully recharged. Defaulted auto-power-off time could be set.
Parameter
Parameter
Value
Illumination geometry
45/0 (45° annular illumination, 0° viewing angle)
Illumination light source
Full spectrum LED light source
Measuring aperture
20mm
Measurement conditions
Light source D65, field of view 10°
Measuring time
1s
Color space
CIE Lab、Luv、LCh、Yxy、CMYK、RGB、Hex
Color difference formula
ΔE*ab、ΔE*uv、ΔE*94、ΔE*cmc(2:1)、ΔE*cmc(1:1)、ΔE*00
Repeatability
Standard deviation ΔE*ab is within 0.03
(Measurement condition: the average value of 30 measurements on the whiteboard at an interval of 3s after calibration)
Dimension
86mm X 62.5mm X 158mm
Weight
225g
Power supply
Rechargeable lithium battery 3.7V@4000mAh, can measure 10,000 times continuously under full charge
Display
480×320 dot matrix IPS color screen
Language
Simplified Chinese, English
Charging port
USB(Type-C)
Data transmission
USB, Bluetooth
Operating temperature range
0~45℃,0~85%RH(no condensation)
Storage temperature range
-25~55℃,0~85%RH(no condensation)
Product Qualifications and Standards
LS175 handheld colorimeter meets the following standards:
GBT 3978-2008 standard lighting body and geometric conditions

GBT 3979-2008 Method for measuring object color

GBT 7921-2008 Uniform color space and color difference formula

GBT 11186.1-1989 Coating Film Color Measurement Method Part 1: Principle

GBT 11186.2-1989 Coating Film Color Measurement Method Part 2: Color Measurement

GBT 11186.3-1989 Method for Measuring the Color of Coating Film Part 3 Calculation of Color Difference

JJG 595-2002 Verification Regulations for Color Measuring Colorimeter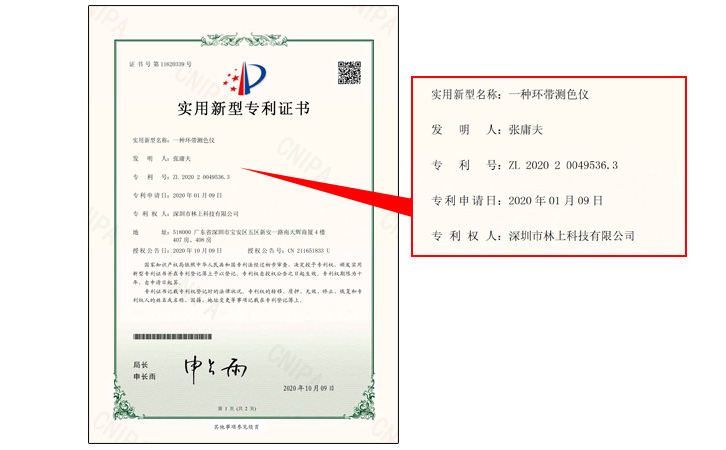 Manual
APP installation
Our APP supports Android operation system 7.0 and above, IOS 7.0 and above.
Installation options:
Scan the QR code on the device by web-viewer or Wechat, download and install following instructions.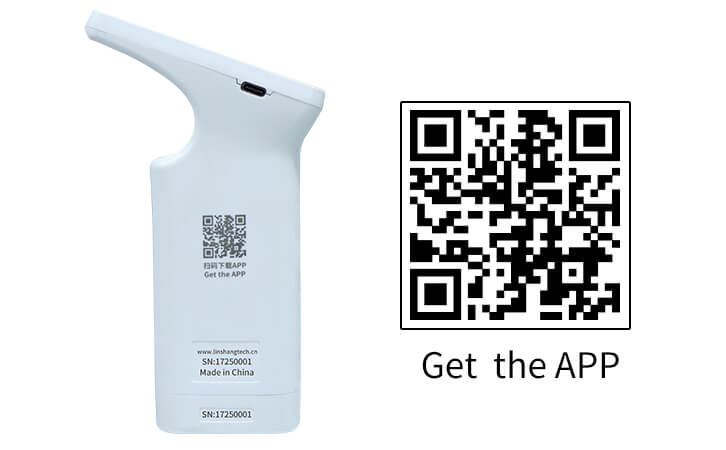 PC software installation
Use PC software by connecting PC via USB. (PC software only supports Windows operation system)
Installation options:
Precaution
When the colorimeter has not been used for a long time, it is recommended to perform calibration before using.

Please ensure that the sample is evenly colored with a flat and clean surface, otherwise it will affect the measurement accuracy.

After the base is removed from the host, it should be stored in a clean place to avoid contamination of the standard tile.

Do not insert any object inside the colorimeter to clean it, as this will cause damage  and affect measurement accuracy and operation safety.

Charge the colorimeter in time when the battery is out of power.

If not in use over 6 months, charge it regularly to prevent the battery from over-discharge and damage.

It's recommended to calibrate the instrument once each year. And we offer calibration service.

Due to different mobile phone displays, there may be a slight color difference between the actual color and the color displayed on the APP.
Packing List
| No. | Description | Quantity | Unit |
| --- | --- | --- | --- |
| 1 | Colorimeter | 1 | Set |
| 2 | USB cable | 1 | pcs |
| 3 | U disk (software) | 1 | pcs |
| 4 | Cleaning cloth | 1 | pcs |
| 5 | Locating plate | 1 | pcs |
| 6 | User manual | 1 | pcs |
| 7 | Certificate / Warranty card | 1 | pcs |
Service
As a leading professional manufacturer of testing devices in China, Linshang offers excellent after sales services as below:
The colorimeter has one-year warranty. If the meter works abnormally, please send the whole instrument to our company for maintenance.

Provide users with spare parts and lifelong maintenance services.

Provide the users with the gauge calibration service.

Free technical support for long term.
Your product information request
Please tell us a little about yourself and one of our salers will be in touch shortly.