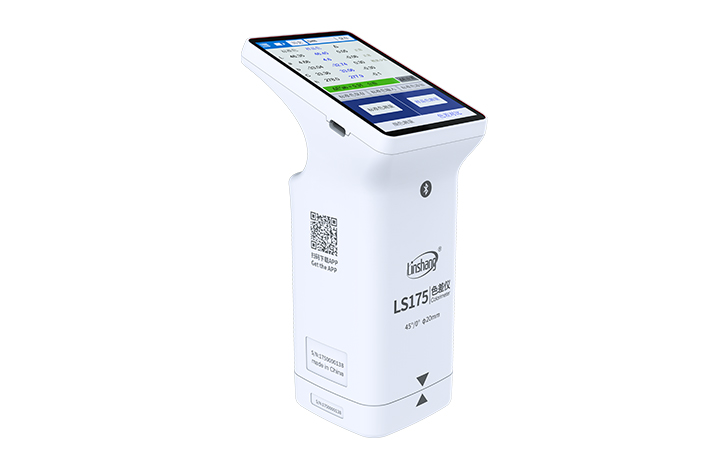 LS175 45/0 Colorimeter with 20mm Aperture
Large measuring aperture
Suitable for color measurement on textured or rough surface materials such as textiles
Color scan and Color comparison functions
LS175 is a handheld 45/0 illumination geometry colorimeter with a large 20mm measuring aperture, a 3.5-inch IPS color capacity touch screen, and can connect with mobile phone or PC. This device can work independently without connecting APP on mobile phone or PC software. Several color charts helps matching the closest color number of scanned color in short time. The device also has color comparison function, supporting multiple methods of adding standard. Availability of setting threshold of color difference ensures QC quick inspcetion. The device can connect APP and PC software, expanding its functions such as color sharing and printing report.
Application
As it can measure larger area to acquire more even color data with its large 20mm measuring aperture, LS175 has wide application in color measurement and widely used in industries of textiles, leather,fabrics and wood furniture.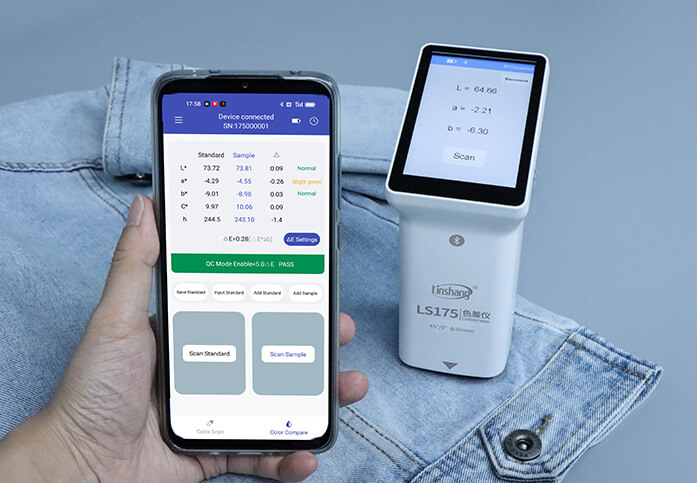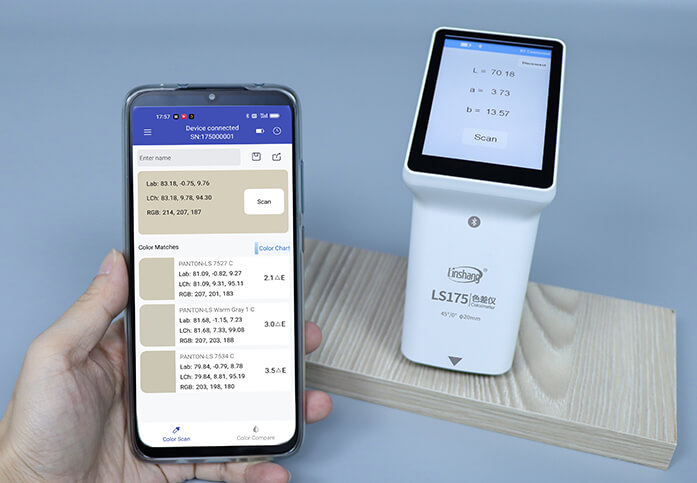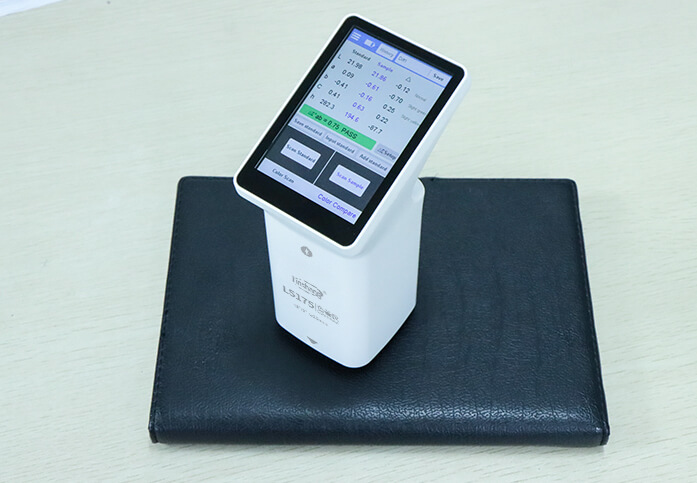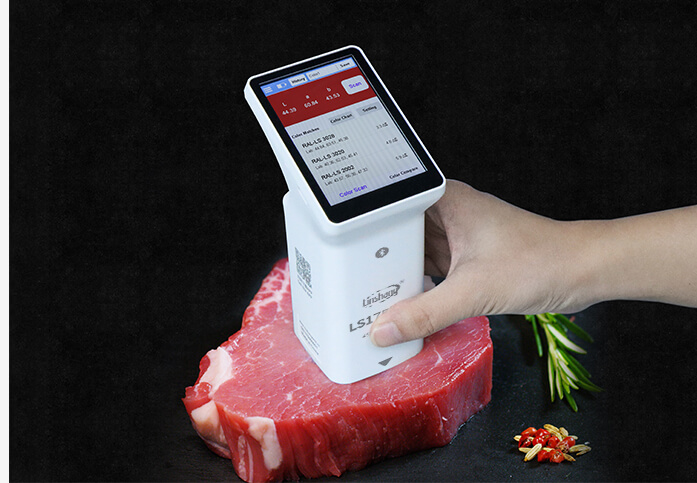 Parameter
Parameter
Value
Illumination geometry
45/0 (45° annular illumination, 0° viewing angle)
Illumination light source
Full spectrum LED light source
Measuring aperture
20mm
Measurement conditions
Light source D65, field of view 10°
Measuring time
1s
Color space
CIE Lab、Luv、LCh、Yxy、CMYK、RGB、Hex
Color difference formula
ΔE*ab、ΔE*uv、ΔE*94、ΔE*cmc(2:1)、ΔE*cmc(1:1)、ΔE*00
Repeatability
Standard deviation ΔE*ab ≤ 0.03
(Measurement condition: the average value of 30 measurements on the white tile at an interval of 3s after calibration)
Dimension
86mm X 62.5mm X 158mm
Weight
225g
Power supply
Rechargeable lithium battery 3.7V@4000mAh, can measure 10,000 times continuously under full charge
Display
480×320 dot matrix IPS color screen
Language
Simplified Chinese, English
Charging port
USB(Type-C)
Data transmission
USB, Bluetooth
Operating temperature range
0~45℃,0~85%RH(no condensation)
Storage temperature range
-25~55℃,0~85%RH(no condensation)

Large measuring aperture, higher precision
As it can measure larger area with its large 20mm measuring aperture, the device ensures higher precision on the test results as it acquires more even color data when measuring textured or rough surface materials.
Touch screen makes measurement convenient
The device adopts a 3.5-inch IPS color capacity touch screen, no need to operate by pressing button. It offers smooth user operation experience and interactive interface, simple operation.
Portable and Precise
Portable size, durable and stable architecture with ergonomic design ensures more stable test results.
Providing multiple sets of electronic color charts
The device provides multiple sets of electronic color charts applicable for many industries (RAL, Pantone, NCS), can quickly match 3 closest serial numbers in the color charts with precision rate over 90%,  keeping your hands free from carrying heavy color charts.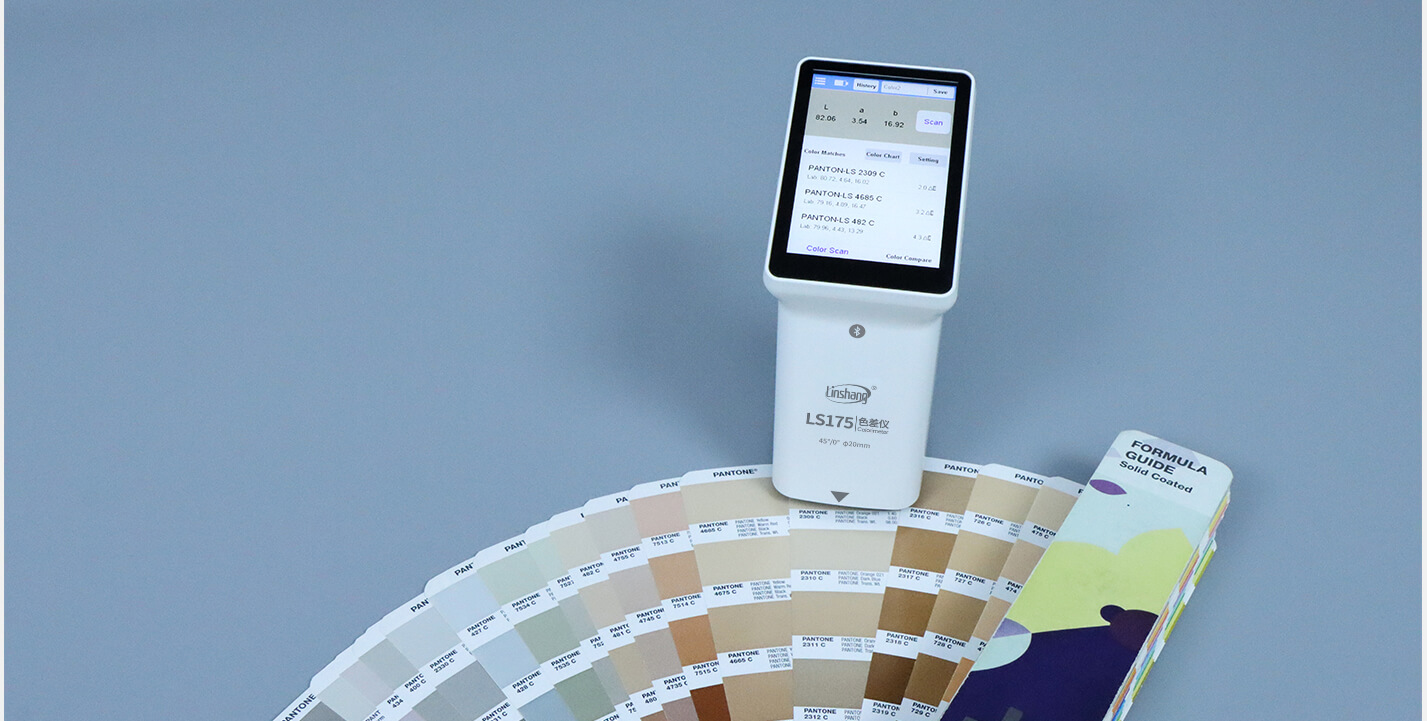 Color scan and Color Compare function
LS175 has two main functions: Color scan and Color compare. You can get result within 1 seconds when using Color scan function. Quality Control inspection can be realized in Color compare function that color deviation on 3 Lab color channels will be prompted, offering reference for color toning.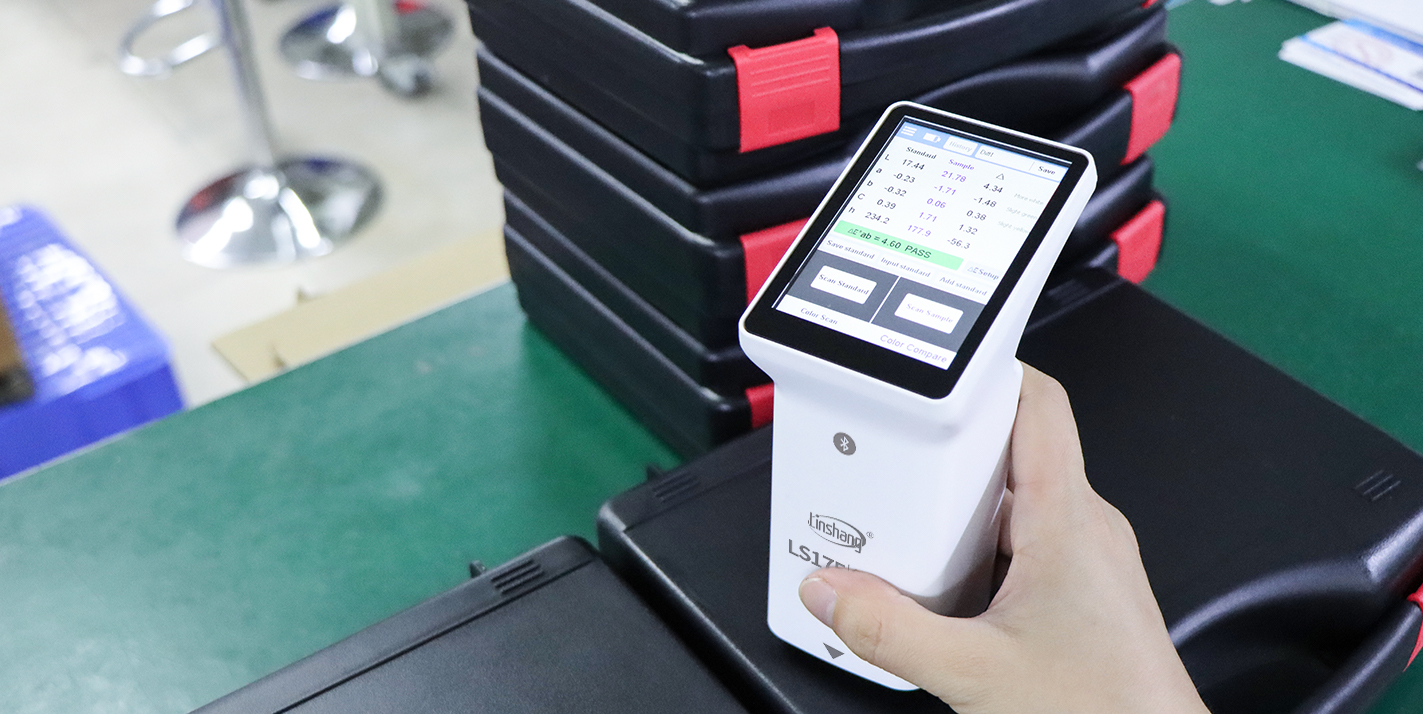 Seven color spaces and six color difference formulas
There are seven color spaces and six color difference formulas for user to choose which meet various measuring demands of different industries.
Mobile App and PC software support
The device is equipped with APP on mobile phone and PC software, covering operation system of Android, iOS and Windows for more powerful functions. It can switch between Chinese and English to meet requirements of different application scenes.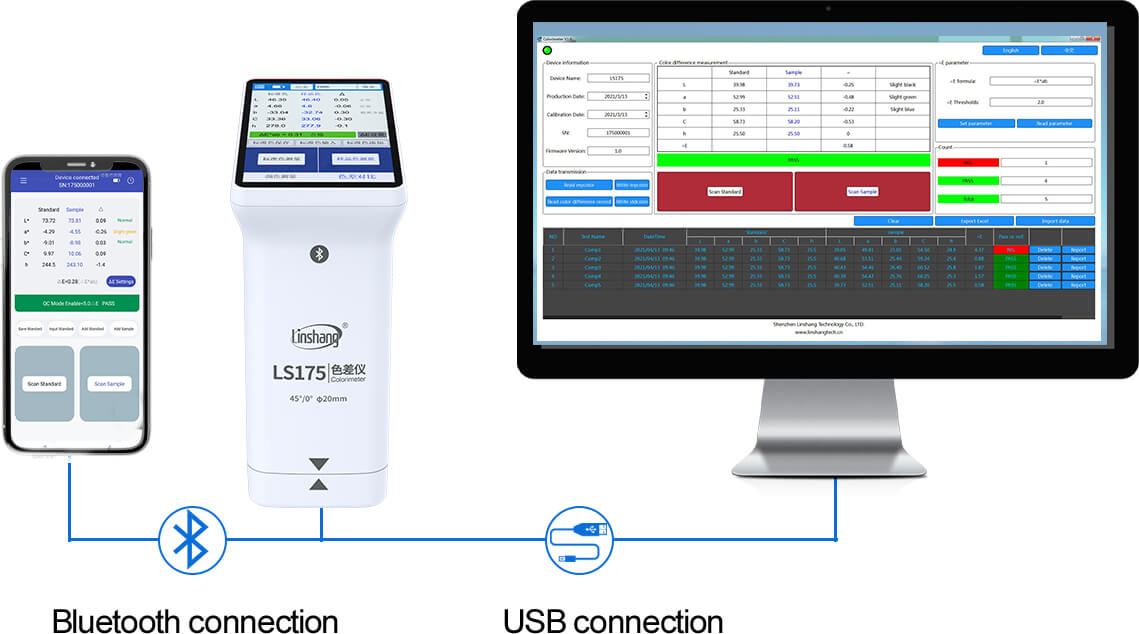 Advanced color sensor, Outstanding quality
LS175 adapts chip-level color sensor AS7261 newly launched by ams AG, whose precise XYZ tristimulus color sensing function simulates the human eye response curve of the standard observer defined in the CIE1931 and CIE1976 color systems.
Measuring locating plate to make measurement more accurate
The instrument is equipped with a measurement locating plate to meet the needs of precise alignment and make the measurement more accurate.



Qualifications and Standards
LS175 handheld colorimeter meets the following standards:
GBT 3978-2008 standard lighting body and geometric conditions

GBT 3979-2008 Method for measuring object color

GBT 7921-2008 Uniform color space and color difference formula

GBT 11186.1-1989 Coating Film Color Measurement Method Part 1: Principle

GBT 11186.2-1989 Coating Film Color Measurement Method Part 2: Color Measurement

GBT 11186.3-1989 Method for Measuring the Color of Coating Film Part 3 Calculation of Color Difference

JJG 595-2002 Verification Regulations for Color Measuring Colorimeter

Installation and Operation
APP installation
Our APP supports Android operation system 7.0 and above, IOS 7.0 and above.
Installation options:
Scan the QR code on the device by web-viewer or Wechat, download and install following instructions.

Click the link https://www.linshangtech.cn/a/170/ to install APP.

Search "LSColor" APP Store/Google Play to install.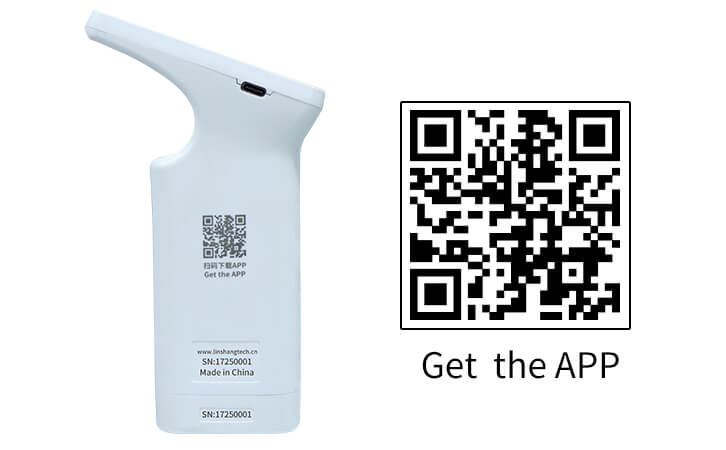 PC software installation
Use PC software by connecting PC via USB. (PC software only supports Windows operation system)
Installation options:
Run the software in the U-disk in the package, no need to install.

Download  "colorimeter-windows-V1.3.zip" to local disk, run after unzipping.
Packing List
| No. | Description | Quantity | Unit |
| --- | --- | --- | --- |
| 1 | Colorimeter | 1 | Set |
| 2 | USB cable | 1 | pcs |
| 3 | U disk (software) | 1 | pcs |
| 4 | Cleaning cloth | 1 | pcs |
| 5 | Locating plate | 1 | pcs |
| 6 | User manual | 1 | pcs |
| 7 | Certificate / Warranty card | 1 | pcs |
Support Articles
Colorimeter (also named color difference meter) is widely used in paint, coatings, ink printing, packaging materials, leather fabrics, textiles, plastics and other industries.
Linshang have launched 7 models of colorimeter, among which LS170 and LS172 needs to connect APP on the mobile phone via Bluetooth, and others like LS172, LS173, LS172B, LS173B, LS175 can be used directly.
What is the Bluetooth pairing code of the colorimeter? Why no corresponding colorimeter can be see?
Under different ambient light, the color seen by the naked eye will be different.
Your product information request
Please let us know your requirements and we will be in contact with you shortly!