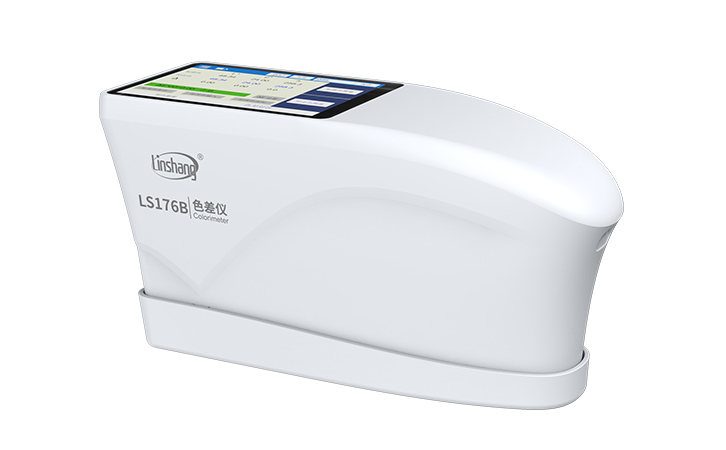 LS176B spectrophotometer with bluetooth
LS176B spectrophotometer has been discontinued. If you want to know about this product, please view product LS176 spectrophotometer
The feature video about LS176B spectrophotometer
The LS176B is a portable spectrophotome with a 3.5 inch IPS color capacitive touch screen for an excellent experience. The instrument integrates many color cards, which can be matched to the nearest color card number for the sample color. It also has a color comparison function, a variety of color difference formulas to choose from, allowing for quick QC testing. Sharing the color data by connecting to the mobile app through Bluetooth or to the PC software via USB port can meet the different needs.
The instrument employs full spectrum LED light source and spectral sensor, adopting D/8 illumination geometry with high measurement accuracy. It is widely used in the industries of automotive paint, hardware processing, stone, decorative materials, and plastic.
Parameter
| Parameter | Value |
| --- | --- |
| Illumination geometry | D/8, specular component include (SCI) |
| Illumination light source | Full spectrum LED light source |
| Spectral Range | 400-700nm |
| Spectral Interval | 10nm |
| Measuring aperture | 8mm |
| Measurement conditions | Light source D65, field of view 10° |
| Measuring time | About 1s |
| Color space | CIE Lab, Luv, LCh, Yxy, CMYK, RGB, Hex, WI-98, WI-Gauz, WI-Hunter, YI-98, Reflectance |
| Color difference formula | ΔE*ab, ΔE*uv, ΔE*94, ΔE*cmc(2:1), ΔE*cmc(1:1), ΔE*00 |
| Repeatability | Standard deviation ΔE*ab is within 0.03 (Measurement condition: the average value of 30 measurements on the whiteboard at an interval of 3s after calibration) |
| Inter-Instrument Agreement | △E*ab=0.4, based on avg. of 12 BCRA series II tiles |
| Dimension | 179mm * 64.5mm * 93mm |
| Weight | About 325g |
| Power supply | Rechargeable lithium battery 3.7V@4000mAh, can measure 10,000 times continuously under full charge |
| Display | 480 * 320 dot matrix IPS color screen |
| Language | Simplified Chinese, English |
| Charging port | USB (Type-C) |
| Data transmission | USB, Bluetooth |
| Operating temperature range | 0~45℃, 0~85%RH (no condensation) |
| Storage temperature range | -25~55℃, 0~85%RH (no condensation) |
Spectral sensor with fitting algorithm to provide good repeatability
Equipped with an advanced spectral sensor, the instrument has a unique set of intelligent algorithms to analyse the 8 wavelengths of visible light to ensure accuracy
International D/8 illumination geometry
The instrument uses the international D/8 illumination geometry, including specular reflectance (SCI), to meet the needs of various color measurement applications
Conforms to the national Grade 1 colorimeter standards
The instrument meets the requirements about Grade 1 colorimeter in the Chinese JJG 595-2002 "Verification Regulation of Colorimeters and Color Difference Meters" in all directions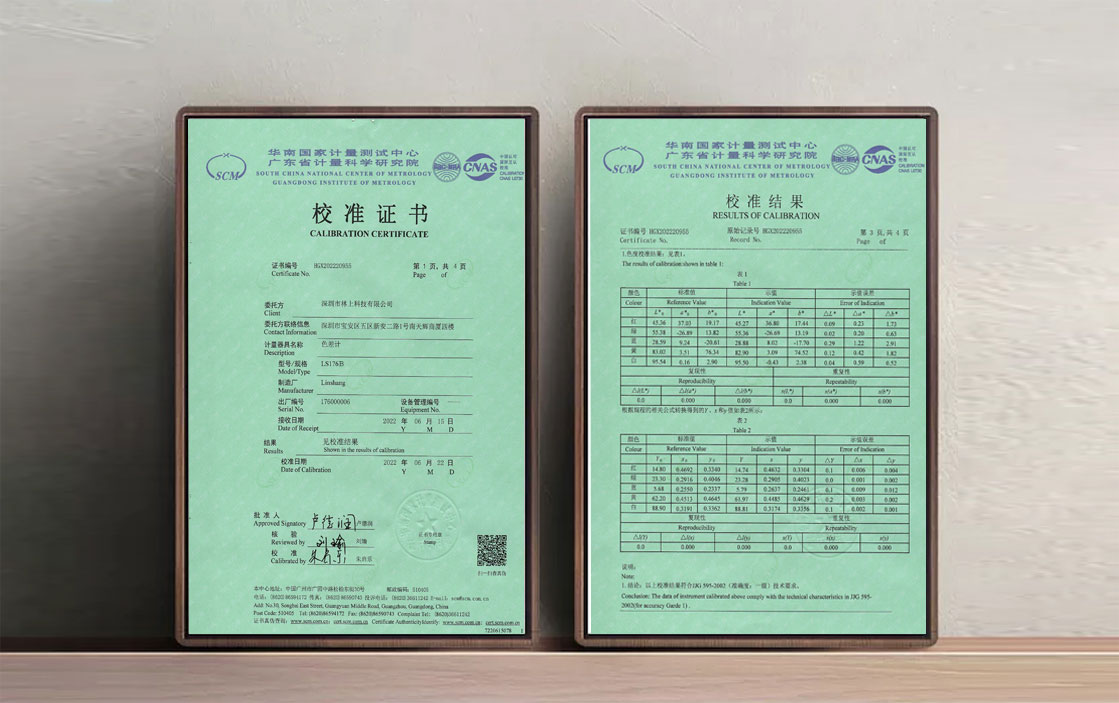 Extended the functions via mobile app
App connection for color sharing on the app
Support PC software with data import and export support
Providing PC software to enhanced statistical analysis of color differences and the ability to share color data
3.5 inch large touch screen
3.5 inch capacitive touch screen for a good human-machine interface
Quick matching of color cards
It includes multiple electronic color cards to quickly match the nearest color card number, with matching accuracy of over 90%
QC function
QC function allows users to quickly assess color accuracy against existing standards and realize rapid batch inspection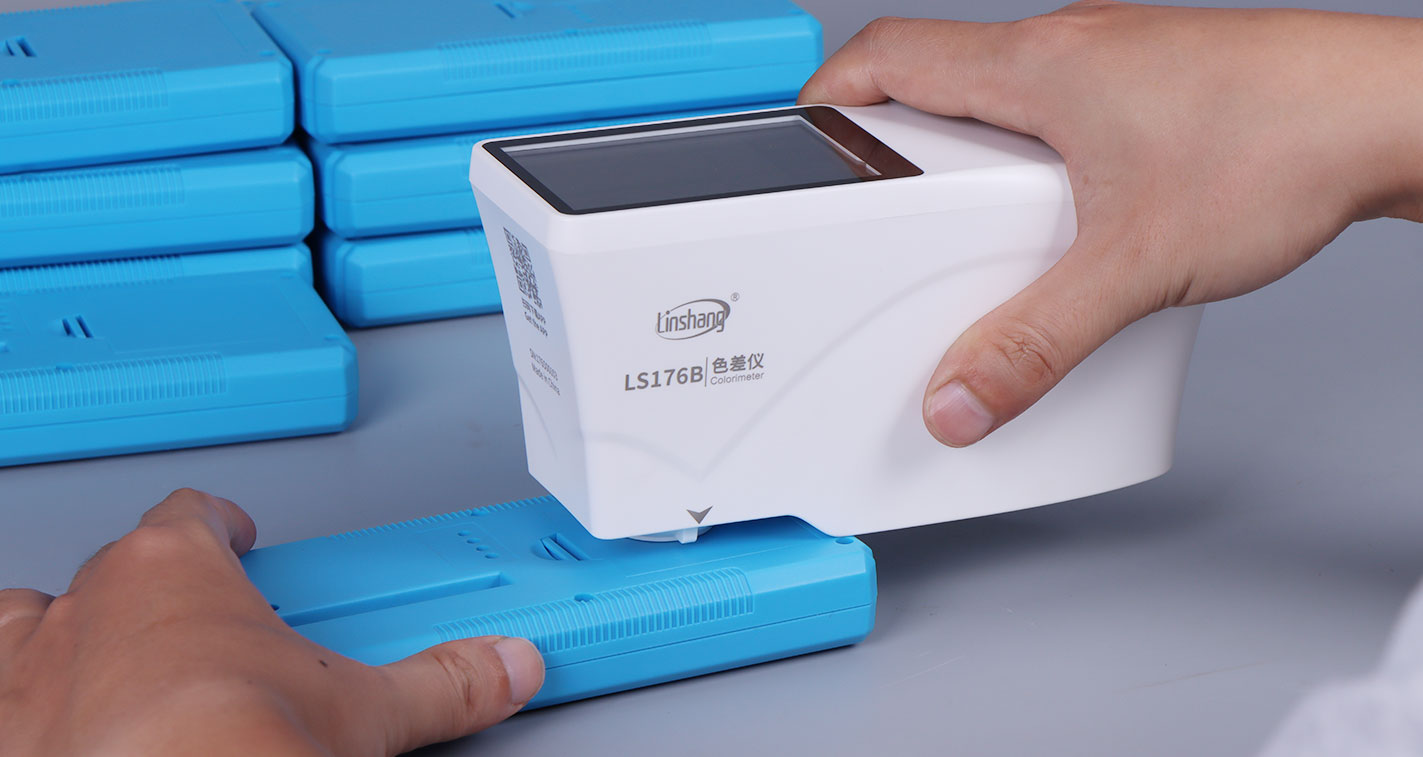 Rich color index
Supports a wide range of color measurement index to meet the needs of various CIE certifications including CIE XYZ, CIE Yxy, CIE LAB, Hunter LAB, CIE LCh, CIE94, whiteness and yellowness
Spectral reflectance curves
Provides professional spectral reflectance curves from which the user can obtain information on the hue, saturation and shade of the sample color



Qualifications and Standards
LS176B portable spectrophotometer meets the following standards:
GBT 3978-2008 Standard illuminants bodies and geometric conditions 

GBT 3979-2008 Methods for the measurement of object color 

GBT 7921-2008 Uniform color space and color difference formula 

GBT 11186.1-1989 Methods for measuring the colour of paint films——Part I: Principles 

GBT 11186.2-1989 Methods for measuring the colour of paint films——Part II: Colour measurement 

GBT 11186.3-1989 Methods for measuring the colour of paint films——Part III: Calculation of colour difference 

JJG 595-2002 Verification Regulation of Colorimeters and Color Difference Meter

Installation and Operation
1. Mobile APP installation
The mobile APP support Android operating system version 7.0 or higher and iPhone supports iOS 7.0 or higher version.
It can be installed in the following ways:
Scan the QR code on the portable colorimeter with a mobile browser or WeChat, follow the prompts to download and install.

Click on the link https://www.linshangtech.cn/a/170/ to install the APP.

Search for "LSColor" (not case sensitive) in the APP Store/Google Play to install the application.
2. PC software installation
Connect to the computer via USB, you can use the PC software of the colorimeter. (PC software only supports Windows operating system)
It can be installed in the following ways:
In the product box, the PC software is installed in USB flash disk.

Download "colorimeter-windows-V1.3.zip" to the local and run it directly after decompression.
3.Operation video
Colorimeter APP operation
Colorimeter PC software operation
Support Article
Colorimeter (also named color difference meter) is widely used in paint, coatings, ink printing, packaging materials, leather fabrics, textiles, plastics and other industries.
Linshang have launched 7 models of colorimeter, among which LS170 and LS172 needs to connect APP on the mobile phone via Bluetooth, and others like LS172, LS173, LS172B, LS173B, LS175 can be used directly.
What is the Bluetooth pairing code of the colorimeter? Why no corresponding colorimeter can be sear
Under different ambient light, the color seen by the naked eye will be different.
Your product information request
Please let us know your requirements and we will be in contact with you shortly!