LS101 Solar Film Transmission Meter
Details
Ⅰ.Brief Introduction
This product has been discontinued since August 7, 2019. For more information, please refer to the upgraded LS101 Solar Film Transmission Meter.
LS101 Solar Film Transmission Meter is able to simultaneously measure and display UV, IR rejection value and visible light transmission value. This meter is self-contained light sources and self-calibration. No manual adjustment is needed. The users only need plug the power supply, turn on the switch and put the solar film in the opening. The resulting performance data appear on the display.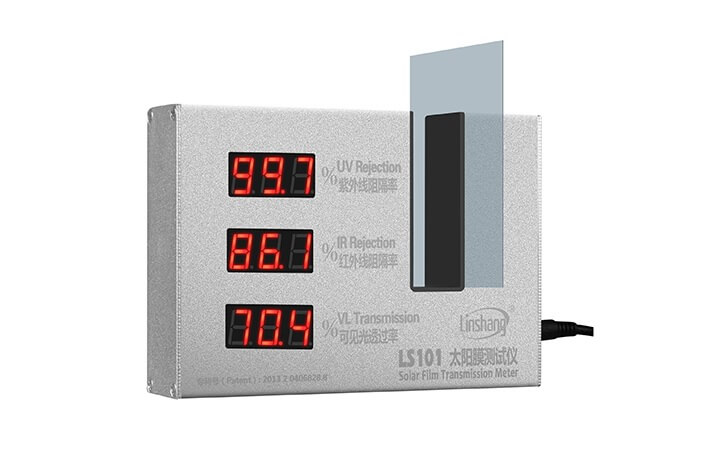 Ⅱ.Parameters
Size: 160mm*115mm*33mm(L*W*H)  

Testing opening: Wide 23mm * Height 76 mm

Weigh: 425g

Resolution: 0.1%

Accuracy: +/-2%(Colorless and transparent material)

UV Peak wavelength: 365nm

VL Peak wavelength: 550nm

IR Peak wavelength: 950nm

Power supply: 5V DC ,mobile power supply (optional).
Ⅲ.Features
UV Rejection meter, IR Rejection meter, Light Transmittance Meter, Three function in ONE device.

Self-calibration and auto-calibration, NO need any manual adjustments 

Simple operation, putting the testing sample in the opening, UV Rejection, IR Rejection, Visible light transmission value of the sample will simultaneously display.

Ⅳ.Operation video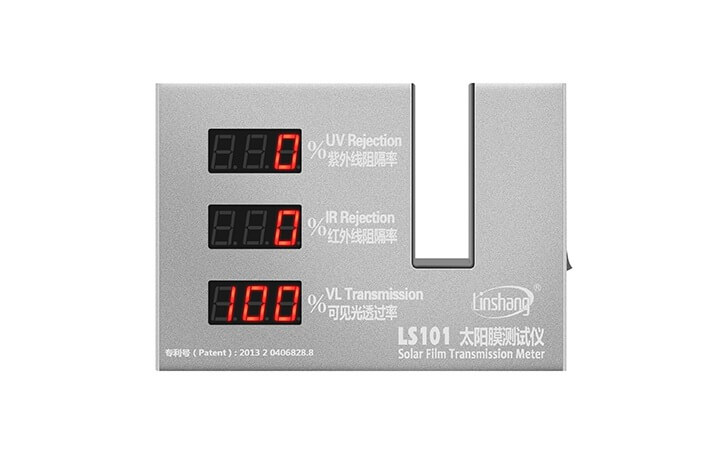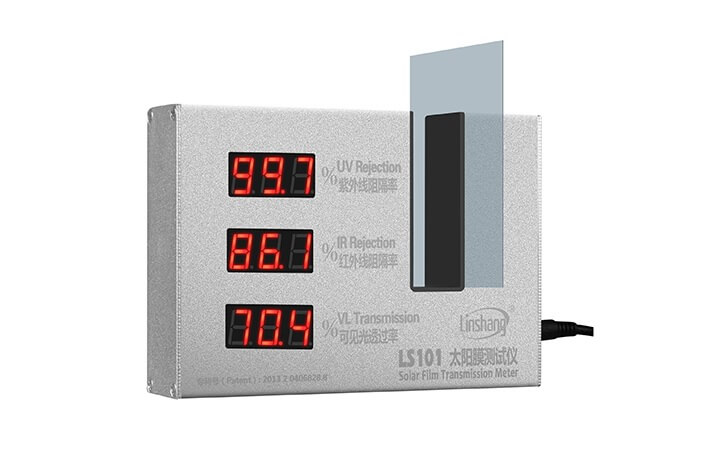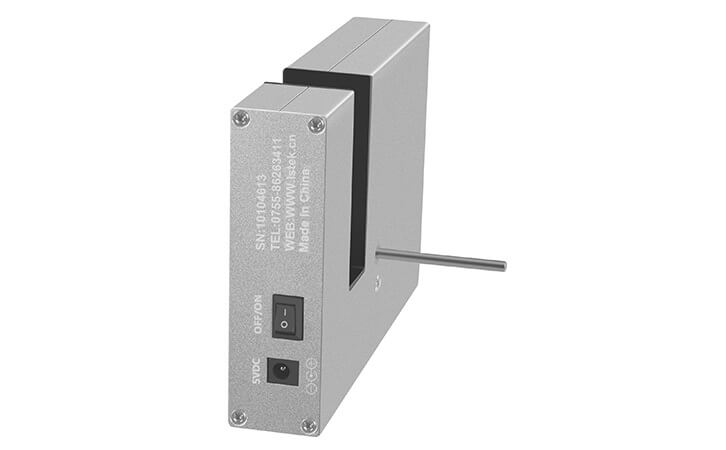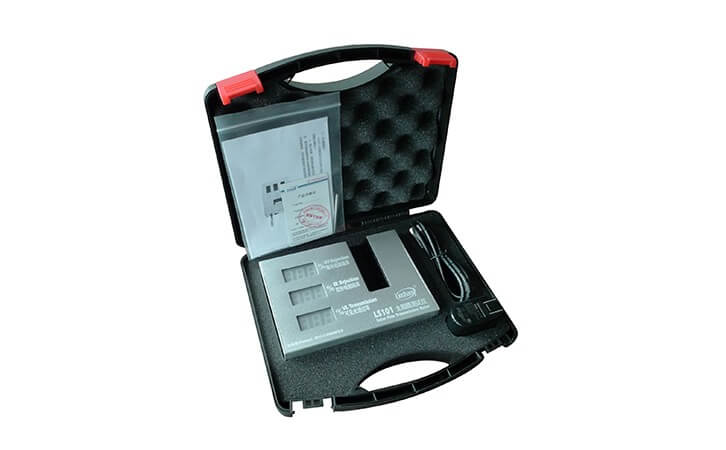 Ⅴ.Packing Details
1.LS101Solar Film Transmission Meter                       1pcs
2.DC5V Adapter                                                             1pcs
3.User Manual                                                                 1pcs
4.Certificate / warranty card                                           1pcs
Ⅵ.Service
The meter has one-year warranty. If the gauge works abnormally, pleasesend the whole gauge to our company for maintenance

Provide users with spare parts and lifelong maintenance services

Provide the users with the meter inspection service 

Free technical support for long term
Manufacturer: Shenzhen Linshang Technology Co.,Ltd. Website: https://www.linshangtech.com/ 
Service hotline: 0755-86263411 Email: sales21@linshangtech.com
VII. Recommended products
● VLT (380-760nm), UV rejection rate (365nm), IR rejection rate (940nm)
● Test UV and IR rejection rate and VLT
● Suitable for regular transparent window film, glass, etc.
● Adopt parallel light path, glass with large thickness is measureable
● Thickness of testing sample: <8mm
● VLT (380-760nm), UV rejection rate (365nm), IR rejection rate (940nm)
● Test visible light transmittance, UV and Infrared rejection rate of absorbing films, automotive windshield,etc
● Light course: VL(380-760nm), UV(365nm), IR(940nm,1400nm)
● Measure VLT, UV rejection, IR rejection and SHGC
● Three gears 940nm,1400nm and full IR can be switched
● Suitable for absorbing, ceramic, metallic film,insulating glass,etc