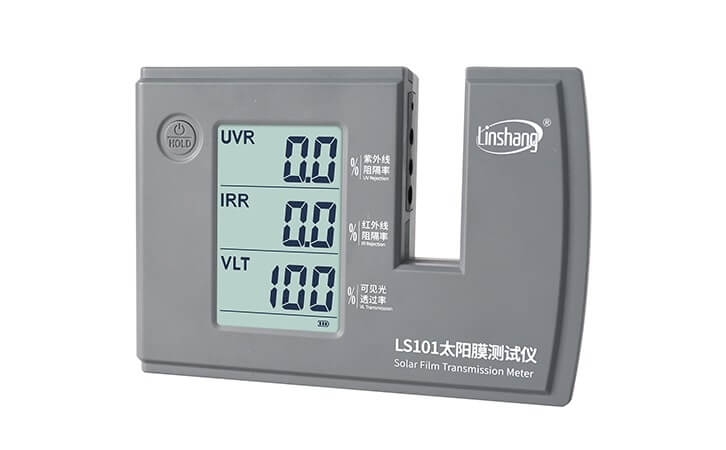 LS101 Solar Film Transmission Meter
Test window tint, window film, glass
Test the UV rejection rate, IR rejection rate and VLT
With a parallel optical path, it is possible to test large thickness materials
Large LCD screen display, convenient for reading
LS101 solar film transmission meter adopts parallel light path design which is very suitable for optical properities testing of automotive films, explosion-proof films, architectural films, thermal insulation films, film glass and other materials. It can measure ultraviolet rejection rate, infrared rejection rate and visible light transmittance at the same time. The large-screen LCD screen display is convenient for reading.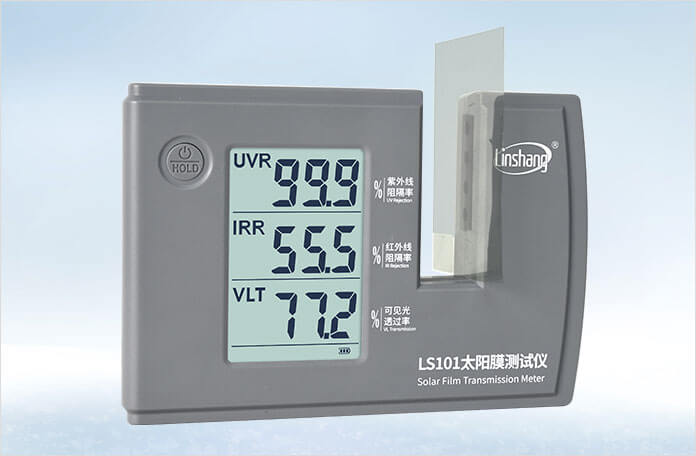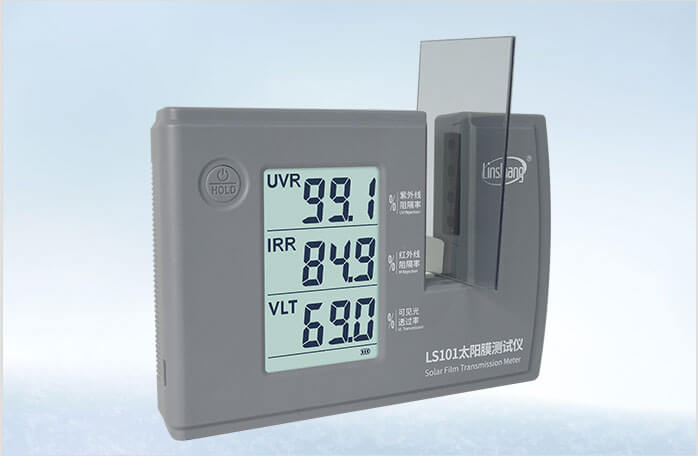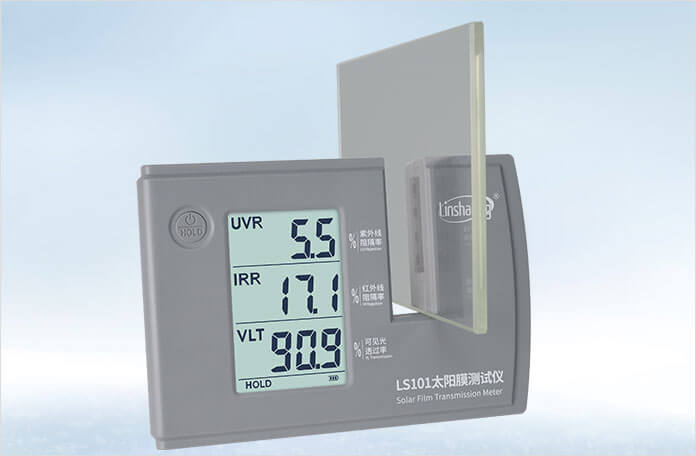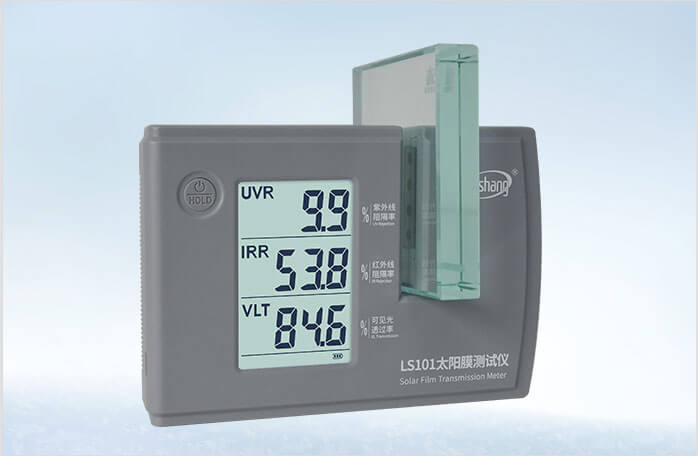 Parameter
| Parameter | Value |
| --- | --- |
| Size | 175mm*120mm*30mm (L*W*H) |
| Test slot | 20mm * 70 mm (W*H) |
| Weight | 360g |
| Resolution | 0.1% |
| Accuracy | ±2% (Colorless and transparent material) |
| UV Peak wavelength | 365nm |
| Visible light | 380-760nm, conforming to the CIE photopic luminosity function |
| IR Peak wavelength | 940nm |
| Display | Segment LCD |
| Power Supply | 4*AA alkaline batteries or 5V AC/DC power supply |
Fast measurement, Convenient to use
The meter can simultaneously test the rejection rate of ultraviolet rays, infrared rays and visible light transmittance. The operation is simple and measurement is very fast. Just put the object into the test slot and the results will showed on the screen immediately
Parallel light path design makes measuring of large thickness materials is possible
LS101 Solar Film Transmission Meter adopts parallel light path design. The window tint meter can test solar films, architectural films, laminated glass and large thickness materials
Real-time dynamic calibration function
The meter has a real-time dynamic calibration function. The transmittance will automatically calibrate to 100%, and the IR and UV rejection rate is calibrated to 0% after powering on
Data lock for easy reading
Pressing the HOLD button can lock data. The test data is still held on the screen even the material is not in the test slot after pressing the HOLD button, which makes reading easier
Large LCD screen display, convenient for reading
LS101 window film transmission meter has a large LCD screen with backlight and It is clear for reading in the dark environment
Self-supporting metal stand
The instrument is equipped with a metal support stand which make reading more convenient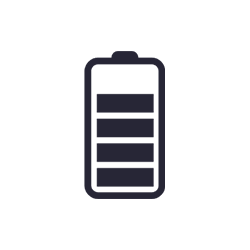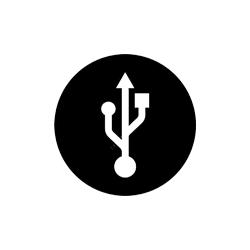 Qualifications and Standards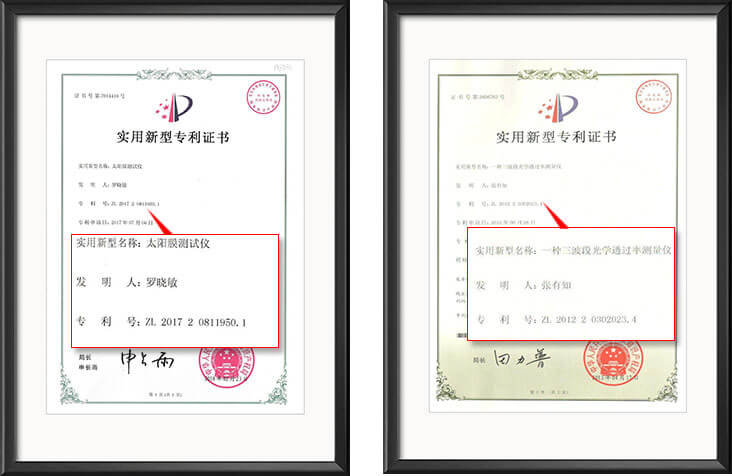 Packing
| No. | Description | Quantity | Unit |
| --- | --- | --- | --- |
| 1 | LS101 Solar Film Transmission Meter | 1 | set |
| 2 | User Manual | 1 | pcs |
| 3 | AA Battery | 4 | pcs |
| 4 | Certificate / Warranty Card | 1 | pcs |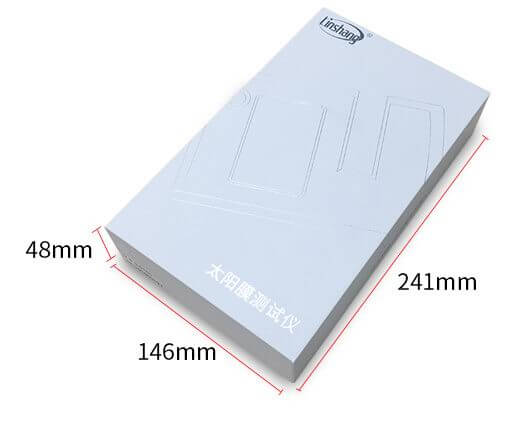 FAQ
1. The difference between new and old LS101 window tint meter

The parameters are basically the same, all of which can measure the three parameters of heat insulation, UV protection and light transmission; the old model can only be used by plugging in and displayed by a digital tube;

The new model is LCD display, uses 4 AA batteries and has a USB interface. A power bank or 5V charging head can be used for power supply;

The old LS101 use point light source, which is only suitable for testing films and thin glass; the new LS101 uses parallel light paths and thick glass can also be tested.

2. The difference between LS101 and LS162 window film transmission meters

LS162 use point light source, while LS101 use parallel light path, LS101 has higher data accuracy for measuring thick materials;

LS162 can only be powered by battery, while LS101 can also be powered by USB cable in addition to battery;

LS101 has a screen backlight, while LS162 has no screen backlight;

Except for the above differences and the differences in appearance, the other parameters of LS101 and LS162 are completely the same.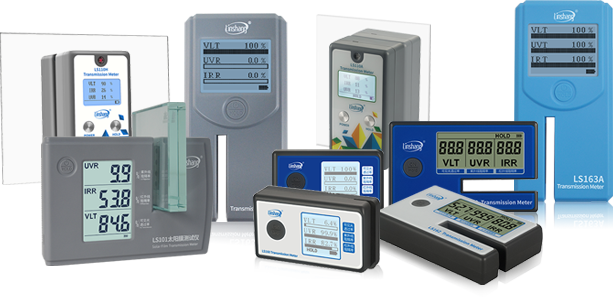 Transmision Meter Selection
More about Linshang Transmission Meter price, product model selection, parameter comparison and question
Your product information request
Please let us know your requirements and we will be in contact with you shortly!