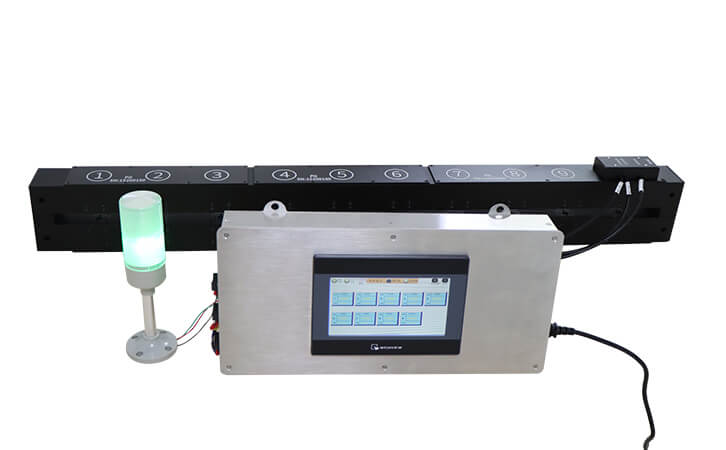 LS152 Vacuum Coating Thickness Measuring System
Monitor the VLT and OD in real time
MODBUS communication protocol
RS485 communication interface
Linshang LS152 vacuum coating thickness measuring system works in the principle that the transmittance (optical density) of the material is proportional to the coating thickness. The uniformity of the material is achieved by monitoring the optical transmittance (optical density) of the material. As long as the light can pass through the material, the product quality can be controlled by monitoring the transmittance (optical density). Because it can monitor two parameters of both transmittance and optical density, it is also called optical density online detector. This vacuum coating thickness measuring system is widely used in concentration vacuum coating machine, glass coating production line, window film coating line and other occasions.
The user can freely choose the number of test points. The figure below shows the appearance of the vacuum coating measuring system with 9 test points. The actual length of the device is based on the number of customized test points.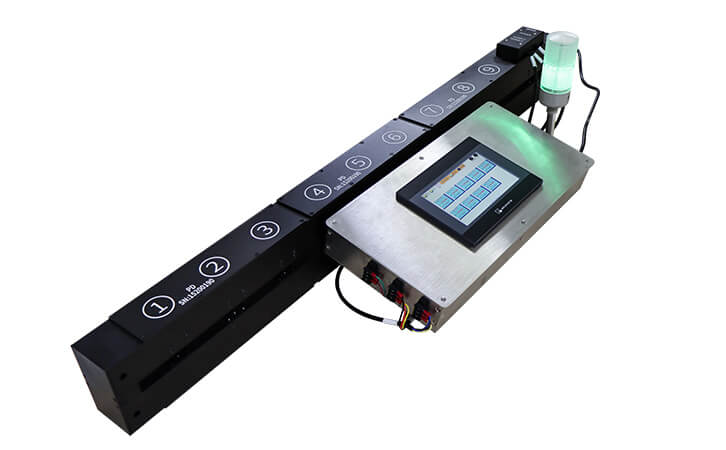 The instrument provides dual RS485 communication interface and standard MODBUS communication protocol, which is convenient for communication with PLC, Single Chip Microcomputer, human-machine interface, kingview, computer and so on. The optical density data can be read on the coating machine to realize control automation (closed-loop control).
System Composition
The equipment is mainly divided into three parts: console, human-machine interface, computer real-time monitoring software (optional)
1. Console: mainly includes light source probe, receiving probe, controller, aluminum profile frame.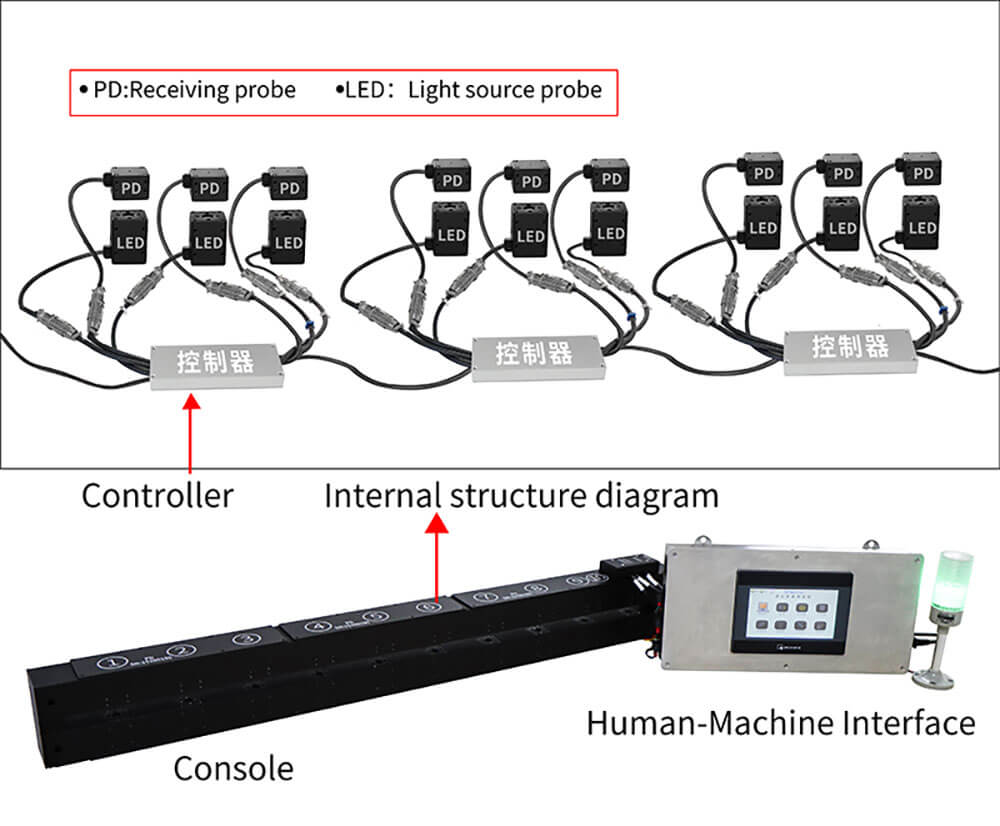 2. Human-machine interface: It mainly includes human-machine interface, power supply and stainless steel box
3. Computer real-time monitoring system (optional): Real-time monitoring of the data, including real-time display, histogram, setting of upper and lower limits, real-time curve and alarm when the limit is exceeded. The transmittance and optical density display can be switched freely.
Control console  and installation method:
The controller and the test probe are embedded in the control console and only need to fix the control console during installation. Each device is equipped with a bracket, which is customized according to the actual installation needs of customers. The installation diagram of the control console is as follows: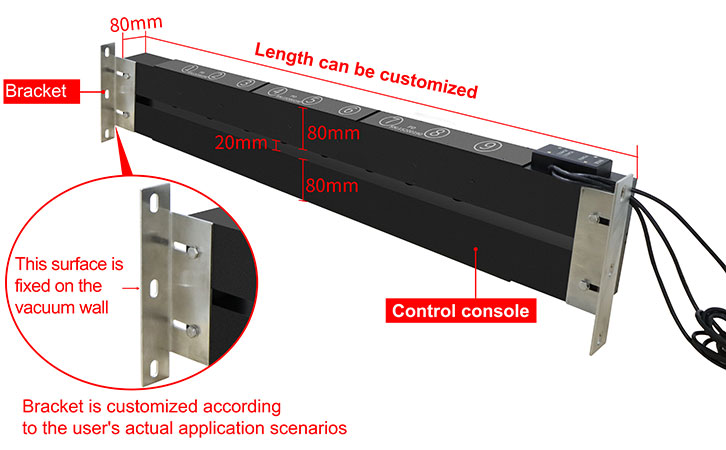 System Parameters
Parameters
LS152
Test wavelength (optional)
Green light: 530nm; Infrared: 850nm
Measuring spot
5mm
Transmittance measurement accuracy
±1%
Transmittance resolution
0.005%
Optical density measurement range
0.00 OD - 5.00 OD
Optical density resolution
0.01 OD for 0.00-3.00 OD
0.05 OD for 3.00-5.00 OD
Maximum measurement points
45 points
Distance between adjacent probe
Minimum distance of 35mm
Distance between receiving probe and light source probe
20mm
Temperature range
-10°C - 60°C
Storage temperature
-20°C - 70°C
Relative humidity
less than 85%, no condensation
Data refresh cycle
Normal mode 300ms/ Fast mode 100ms
Communication interface
Dual RS485
Communication protocol
MODBUS protocol
Dimension
80mm(W)*180mm(H)*L (Customized)
Vacuum flange electrode cores
6 ( RS485①+DC7.5V)
9 ( RS485①+ RS485②+DC7.5V)
Power supply
220V AC/50Hz
Product Characteristics
The ultra-small controller is embedded in the console. It is easy to use and install. We only needs to connect 6 wires.

The instrument use optical non-contact measurement, without direct contact with the test material. It will not cause damage to the tested material.

The vacuum coating thickness measuring system has high measurement accuracy which can be compared with Germany NAGY online thickness measurement equipment.

The instrument use modular design, single point is removable, which is convenient for future maintenance.

With dust-proof design, dust does not affect the inside of the gyroscope. Customers just need to clean the front glass of the probe.

Use RS485 interface + MODBUS communication protocol. The instrument can achieve closed-loop control with the coating machine.

The instruemtn has over-limit alarm function and can intelligently control production quality. The instrument can reduce dependence on manual operation and improve production efficiency and quality.
Your product information request
Please tell us a little about yourself and one of our salers will be in touch shortly.