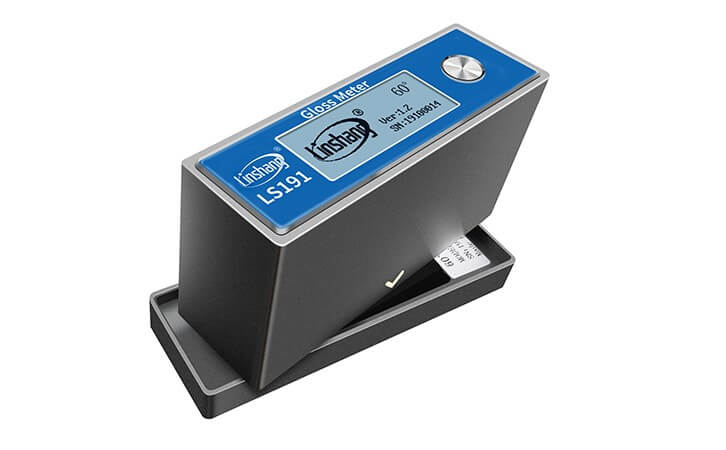 LS191 Surface Gloss Meter
LS191 Gloss Meter has been discontinued. If you want to know about this product, please view product LS195 Gloss Meter.
LS191 gloss meter is a high-precision glossiness measuring instrument independently developed by Linshang Technology. It has independent intellectual property rights and complies with Chinese national standard GB / T9754. The instrument adopts a universal angle of 60 degrees, which meets the requirements of the first-class working machine in the JJG696 standard.

Gloss Meter Application
LS191 portable gloss meter has a measurement range of 0-200GU. This gloss checker is especially suitable for measuring the surface gloss of the materials such as paints, inks, coatings, plastics, leather, ceramics, bamboo, marble and wood products.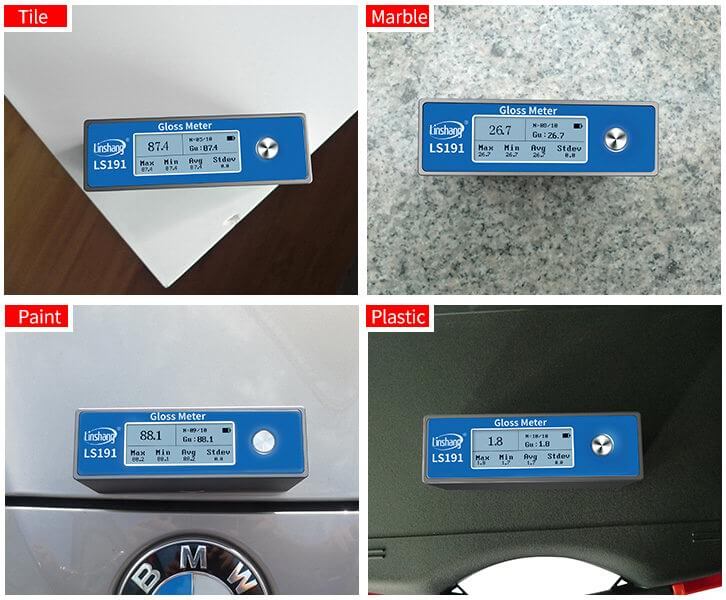 Technical Parameters
Parameter
Value
Measuring Angle
60°
Measurement range
0-200GU
Resolution
0.1GU
Repeatability
0-100GU:±0.2 ;
100-200GU:±0.2% reading
Reproducibility
0-100GU:±0.5 ;
100-200GU:±0.5% reading
Error of indication
0-100GU:±1.5 ;
100-200GU:±1.5% reading
Zero error
0.1GU
Measuring aperture
9mm*15mm
Minimum test material size
28mm(L)*14mm(W)
Working temperature
10℃ ~ 40℃
Storage temperature
-10℃ ~ 60℃
Relative humidity
Less than 85%, no dew
Weight
332g
Power supply
Lithium rechargeable battery
Dimension
104mm(L) * 35mm(W) * 60mm(H)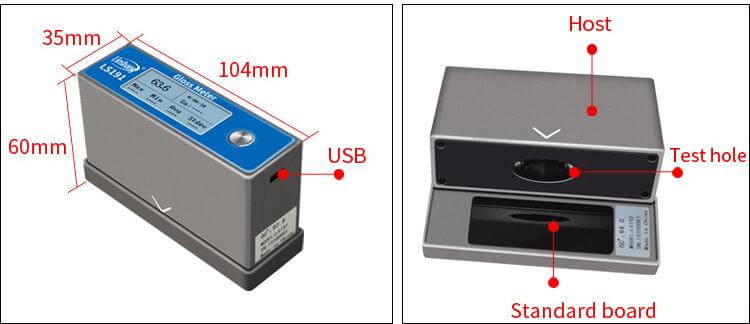 Product Features
1.Simple operation
The test can be started after turning on the test. The test does not require any keys. The instrument can measure the gloss value on the surface of the material.
2.High precision
The LS191 gloss meter has high accuracy, which can ensure that it can pass the testing of any Chinese authoritative metrology institute and meet the standards of national first-class working machines. There is no big difference with the test data of imported gloss meter.
| Measuring instrument | Standard gloss meter | First class gloss meter | Secondary class gloss meter |
| --- | --- | --- | --- |
| Stable value | 0.2GU | 0.4GU | 1.0GU |
| Zero value error | 0.1GU | 0.2GU | 1.0GU |
| Indication error | ±1.0GU | ±1.5GU | ±2.5GU |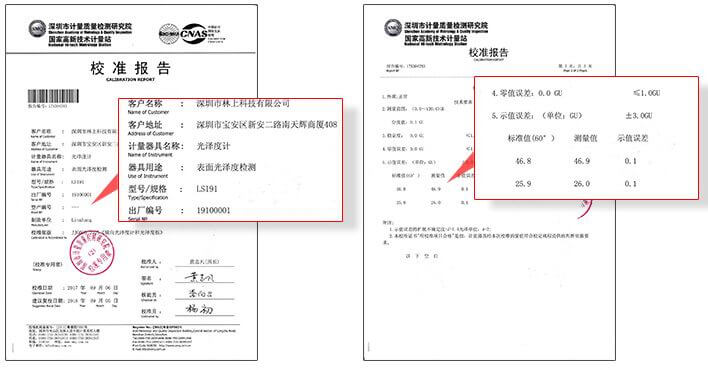 3.Smart statistics
As a result of multiple consecutive tests, the LS191 gloss meter can automatically calculate the maximum, minimum, average and mean square error values. After a multi-point test of the material, this function can be used to analyze the uniformity of the tested material gloss.
4.Power on self test
The instrument has the function of automatically checking the standard version when it is turned on. It can automatically judge whether the standard plate is contaminated and give a prompt to avoid inaccurate measurement caused by the standard plate contamination affecting the standard value.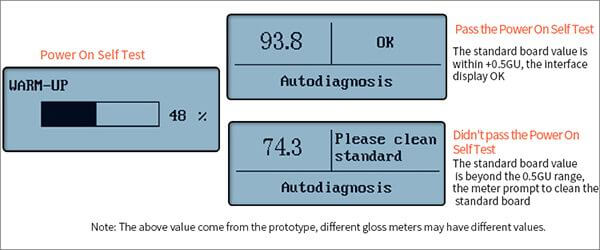 5.PC software operation
The LS191 gloss meter is shipped with PC software from the factory. It can be connected to a computer via a USB cable to enable automatic computer measurement. And test data can be archived to generate test reports.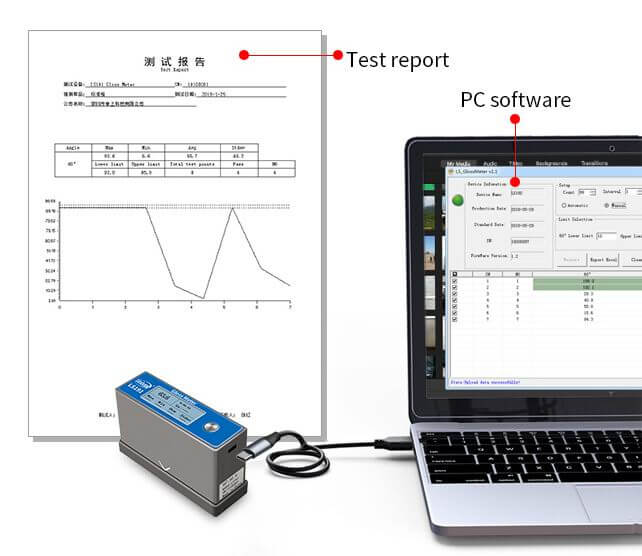 6.Stable test data
There is a white LED light source in the gloss meter. The luminous efficiency of the light source will change with the change of temperature, so the ordinary gloss meter needs to be calibrated before the test. The Linshang gloss meter has temperature compensation function. When the temperature difference changes very much, it does not need to be calibrated every time it is turned on. And this gloss checker can ensure the stability of the test data. Especially in northern China, the temperature difference between morning and evening is very prominent.
7.Small size
The LS191 gloss tester has small size. It is designed with all-aluminum material. It is very convenient to carry out and not afraid of various crash that may affect the appearance.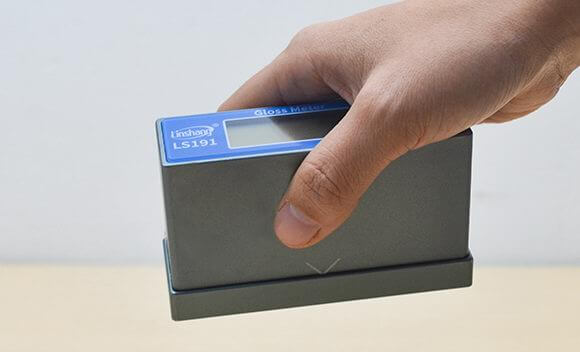 8.Ultra-low power consumption
This gloss tester is powered by a built-in lithium battery, which is energy-saving and environmentally friendly. It has ultra-low power consumption. The continuous uninterrupted test time can reach more than 50 hours.
Product Qualification and Standards
1.LS191 gloss meter conform to the following national standards
GBT 9754-2007 Paints and varnishes-Determination of specular gloss of non-metallic paint films at 20°,60°, 85°
JJG 696-2002 Verification Regulation of Specular Gloss Meters and Gloss Plates
2.LS191 gloss meter certificate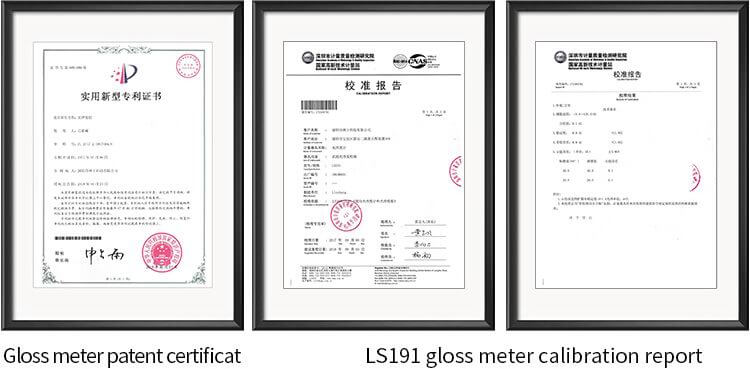 Packing Details
| No. | Description | Quantity | Unit |
| --- | --- | --- | --- |
| 1 | LS191 gloss meter | 1 | pcs |
| 2 | Calibration Holder with the standard | 1 | pcs |
| 3 | USB data line | 1 | pcs |
| 4 | Charger | 1 | pcs |
| 5 | Special lens cloth | 1 | pcs |
| 6 | User manual | 1 | pcs |
| 7 | certificate / warranty card | 1 | pcs |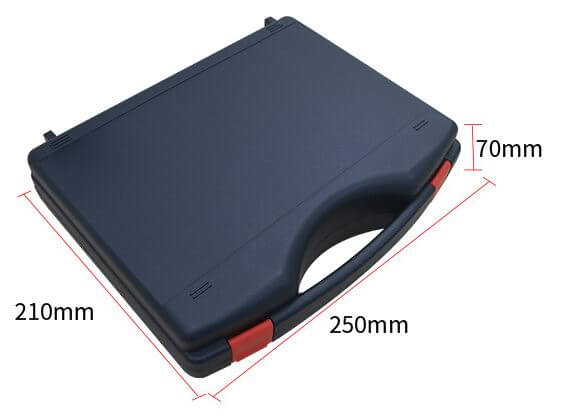 After Sales Service
The meter has one-year warranty. If the instrument works abnormally, please send the whole instrument to our company for maintenance

Provide users with spare parts and lifelong maintenance services

Provide the users with the meter inspection service 

Free technical support for long term
Manufacturer: Shenzhen Linshang Technology Co.,Ltd. Website: https://www.linshangtech.com/      
Service hotline: 0755-86263411 Email: sales21@linshangtech.com
For the gloss meter selection , please click"Gloss Meter Selection and FAQ".
FAQ about LS191 Gloss Meter
1. The difference between LS191 and LS192 gloss meters

The main difference between LS191 and LS192 is the gloss measurement range. The measurement range of LS191 gloss meter is 0-200GU, while the measurement range of LS192 is 0-1000GU. If you need to measure high gloss materials such as metal or mirror, you need to use LS192 gloss meter.

2. What is repeatability and reproducibility?

Repeatability is the difference between multiple measurements of the same sample under the same conditions, the same people, the same gloss meter and the same environment.

Reproducibility refers to the difference of measuring the same sample under different conditions, such as the same people using different gloss meters, or different people using the same gloss meter.

3. What is the zero value error?

When testing a material with 0 GU, the difference between the measured value and 0.
Your product information request
Please let us know your requirements and we will be in contact with you shortly!
Recommended Products
● Measurement range: 0-1000GU; Measuring Angle: 60°
● Surface gloss test of metal, paints, coatings, inks, etc.
● With a standard board self-diagnosis function
● With temperature conpensation function
● Provide PC software