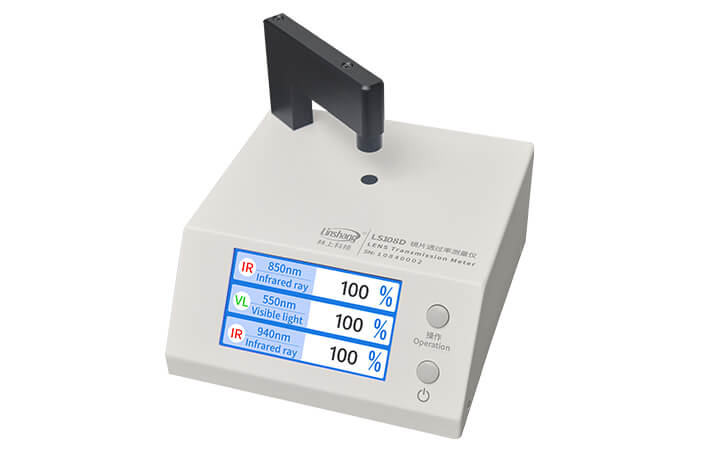 LS108D Lens Transmission Meter
0.5mm small test aperture, Free PC software
850/940nm IR transmission and 550nm VLT
Three data can be obtained by one test
Real-time dynamic self-calibration function
LS108D lens transmission meter is professionally used for mobile phone lens transmittance test and IR hole infrared transmittance test. The test aperture is 0.5mm, which can test 550nm visible light transmittance and 850nm, 940nm infrared ray transmittance. The lens transmission meter has a real-time dynamic self-calibration function. It will automatically calibrated to 100% transmittance after powering on. This lens transmission meter has a test aperture of only 0.5mm and has wide application. The test principle of the lens transmission meter is that the light source illuminates the transparent material, the sensor detects the incident light intensity of the three light sources and the light intensity after passing through the measured transparent material. The ratio of the transmitted light intensity to the incident light intensity is the transmittance, expressed as a percentage.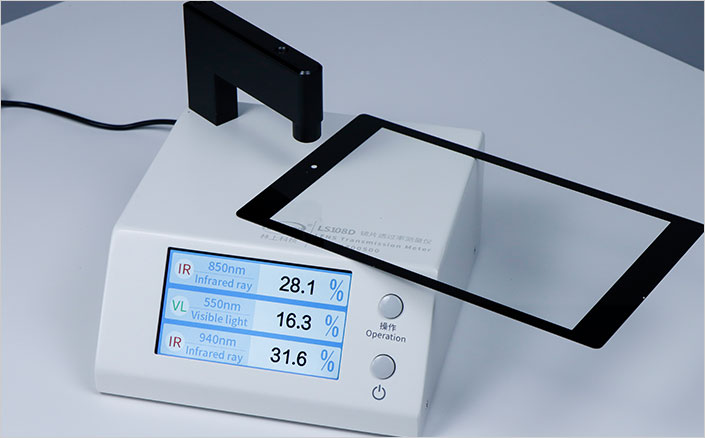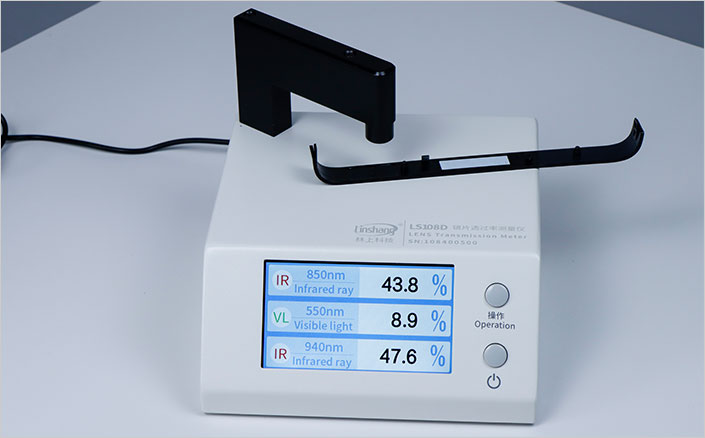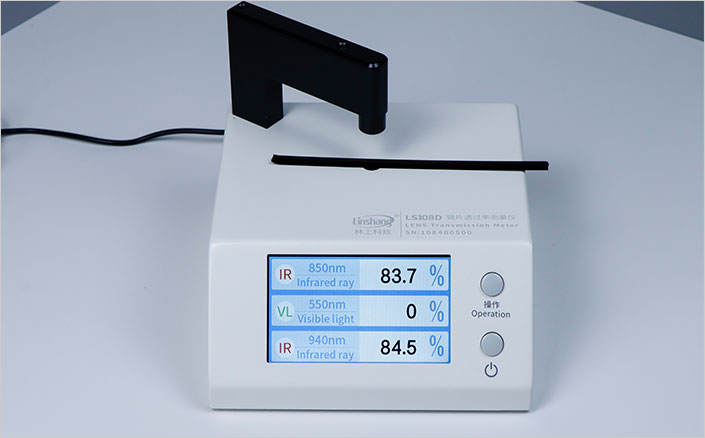 Parameters
| Parameter | LS108D Lens Transmission Meter |
| --- | --- |
| Measuring Aperture | ¢0.5mm (standard) |
| Infrared | peak wavelength 850nm/940nm |
| Visible Light | peak wavelength 550nm |
| Resolution | 0.1% |
| Measurement Accuracy | ±2% (colorless uniform transparent material, 0-90% transmittance) |
| Weight | 1570g |
| Dimension | 170mm × 180mm × 144mm (L*W*H) |
| Display | 480px * 272px color LCD |
| Power Supply | DC 5V/1A |
Small test aperture, widely applicable
The test aperture of this lens transmission meter is 0.5mm. Materials whose size are larger than 0.5mm can be measured
Three-in-one light source path
The three light sources share a test hole. Three data can be obtained by measuring for just one time and the test hole has an LED light for alignment, which is used to align the hole with the mobile phone lens during the test
Real-time dynamic self-calibration
The transmission meter has real-time dynamic self-calibration function which can automatically calibrated to 100% transmittance after starting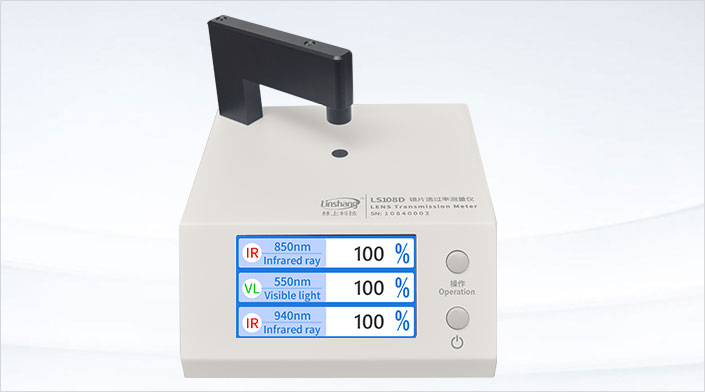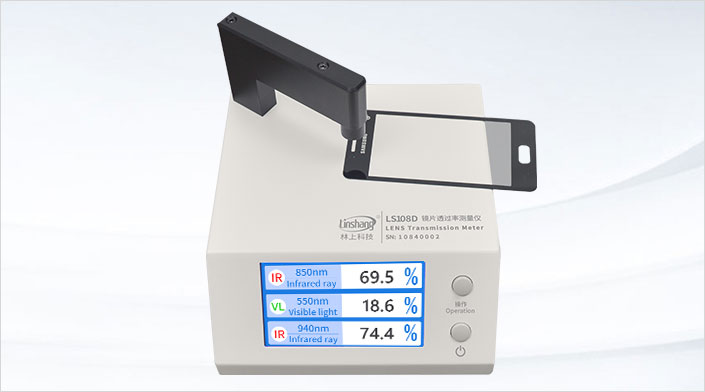 Large LCD screen, Three display interfaces are available
The meter features large LCD display screen, and three display interfaces are available for selection. Both 850nm and 940nm infrared ray transmittance can be selected to display or only one of them
Offer free computer software
Free computer software can be run via Type-C interface to complete QC insptection in the production testing process. Please refer to the software and user manual in the attached U disk for details
Qualifications and Standards

Packing
| No. | Description | Quantity | Unit |
| --- | --- | --- | --- |
| 1 | LS108D lens transmission meter | 1 | pcs |
| 2 | DC5V Adapter | 1 | pcs |
| 3 | User Manual | 1 | pcs |
| 4 | Certificate / warranty card | 1 | pcs |
| 5 | USB flash disk with PC software | 1 | pcs |
| 6 | USB extension cable | 1 | pcs |
| 7 | Packing box dimension 231*241*161cm(L*W*H) | 1 | pcs |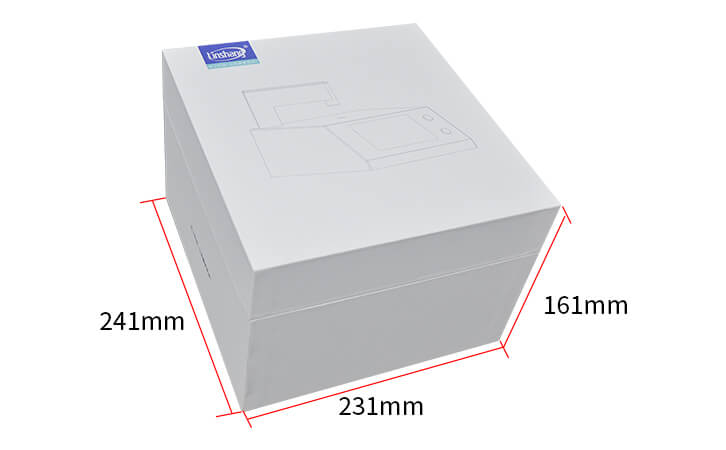 Transmission Meter model selection
More about Linshang transmission meter price, product model selection, parameter comparison and question
FAQ
1. The difference between LS108A and LS108D

The only difference is the measuring aperture (detector hole diameter). The measuring aperture of LS108A is 1mm, while the measuring aperture of LS108D is 0.5mm. Since the measuring aperture of LS108D lens transmission meter is smaller, so it is more suitable for measuring small-sized materials. 
Your product information request
Please let us know your requirements and we will be in contact with you shortly!