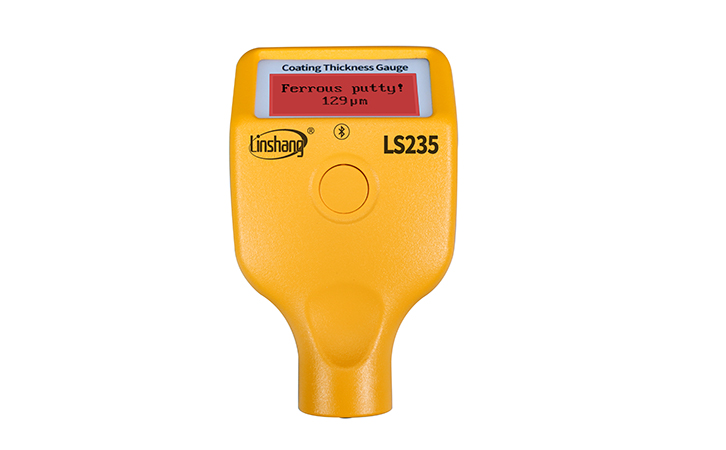 LS235 car paint meter
The nemesis of metallic putty
Identify iron galvanized body
Three-color LCD backlight prompts different detection states
Please watch the video as above to learn more about features and operation.
LS235 car paint meter is suitable for detecting the thickness of automotive paint. The body shell is generally made of metal materials such as iron or aluminum and non-metallic materials such as carbon fiber and plastic. Ordinary automotive paint meter can only detect iron and aluminum and non-metallic materials. However, LS235 can not only distinguish the car paint thickness on iron or aluminum substrates, but also discover the non-metal shell, intelligently identify the metallic putty and iron galvanized. It indicates the substrates by tri-color backlight. When the metallic putty is recognized, the screen turns red. When the iron galvanized car body is recognized, the screen turns green. In other measuring pattern, the screen is white.
Parameters
Parameter
Value
Probe tip
Ruby
Measuring principle
Fe: Hall Effect / NFe: Eddy current
Probe type
Integrated probe
Measuring range
0.0~3500μm
Resolution
0.1μm: (0μm ~ 99.9μm)
1μm: (100μm ~ 999μm)
0.01mm: (1.00mm ~ 3.50mm)
Accuracy
≤±(3%H+2μm), H is the standard value
Unit
μm / mil
Measuring interval
0.5s
Minimum measuring area
Ø = 25mm
Minimum curvature
Convex:5mm / Concave:25mm
Minimum substrate thickness
Fe:0.2mm / NFe:0.05mm
Language
中文、English、Русский、Türkçe
Display
128×48 dot matrix LCD
Power supply
2pcs of 1.5V AAA alkaline battery
Range of operation temperature
-20℃~50℃
Storage temperature range
-20℃~60℃
Gauge size
101*62*28 mm
Weight(with battery)
79 g
Detect the metallic putty quickly
If a car shell has been repaired with metallic putty, LS235 car paint meter can dig out it accompanied two buzzers in the automatic measurement pattern (FE/NFE pattern) and red light is on.
Complimentary cell phone APP, can generate test reports
With Bluetooth data transmission function, online operation with cell phone APP, test data can be generated into test reports, and the reports can be saved or shared.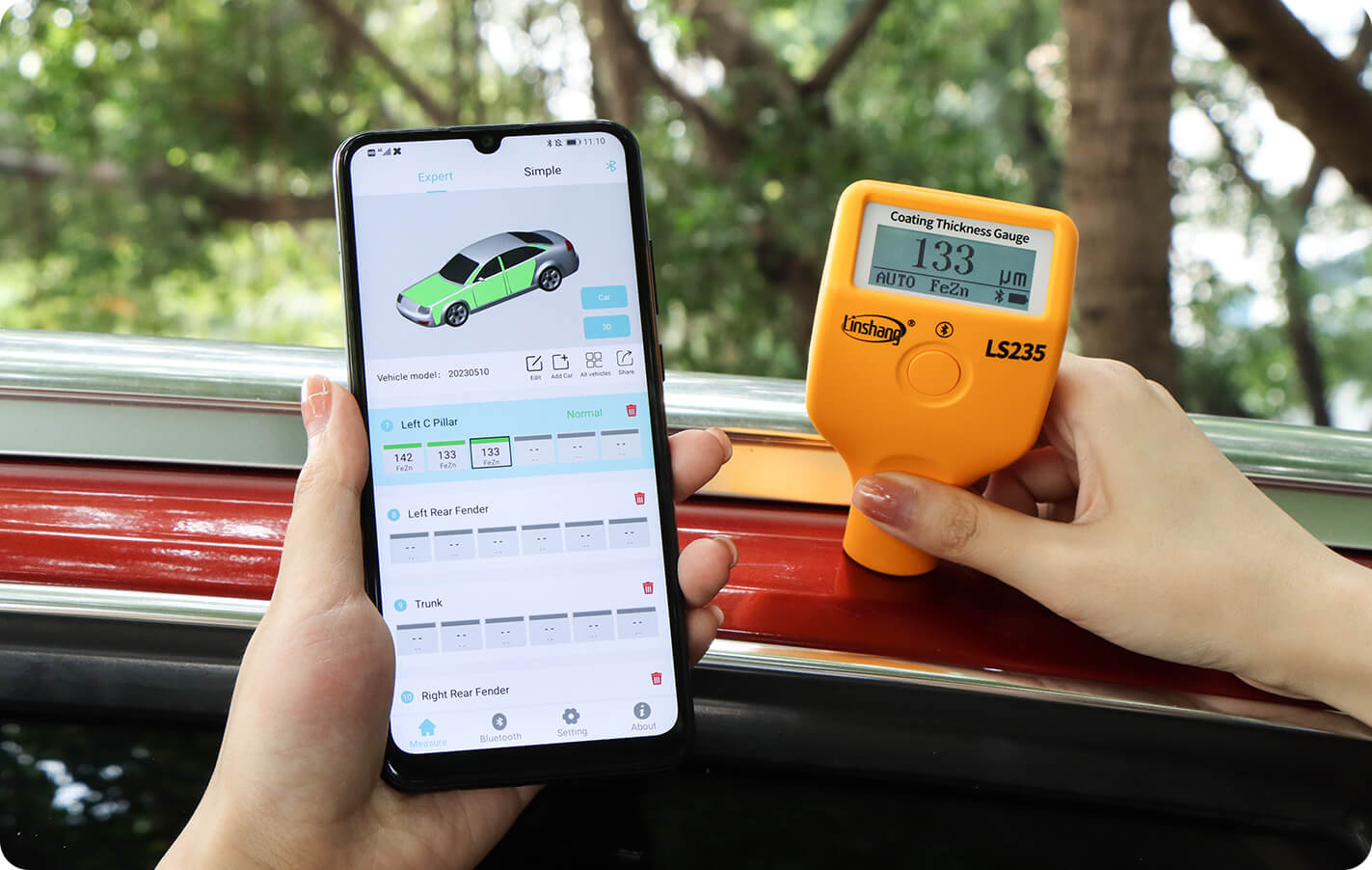 Various functions, practical and convenient
Automotive Paint meter has multiple functions and powerful performance which can quickly discover iron, aluminum, iron galvanized and non-metallic materials on.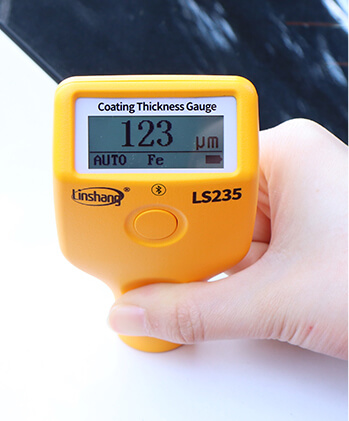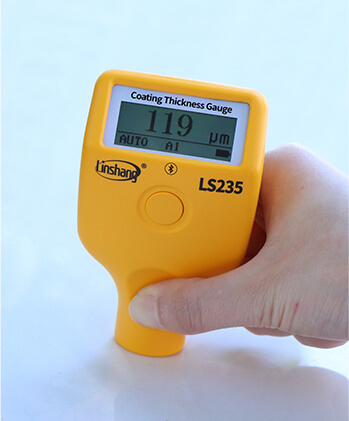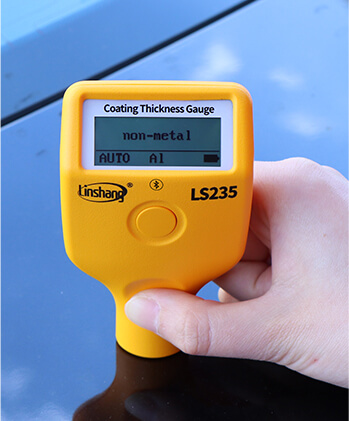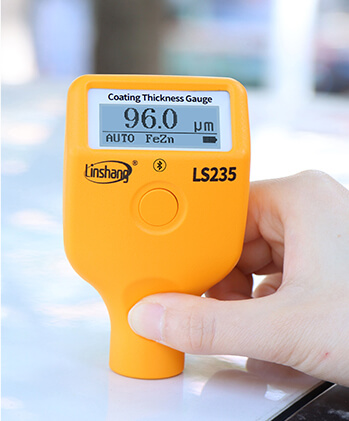 Three-color display with exquisite details
Depending on the measured thickness, the backlighting of the display varies.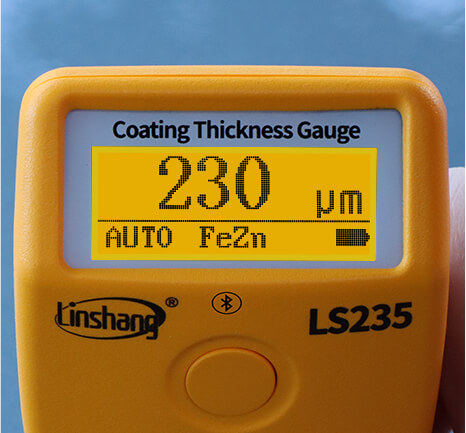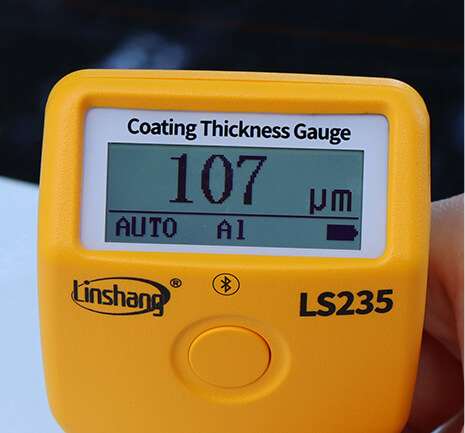 Fast response and short measuring interval
The response speed is fast and it only takes 0.5 seconds to complete a measurement.
Ruby probe ensures extravagant quality
The wear-resistant ruby probe reduces the inspection error caused by abrasion and can extend the service life of the automotive paint meter
Advanced digital probe guarantees accuracy of measurement
Using advanced digital probe technology, the digital signal processing is done directly on the probe that is not susceptible to interference and provides excellent test accuracy to ensure good repeatability during the entire measurement process and maintain data stability.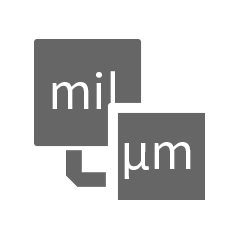 Qualifications and Standards
Standards for the product:
DIN EN ISO 2808 Paints and Varnishes-Determination of Film Thickness

JJG-818-2005 Verification Regulation of Magnetic and Eddy Current Measuring Instrument for Coating Thickness 

GB/T 4956-2003 Non-magnetic Coatings on Magnetic Substrates-Measurement of Coating Thickness-Magnetic Method

GB/T 4957-2003 Non-conductive Coatings on Non-magnetic Basis Metals-Measurement of Coating Thickness-Eddy Current
Qualification of the product

App Installation
Coating Thickness Gauge APP supports ios12.0 and above and Android OS 6.0 and above. Scan the QR code below with Google play and follow the instructions to download and install CoatingThicknessGauge.apk software. After installation, the "Coating Thickness Gauge" icon will appear on the desktop of your phone as shown below.
Packing List
| No. | Item | Quantity | Unit |
| --- | --- | --- | --- |
| 1 | LS235 Coating Thickness Gauge | 1 | Set |
| 2 | Fe plate of zero adjustment | 1 | Pcs |
| 3 | NFe plate of zero adjustment | 1 | Pcs |
| 4 | Standard film | 1 | Pcs |
| 5 | Cloth bag | 1 | Pcs |
| 6 | User manual | 1 | Pcs |
| 7 | Certificate/Warranty card | 1 | Pcs |
| 8 | 1.5V AAA alkaline battery | 2 | Pcs |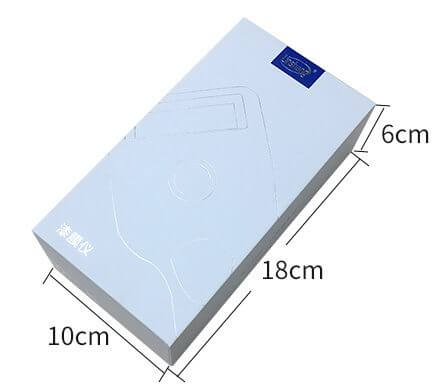 FAQ
1. The difference between LS220 and LS235 car paint meter?

LS220 and LS235 car paint meter both can identify metallic puttty and iron galvanized car body. When discovered metallic putty, the screen of LS235 will turn red while turns green recognizing iron galvanized car body.

2. How to judge whether the car has been repainted or not?

At present, the paint thickness of different brands of cars on the market is not exactly the same. Therefore, when measuring the paint film thickness of a certain car, you can first measure the paint thickness on the car roof, because car roof is rarely affected by external forces and scratches, dents or deformation, it is more likely to retain the original paint thickness. To test the specfic position of the car, you can take the upper, lower, left, right, and middle five points to test and calculate the average value of the five data. If the value of one point is greater than the average value of more than 30μm, this position may have been repainted.

3. Under what circumstances we need to make zero adjustment?

When the body material of the car under test changes; the instrument has not been used for a long time; when the ambient temperature changed significantly; after the battery is replaced; when it can not recognize ferrou putty or iron galvanized cae body.

4. Can I customize the LOGO and shell of the car paint meter?

Yes, but there is a minimum order quantity. The minimum order quantity for customized LOGO: 100pcs; the minimum order quantity for customized instrument shell: 500pcs. If you want to know more about the Linshang coating thickness gauge, Please click "Paint Thickness Gauge Selection and FAQ".
Car Paint Meter model selection
More about Linshang car paint meter price, product model selection, parameter comparison and question
Your product information request
Please let us know your requirements and we will be in contact with you shortly!