How to choose a suitable Leeb hardness tester?
From:Linshang Time:2023/01/10 11:14:00 Browse:148
Hardness refers to the ability of a material to partially resist the pressing of hard objects into its surface, and is one of the important performance indicators of metals. The Leeb hardness tester is an instrument for measuring the hardness of metal parts, cast iron, large metal workpieces and other materials through the Leeb hardness system. It is widely used in machinery industry, automobile industry, shipbuilding industry and other industries. There are many types of Leeb hardness testers on the market, especially the portable Leeb hardness testers on the market, so how to choose a suitable Leeb hardness tester?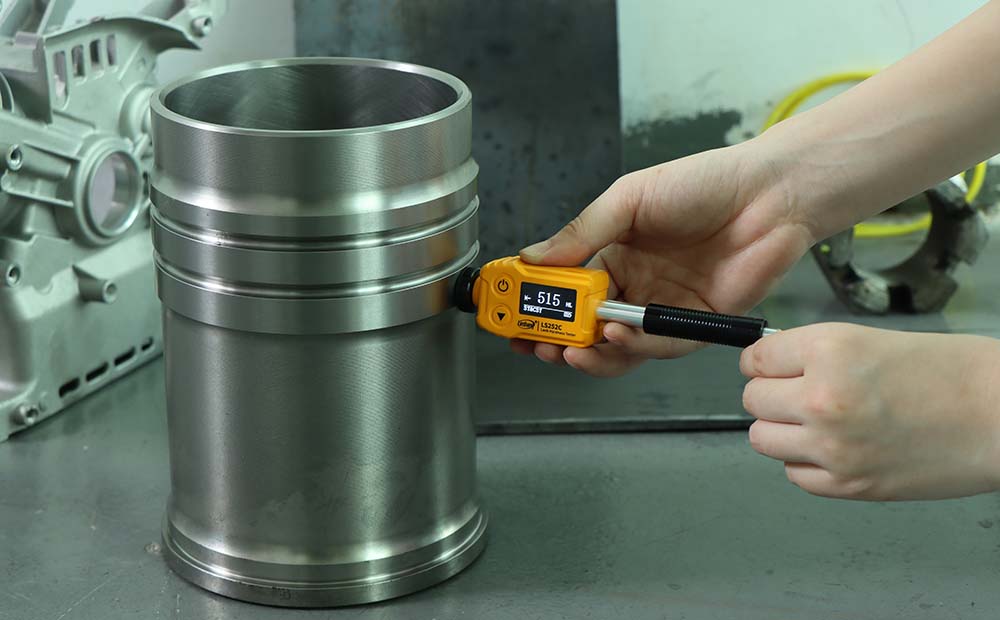 1. Determine the Leeb hardness tester based on the impact device
An impact device is used to measure the hardness of materials using the Leeb hardness tester. The Leeb hardness tester features a variety of impact devices and support rings according to various measurement environments and workpiece parameters since the measured workpiece and environment are unknown. To prevent being unable to be used in unique situations in the future, you should first think about acquiring a Leeb hardness tester that can employ various impact devices.
Impact device
D/DC/DL
D+15
C
G
E
Impact energy
11mJ
11mJ
2.7mJ
90mJ
11mJ
Impact mass
5.5g/7.2g
7.8g
3.0g
20.0g
5.5g
Ball Hardness
1600HV
1600HV
1600HV
1600HV
5000HV
Ball diameter
3mm
3mm
3mm
5mm
3mm
Ball head material
Tungsten carbide
Tungsten carbide
Tungsten carbide
Tungsten carbide
Diamond
Impact device diameter
20mm
20mm
20mm
20mm
20mm
Impact device length
147/86/75mm
162mm
141mm
254mm
155mm
Impact device weight
50g
80g
75g
250g
80g
Max hardness of the test piece
940HV
940HV
1000HV
650HB
1200HV
Average roughness of the surface of test piece (Ra)
1.6μm
1.6μm
0.4μm
6.3μm
1.6μm
Minimum weight of test piece:
Can be measured directly
need stable support
Tight coupling required
>5kg
2~5kg
0.05~2kg
>5kg
2~5kg
0.05~2kg
>1.5kg
0.5~1.5kg
0.02~0.5kg
>15kg
5~15kg
0.5~5kg
>5kg
2~5kg
0.05~2kg
Min thickness of test piece:
Tight coupling
Min depth of hardened layer
5mm
≥0.8mm
5mm
≥0.8mm
1mm
≥0.2mm
10mm
≥1.2mm
5mm
≥0.8mm
Applicable scope
DC type measures inner hole or narrow part
D type measures common metals
DL type measures slender and narrow groove, tooth surface or bottom of inner hole
Measuring tooth flanks, grooves, recessed surfaces
Measurement of hardfacing and small or thin materials
Measure heavy and rough castings and forgings
Measurement of extremely hard materials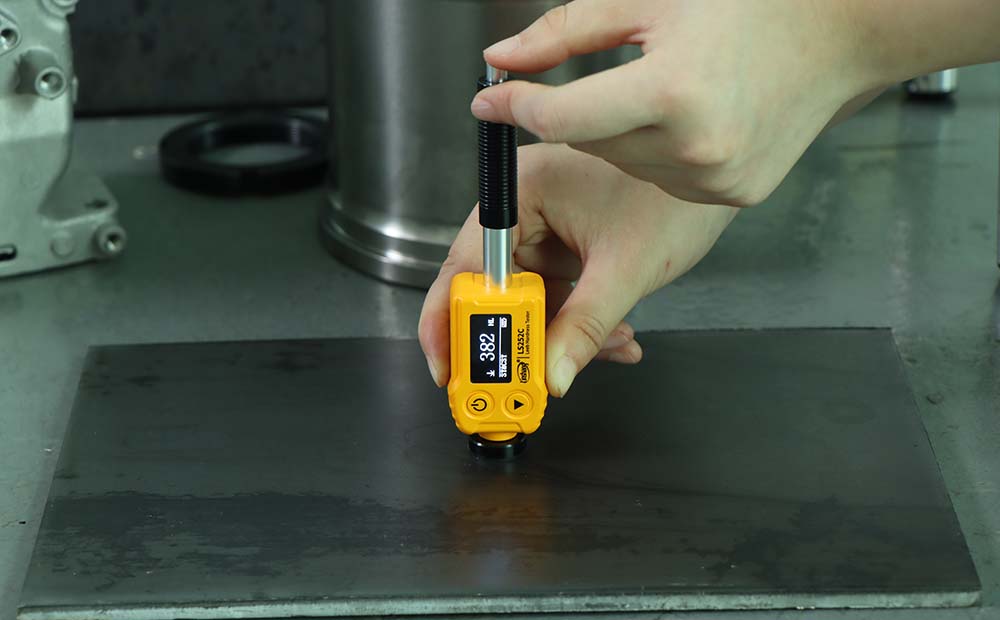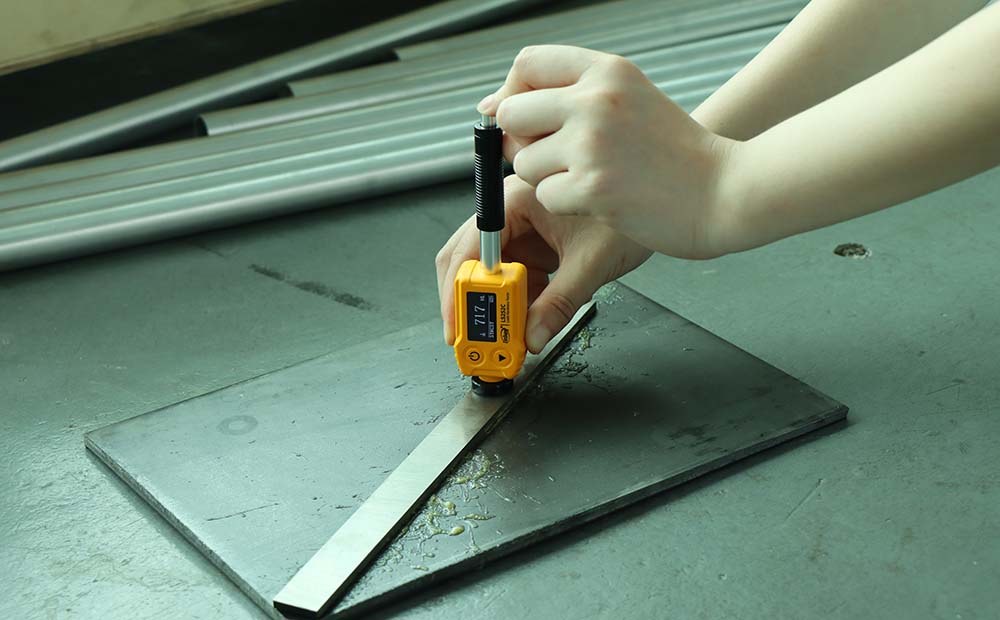 2.Considering the hardness tester's application scenario
Metal hardness testing instruments are generally classified into desktop hardness testers and portable hardness testers according to application scenarios.
The desktop hardness tester adopts a unique and precise design in terms of machinery, optics, and light source, so the measurement results of the desktop hardness tester are more accurate and are often used in laboratories.
Portable Leeb hardness testers are compact and easy to carry. Most of the portable hardness testers on the market can convert various hardness standards. At the same time, they can measure metal materials that have been installed and are not easy to measure on the desktop, fully reflecting the advantages of intelligence and portability.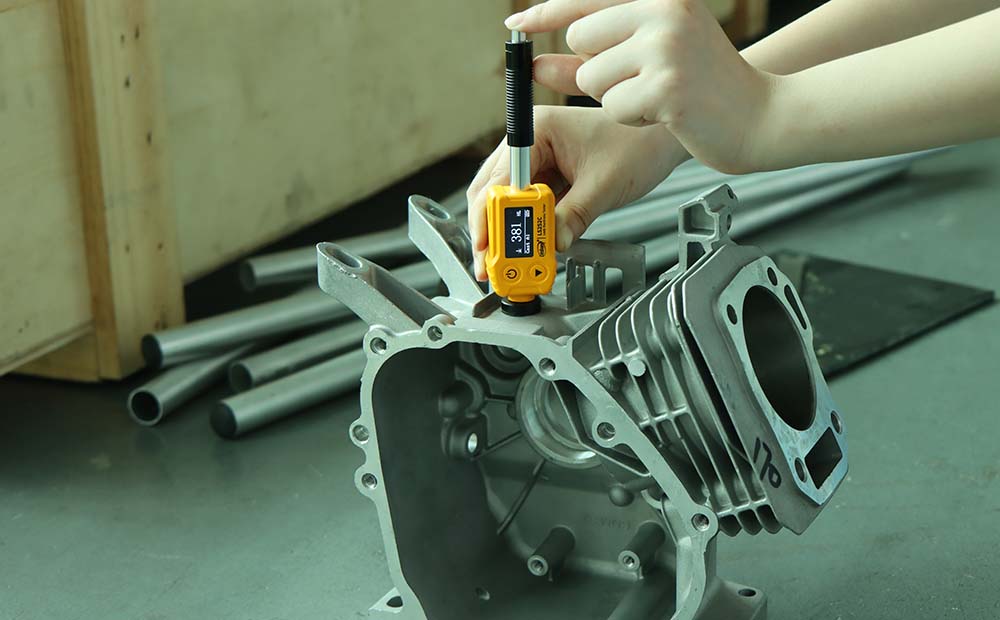 3.Choose according to measurement accuracy
The instrument for testing is the Leeb hardness tester. So, one of the most crucial considerations when selecting a Leeb hardness tester is if the equipment's accuracy satisfies the standards. Although the Leeb hardness tester's usage environment is unexpected, the hardness value obtained will be more accurate if the tester's accuracy is extremely high and the test is carried out in accordance with the operating criteria.
From the perspective of measurement technology application, there are currently two measurement technologies for Leeb hardness testers on the market, one is single-coil technology, and the other is double-coil technology. The measurement results of double-coil technology are more accurate and repeatable. .Linshang's Leeb hardness testers all use double-coil technology and high-precision timing chips, and the measurement results are more accurate. At the same time, the Linshang hardness tester has a built-in direction sensor, and the instrument has 360-degree automatic compensation. Some brands on the market need to manually set the direction.
It can also be seen from whether it can pass the inspection of the National Institute of Metrology. Linshang's Leeb hardness tester meets the various parameter standards of the National Metrology Verification Regulations and can pass the inspection of the National Institute of Metrology.

4. Choose based on the instrument's extra features
Leeb hardness testers are mainly used on construction sites or to detect large workpieces. The typical testing setting is a demanding environment like a factory workshop, a construction site, etc. Saving data in a timely manner is very crucial when measuring hardness.The quality requirements of the Leeb hardness tester itself are relatively high. When purchasing a Leeb hardness tester, be sure to confirm the data storage method of the Leeb hardness tester and the materials used in the Leeb hardness tester. Also consider the following functions:
Whether it has other hardness scale conversion functions, Linshang can provide mutual conversion between 7 hardness scales;
Whether it is necessary to measure the strength of the material, Linshang's LS251D Leeb hardness tester can support the measurement of strength

Whether it is necessary to quickly test materials in batches, Linshang's LS251D Leeb hardness tester is equipped with QC mode to quickly determine whether the hardness of batch incoming materials is qualified