Famous Brands of Coating Thickness Gauges
Famous Brands of Coating Thickness Gauges
From:Linshang Time:2019/10/29 13:46:00 Browse:226
The famous coating thickness gauge supplier that have been well done in global include Elcometer,QNix and Linshang.The products of these three brands have their own advantages.Users can choose products that suit their needs in terms of product performance and cost performance.
There are many famous coating thickness gauges suppliers at home and abroad.The quality and price are also uneven.In this paper,we will mainly introduce three coating thickness gauges suppliers and their representative products.
   I.Elcometer coating thickness gauge
    Founded in 1947, the Elcometer has been a leader in the industry.The products are mainly known for their innovation and high quality.It is sold in more than 170 countries and regions around the world.Its representative product is Elcometer 456.
    The Elcometer 456 is available in three different models:the Elcometer 456,the Elcometer 456B and the Elcometer 456T.The instrument has the following features:
   1)The large button design is simple and easy to use, even if you wear gloves, it is easy to operate.
   2)With automatic rotation function, high contrast color LCD, multi-language menu settings, users can choose their own language.
   3)With high and low limit indication signs.
   4)The product is designed with reference to a number of national and international standards.
   5)Wide measurement range, can be used on smooth, rough, thin surface.
   2.QNix coating thickness gauge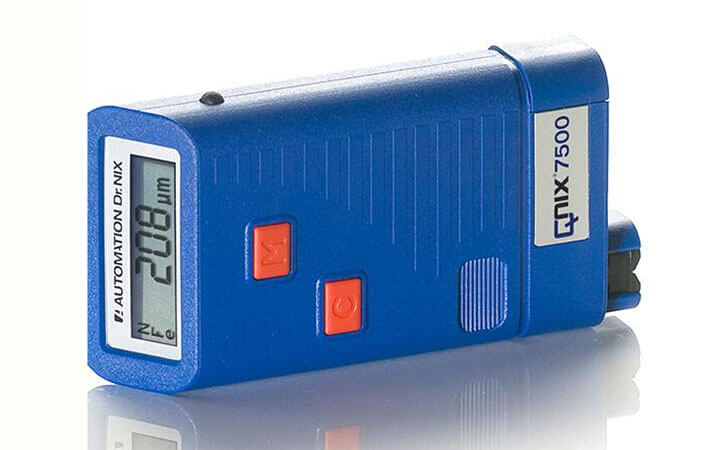 The QNix originated in Germany and has a good reputation in the industry.Its representative products are QNix7500M.This thickness gauge is a data storage type coating thickness gauge that can be connected to the host through the probe cable for split measurement.The main unit of the instrument is available in both normal and memory types.The instrument has the following features:
   1)The QNix coating thickness gauge can be measured both in integrated and in separate parts, which can largely avoid the error caused by operation.
   2)The probe has multiple magnetic probes,eddy current probes and dual-purpose probes.The measuring range is 0-2mm and 0-5mm.Users can purchase a suitable probe when purchasing a probe.
   3)The instrument has a memory storage function.
   4)This model of coating thickness gauge has RS232 interface.You can connect a printer or a computer (storage type only).
  3.Linshang technology-Chinese coating thickness gauge supplier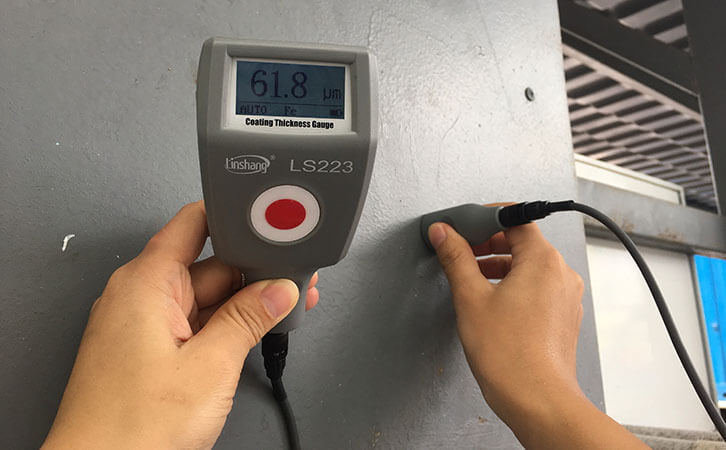 Linshang Technology was established in 2008.Companies adhering to the principle of quality innovation and integrity,independent design, research and development,production of various measuring instruments and meters.To build its own Linshang brand and the main products have four categories:optical transmittance products,UV measurement products,solar film products,gloss coating measurement products.A representative product of the coating type is the Linshang LS223 coating thickness gauge.This gauge is equipped with two probes: F3N3 and F5N3.The ranges are 0-3000 μm and 0-5000 μm,respectively.The instrument has the following features:
   1)The instrument is designed to be simple.It does not need to be calibrated frequently. It only needs to perform zero adjustment before starting measurement.
   2)The coating thickness gauge is made of ruby probe which is wear-resistant and corrosion-resistant.
   3)The instrument can automatically identify the measuring substrate in Fe/NFe mode and convert it quickly and automatically.
   4)Adopt advanced digital probe technology and the measurement data is not easily interfered to ensure the measurement accuracy.
   5)Portable membrane thickness gauge host and probe with separate design,LS223 host can freely switch between 3mm and 5mm.
   The above are famous coating thickness gauge suppliers in global.For more details,please visit their official website.