Advantages of LS128 UV Energy Meter that use for UV LED
Time:2019/02/27 18:39:00 Browse:815
  Advantages of LS128 UV Energy Meterthat use for UV LED
  1. Has more test functions.
  Most of UV energy meter just measure individual energy data, but LS128 UV energy meter with unique design, it is the leader of UV energy meter. with multi-function that not only can measure energy data, but also can measure corresponding power and temperature data.
  2. Can display curve of temperature and power
  In this field, it's the only one can be displayed the test date as digit, and be read the corresponding temperature data and intensity data, can also show the corresponding test temperature and intensity data as curve.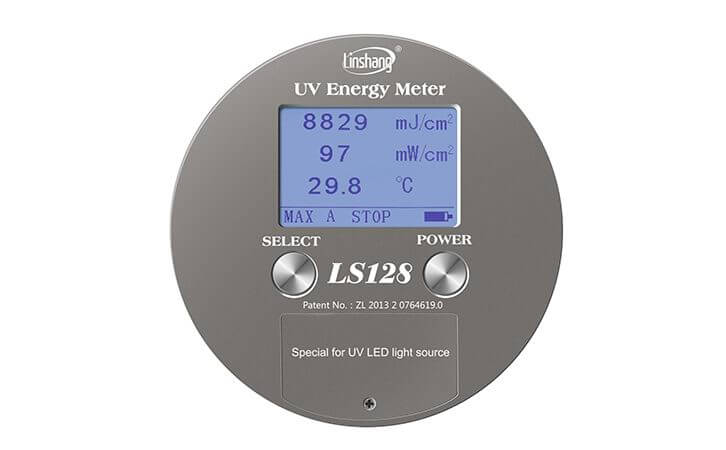 3. Built-in timer, can accurately record the time of curing
  LS128 UV energy meter UV has setted time as 4 minutes.
  4. Built-in large memory
  LS128 UV energy meter holds a large memory function, and can record nearly 60000 power datas, 3800 temperature datas.
  5.Wide range reach up to 20w/cm2 wide range testing, as well as ultra wide spectrum (340-420NM) range of testing
  Nowadays, about the existing UV energy meter, the maximum range can only reach 5w/cm2, 10w/cm2, etc., LS128 is the only one that wide range reach up to 20w/cm2.
  LS128 energy meteris the only one that apply to multiple light source, can measure   energy, power and temperature of UV LED light which peak wavelength is at 365nm、 375nm、385nm、395nm 、410nm、420nm.
  6.Can connect computer and print test report
  The only one can connect to computer via USB interface and read detail recorded data, can analysis curve and print to output test report.