How Much do You Know about Auto Paint Thickness Gauge?
Time:2019/12/16 14:02:00 Browse:486
With the continuous development of the times, science and technology have played a subtle role in various fields and even changed the way people live and work. As the surface layer of automobiles, the performance of automobile paint is getting more and more attention.The rapid development of the automobile industry has increased the output of automobile paint. The competition pressure of the industry is also increasing. A variety of paint film problems have occurred. The body paint film inspection after spraying is mainly performed by manual visual methods. There are disadvantages such as excessive time consuming, low efficiency and human factors. To solve these problems, the auto paint thickness gauge is used to detect the car paint thickness and to determine whether the it is the original car paint.
     Car painting is an important part of the car production process, mainly providing appearance decoration and long-term anti-corrosion performance for cars. In the conventional automobile painting process, the body of the painted body needs to be inspected and modified for the surface of the paint film, especially when buying a used car. The inspection of the car paint surface is the most important indicator, which is difficult to analyze with the naked eye. These are scrap cars and which are accident cars. Therefore, most used car appraisers will choose to measure the thickness of the painted surface with an auto paint thickness gauge.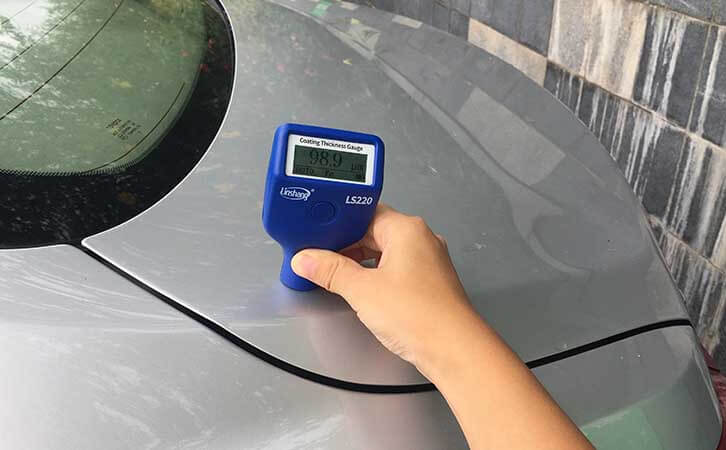 The LS220B auto paint thickness gauge with Bluetooth is an integral instrument. The L220B automotive auto paint thickness gauge has distinctive features. It has a high-sensitivity probe, 0.5s fast measurement and can measure 120 data in one minute. The Bluetooth function allows you to detect used cars when the paint thickness of each position is measured, the test data is saved on the mobile phone. By checking the inspection report, the overall condition of the used car paint thickness can be distinguished. The auto paint thickness gauge is small in size and has a single button, which does not require calibration and setting.With iron and aluminum dual-purpose probe, in the automatic identification (Fe / NFe) mode, the instrument can automatically identify plastic materials, iron-based materials, aluminum-based materials. In addition, the instrument uses advanced digital probes, the data is stable when testing the same place for multiple times. LS220B auto paint thickness gauge also has high-quality after-sales service and provides long-term free technical support.
     The LS220B auto paint thickness gauge was developed by Linshang Technology, which is independent research and development, with its own brand. The company's currently independently developed products have obtained 15 national patents. From this point of view, the product brand is reliable and the quality is even better.