Linshang Technology- an Automotive Paint Meter Manufacturer
Time:2019/12/17 14:44:00 Browse:497
Automotive paint meter manufacturers with innovative research and development capabilities are popular in the market. With continuous technical innovation and scientific research investment, Linshang has become an automotive paint meter manufacturer with independent intellectual property rights.
       Automotive paint meter, also called paint film thickness detector, is used to measure the thickness of automobile paint surface so as to identify whether the automobile paint surface is the original paint and whether it has been spray-painted and repaired. At present, the second-hand car market is developing rapidly. The condition of second-hand cars has always been the most worrying issue for owners. In the rapid identification of the second-hand cars painted surface, the automotive paint meter can show its skills. There are many automotive paint meters manufacturers on the market. In the end, which automotive paint meter manufacturer can produce an instrument with excellent quality?
     To measure the quality of the automotive paint meter, it depends on whether the automotive paint meter manufacturer has competitive strength. First of all, it depends on the manufacturer's research and development strength. To improve the R & D strength of manufacturers, it is necessary to increase investment in technological innovation and scientific research. The companies that do not pay attention to improving their own technological innovation and investment in scientific research as the market changes, still rely on traditional process technology and resource advantages to participate in market competition. Or improve the production line by purchasing more mature technical equipment, lack of independent intellectual property rights of technology research and development. This kind of development model is difficult to cultivate the core competitiveness and sustainable development ability of the enterprise. And some companies attach great importance to using technological innovation to enhance their competitiveness. They combine the organic linkage of "industry, research, and research" to win the support of the public sector, set up research and development teams, optimize resource allocation and improve their research and development capabilities for new products and technologies.   
     Automotive paint meter, which is used to measure the thickness of automotive coatings. It is used to measure non-magnetic coatings such as coatings, varnishes, enamels, chromium on ferromagnetic metal substrates such as steel. It can also be used to measure non-conductive coatings such as coatings, anodized layers, or ceramics on non-magnetic metal substrates such as copper, aluminum. At present, automotive paint meters are widely used in the used car industry.
     Linshang insists on independent design, research and development, production and sales of various measuring instruments to create Linshang brand. At present, the LS220 automotive paint meterand LS220B automotive paint meter introduced by Linshang Technology have become powerful busters with advantages such as accurate measurement results, easy to carry and operate and long service life.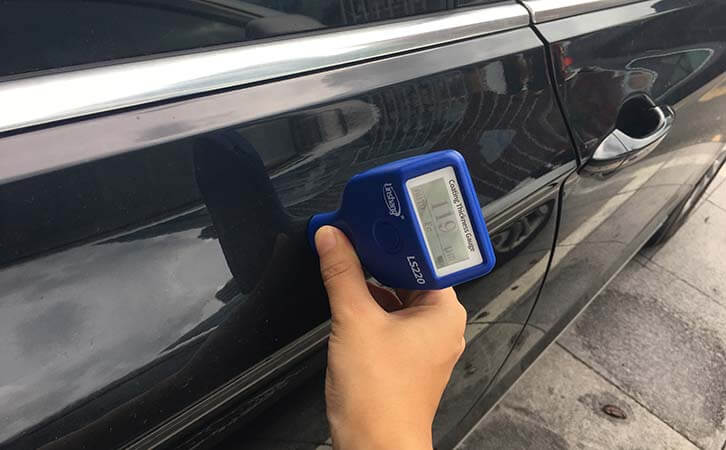 For many years, Linshang has always focused on the research and development of new technologies, new materials and new equipment for measuring instruments. A professional research and development team has been established to strengthen comprehensive competitiveness through innovative research and development. Linshang has won 15 national patents and national high-tech enterprise certificates. Because of this, Linshang will be invincible in the market competition and become the industry's senior and authoritative automotive paint meter manufacturer.