The 32nd SFCHINA Ended Successfully
Time:2019/11/23 14:02:00 Browse:3369
 From November 18th to 20th, 2019,Linshang Technology participated in the 32-day China International Surface Treatment Exhibition.The exhibition was successfully held at the Shanghai New International Expo Center and ended successfully.
    The China International Surface Treatment Exhibition was held in 1983 and is held annually in Shanghai and Guangzhou.This exhibition is aimed at the surface treatment industry of the whole country and the world,providing an international display and trade platform for Linshang Technology.The Linshang technology has the opportunity to reach audiences from China and the whole world in this exhibition.
    This is the second time that Linshang Technology has been invited to participate in this exhibition.In addition to displaying several products independently developed and designed by Linshang Technology,it is more important to know more new trends in the surface treatment industry.
    The main features of the two gloss meters and three coating thickness gauges unveiled at this exhibition are as follows:
    Gloss meter:Both the LS191 and LS192 gloss metersuse a universal measuring angle of 60 degrees,which can be widely used in various industries.Both instruments measure and display gloss values in real time without pressing any buttons.The instrument can record up to 99 maximum, minimum, average and standard deviation values.In addition to measuring the gloss of the test object in real time,the uniformity of gloss can also be detected.
    Coating thickness gauge:LS220H integrated coating thickness gauge,LS221 splitcoating thickness gauge and LS223 large-scale coating thickness gauge are three coating thickness gauges promoted by Linshang Technology. It is mainly used to detect the thickness of coating on metal substrates.The first two can measure the thickness of coating within 2mm and the other can measure thickness up to 5mm.All three instruments use the Hall Effect and eddy current measurement principles to automatically identify two different types of substrates, iron-based and non-ferrous.The Linshang coating thickness gauges perform non-destructive measurements.The thinnest substrate thickness of the measurable coating is 0.05 mm.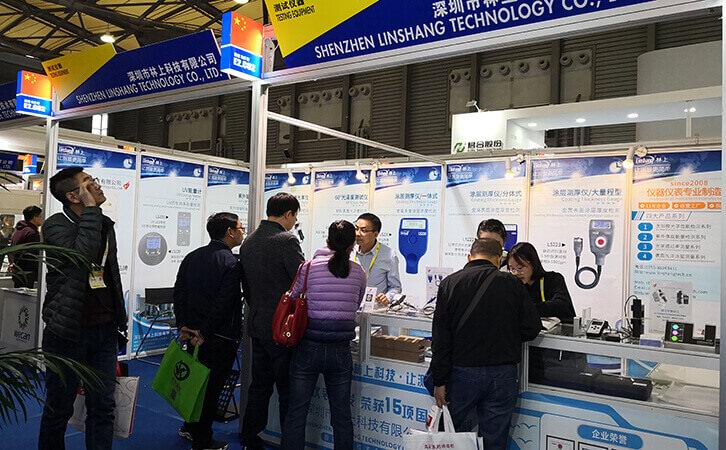 Linshang staff demonstrate the instrument for the customers
Linshang gloss meters and coating thickness gauges are very popular in this exhibition. After many customers experienced our products on the spot,they actively expressed their recognition of the products and some suggestions.We are very grateful for this.The reason why Linshang products can continuously improve innovation and make progress is inseparable from the feedback and suggestions that customers bring us.