Exclude Sheet Metal Repair by Used Car Paint Thickness Gauge
Time:2019/06/12 17:08:00 Browse:1888
Some experienced used car appraisers don't believe the scientific data measured by the paint thickness gauge. They tend to believe their experience. Actually, with the development of technology, professional coating thickness measurement tools are unavoided for better car examination. However, if we combine the measured data by paint thickness gauge with the experience, the car value evaluation would be more efficient.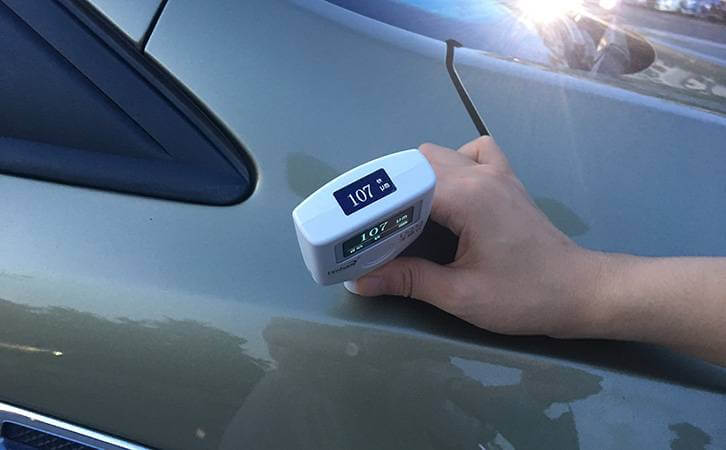 Although the data detected by the paint thickness gauge is only a reference, other situations require more experience to judge, so when you buy a used car, you need a professional second-hand car appraiser to assist. The paint thickness gauge is the most commonly used auto sheet metal gauge in the hands of used car appraisers. It is a tool used to judge the thickness and sheet metal of the used car paint surface. All car surfaces are covered with paint coating and the paint thickness gauge can directly detect whether the car has been repaired or painted.
The thickness of the original car paint is generally 100um-180um. But in the used car market, in order to make the car look better, the seller will usually make car beauty.
1. What thickness is sheet metal on a car?

When using the paint thickness gauge LS220 to test the surface of the used car, sometimes the thickness of the paint at a certain part is higher than the original paint, indicating that it may be caused by the second paint. This happens generally because the car has been scratched, but it does not have any other impact on the car. 

If the paint thickness measured on a car is large higher than the original paint thickness, then the measured position is likely to have been repaired by sheet metal.
2. The process of detecting auto sheet metal repair
When testing with the paint thickness gauge LS220, first test the thickness of the original paint of the car on the roof and then test the paint thickness of the engine compartment cover, the door, the side fenders and other positions. If the data tested is quite different from the data on the roof, be cautious when purchasing.
3. More paint thickness gauges
● Use by used-car appraisers, body shops, painters, inspectors, etc.
● Measure the paints thickness on steel, iron and non-ferrous metal
● Measurement range: 0.0-2000μm, measuring interval: 0.5s
● Languages: Chinese / English; Units: μm / mil
● Data can be transmitted to mobile APP via Bluetooth
● Use by used-car appraisers, body shops, painters, inspectors, etc.
● Measure paint thickness on ferrous and non-ferrous metal
● Measurement range: 0.0-2000μm, measuring interval: 0.5s
● Languages: Chinese / English; Units: μm / mil

● New OLED car paint meter
● Use in -40℃ environment
● Test car paint thickness
● Fast measurement, 0.5s measuring interval
1. Use in -40℃ environment
2. Dual OLED screen
3. Small size and easy to carry
4. Fast measurement in 0.5s