Details
I. LS223+F3N3 Coating Thickness Gauge Introduction
The Linshang LS223 coating thickness gauge also called painting thickness meter is an instrument with a separate host from the probe. The maximum measuring range of the probe is 3000μm, which can automatically identify the measuring substrate. This paint thickness tester can be used to measure non-magnetic coatings such as varnishes, coatings, enamels, chrome, zinc plating on ferromagnetic substrates such as steel. It can also measure non-conductive coatings such as coatings, anodized layers or ceramics on non-magnetic metal substrate such as aluminum, copper, die-cast zinc and brass.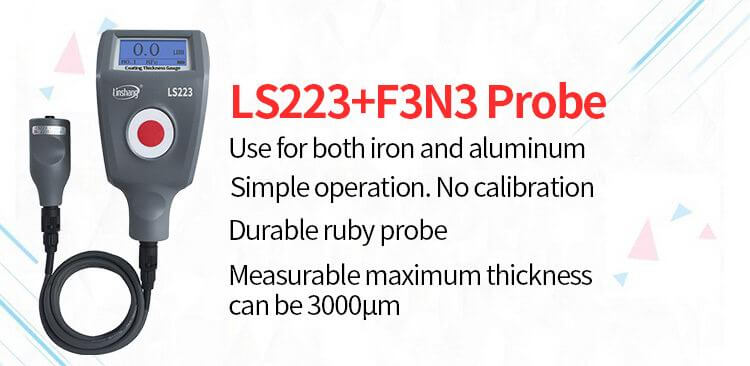 II. LS223+F3N3 Coating Thickness Gauge Application
III. LS223+F3N3 Coating Thickness Gauge Parameters
Parameter
LS223 Digital Paint Thickness Gauge
Probe tip
Ruby fixed
Probe type
F3N3 probe
Measuring principle
Fe:Hall Effect / NFe: Eddy current
Measuring range
Fe:0.0-3000μm NFe:0.0-3000μm
Resolution
0.1μm:(0μm-99.9μm)
1μm:(100μm-999μm)
0.01mm:(1.00mm-2.00mm)
Accuracy
≤±(3% reading+2μm):0-3000μm
Unit
μm / mil
Measuring interval
0.5s
Minimum measuring area
Ø = 25mm
Minimum curvature
Convex:5mm / Concave:25mm
Minimum substrate thickness
Fe:0.2mm / NFe:0.05mm
Display
128×64 dot matrix LCD
Power supply
2pcs of 1.5V AA alkaline battery
Range of operation temperature
0℃-50℃
Storage temperature range
-20℃-60℃
Host size
126*66*35 mm
Probe size
22*26*55 mm
Weight(with battery)
160 g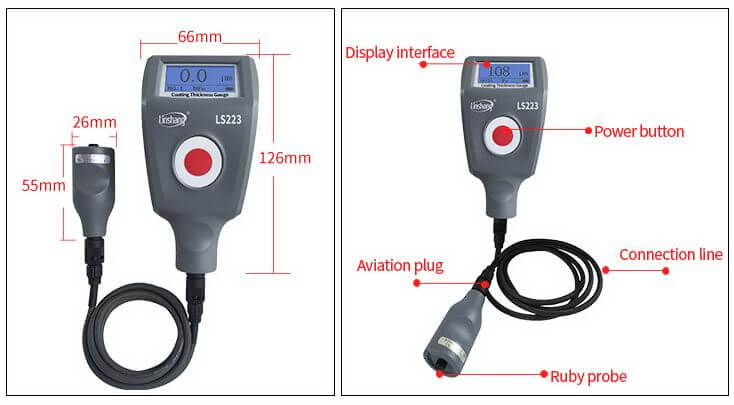 IV. LS223+F3N3 Coating Thickness Gauge Characteristics
1. High accuracy, the instrument can ensure to pass the inspection by the Chinese National Metrology Institute
2. No calibration is required, just simple zero adjustment for a new measurement.
3. In the "Fe / NFe" automatic recognition mode, the probe automatically recognizes the measurement substrate and automatically switches.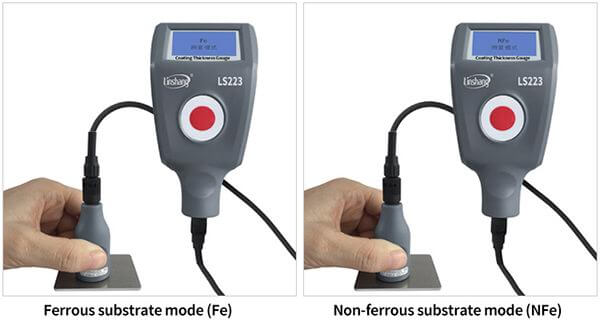 4. The LS223 paint thickness tester can has wide measurement range and the thickest measured materials can be 3mm.
5. With a real ruby probe, it has a strong resistance to corrosion and abrasion, which can extend the service life of the meter.
6. Adopting advanced digital probe technology, data collection and processing are done directly on the probe, the probe is not easily interfered and provides excellent test accuracy.
7. LS223 has three measurement modes: iron-based measurement (Fe), non-ferrous-based measurement (NFe) and automatic identification (Fe / NFe). Language (Chinese and English) and unit can be set.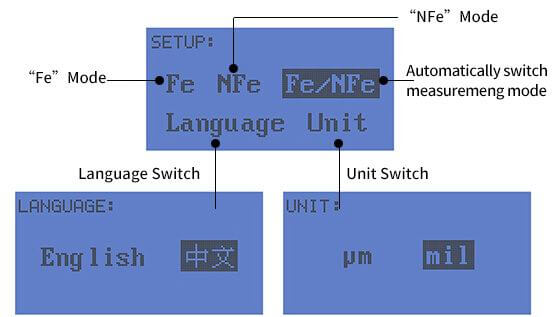 8. The LS223 painting thickness meter adopt a separate design. The host can freely switch between 3mm and 5mm probes with different ranges. For the 5mm range probe, please click LS223 + F5N3 Coating Thickness Gauge.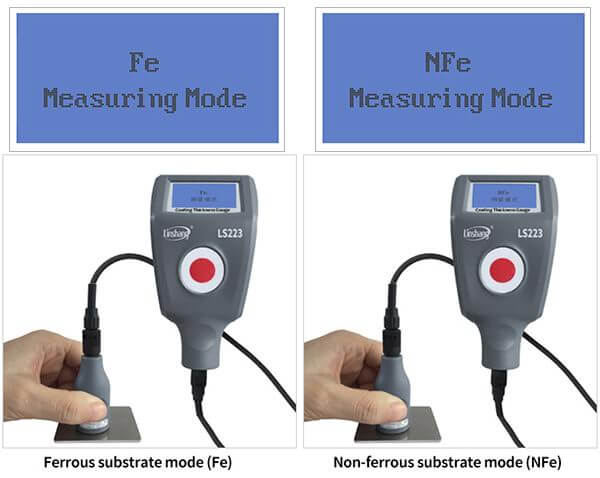 9. This product can trigger the start-up, applicable to ultra-thin substrate: Fe: 0.2mm / NFe: 0.05mm.
V. Product Qualification and Standards
1. LS223+F3N3 coating thickness gauge conforms to the following standards:
GB/T 4956-2003 Non-magnetic Coatings on Magnetic Substrates-Measurement of Coating Thickness-Magnetic Method

GB/T 4957-2003 Non-conductive Coatings on Non-magnetic Basis Metals-Measurement of Coating Thickness-Eddy Current

DIN EN ISO 2808 Paints and Varnishes-Determination of Film Thickness

JJG-818-2005 Verification Regulation of Magnetic and Eddy Current Measuring Instrument for Coating Thickness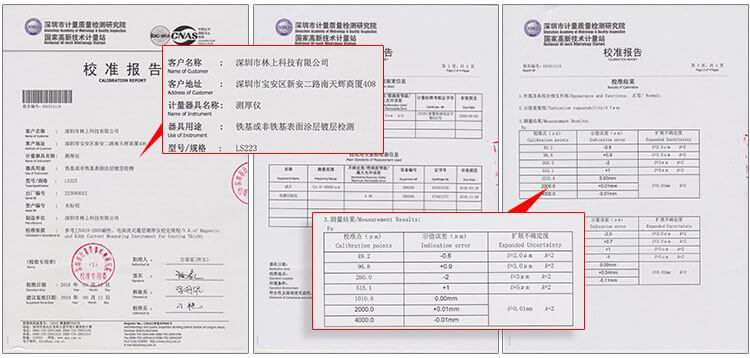 VII. LS223+F3N3 Coating Thickness Gauge Packing Details
| | | | |
| --- | --- | --- | --- |
| No. | Item | Quantity | Unit |
| 1 | LS223 Digital Paint Thickness Gauge | 1 | Set |
| 2 | Fe plate of zero adjustment | 1 | Pcs |
| 3 | NFe plate of zero adjustment | 1 | Pcs |
| 4 | Standard film | 1 | Pcs |
| 5 | Instruction manual | 1 | Pcs |
| 6 | Certificate/Warranty card | 1 | Pcs |
| 7 | 1.5V AA alkaline battery | 2 | Pcs |
VIII.Linshang Coating Thickness Gauge After-sales Service
The meter has one-year warranty. If the gauge works abnormally, please send the whole gauge to our company for maintenance

Provide users with spare parts and lifelong maintenance services

Provide the users with the meter inspection service 

Free technical support for long term
Manufacturer: Shenzhen Linshang Technology Co.,Ltd. Website: https://www.linshangtech.com/       
Service hotline: 0755-86263411 Email: sales21@linshangtech.com
X. Recommended Products
● No calibration, one button, easy to carry and operate
● Measure coating thickness on ferromagnetic and non-ferromagnetic metal substrates
● Measurement range: 0.0-2000μm
● Accuracy: ≤±(3% reading+2μm)
● External cable probe and wear-proof ruby probe tip
● Measure coating thickness on ferromagnetic and non-ferromagnetic metal substrates
● Measurement range: 0.0-2000μm
● Accuracy: ≤±(3% reading+2μm)
● Suitable for ultra-thin coating and small workpiece
● Measure plating thickness on ferromagnetic metal substrates
● Measurement range: 0-500μm
● Accuracy: ≤±(2%+0.3μm) after calibration of 1-5 points
● Test fixture is optional to eliminate the measurement errors