Details
I. SK1250 Solar Film Sales Kit Introduction
Linshang SK1250 Solar Film Insulation Display Stand is also called insulation film transmission kit and energy-saving glass display stand, which can be used to demonstrate the thermal insulation and UV blocking performance of various materials such as solar film, insulation film, energy-saving glass. The instrument irradiates the material under test with genuine Philips infrared lights and ultraviolet flashlights to simulate the infrared and ultraviolet rays in sunlight, and then displays the good barrier performance of the material under test through a power meter and a light intensity magic mirror. The data is intuitive and easy to understand. Special aluminum case, convenient for users to carry out.
II. SK1250 Solar Film Sales Kit Characteristics
The plexiglass booth has a clean and beautiful appearance, which is very suitable for the exhibition of performances such as film glass and thermal insulation glass.

The entire sales kit consists of multiple instruments that can be used to test the infrared and ultraviolet rejection properties of the material under test.

The thermal insulation effect can be obtained by numerical calculation method or customers can feel the temperature change after glass is blocked.

A special aluminum case is provided for easy carrying out.
III. SK1250 Solar Film Sales Kit Composition
| | | | |
| --- | --- | --- | --- |
| No. | Product | Quantity | Unit |
| 1 | Plexiglass booth | 1 | pcs |
| 2 | 250W Philips infrared light | 1 | pcs |
| 3 | UV flashlight | 1 | pcs |
| 4 | LS123 UV power meter | 1 | pcs |
| 5 | Glass radiometer | 1 | pcs |
| 6 | LS122 IR power meter | 1 | pcs |
| 7 | Packing box size46 * 39 * 20 cm (L * W * H) | 1 | pcs |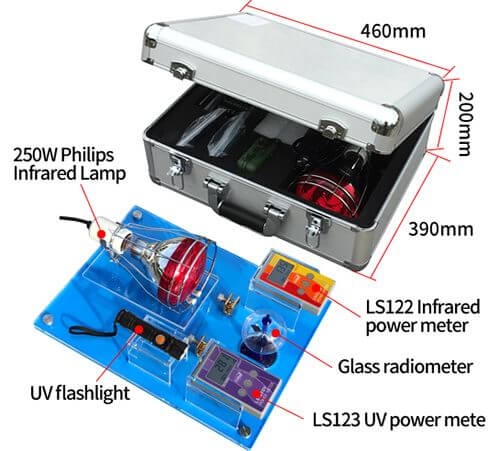 IV. SK1250 Solar Film Sales Kit Functions
1. Plexiglass booth: The plexiglass booth is used to fix multiple instruments and accessories in an orderly manner, helping users to quickly place the accessories in order and reducing data changes caused by the movement of accessories.
2. 250W infrared lamp: using genuine Philips infrared lamp, imitating the sunlight, so that users can better experience the heat rejection effect of the test sample.
3.UV flashlight: Simulate the ultraviolet rays in the sun, allowing users to intuitively experience the rejection effect of test samples on ultraviolet rays.
4. LS123 UV power meter: This instrument is used to test the UV intensity. The data can be used to calculate the UV rejection rate of the sample.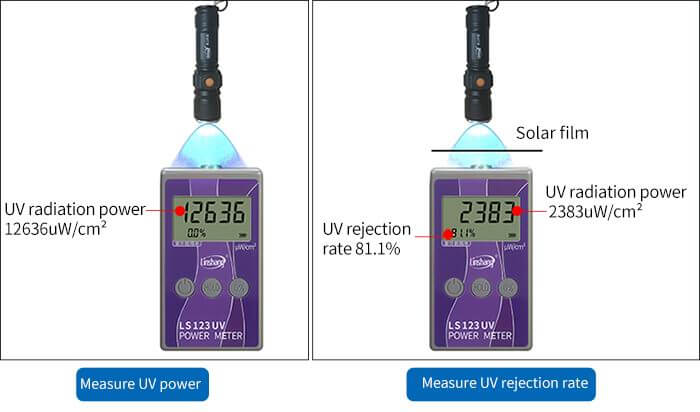 5. Glass radiometer: When the infrared light directly shines on the light intensity magic mirror, the blade will rotate rapidly.The speed of the blade rotation is proportional to the light intensity. If you use a well-insulated solar film, stick-film glass, etc. The speed of the blade rotation will decrease significantly.
6. LS122 Infrared Power Meter: An instrument that receives infrared light. The infrared rejection rate of the sample can be calculated from the data before and after the sample is placed.
VI. SK1250 Solar Film Sales kit After-Sales Service
The meter has one-year warranty. If the instrument works abnormally, please send the whole instrument to our company for maintenance

Provide users with spare parts and lifelong maintenance services

Provide the users with the meter inspection service 

Free technical support for long term
Manufacturer: Shenzhen Linshang Technology Co.,Ltd. Website: https://www.linshangtech.com/ 
Service hotline: 0755-86263411 Email: sales21@linshangtech.com
For more information about the Sales kit   selection, please click article below for details

VII. FAQ about SK1250 Solar Film Sales Kit
1. The difference between SK1150 and SK1250 sales kits

The two sales kits have different infrared lamp. The lamp power of SK1150 is 150W and the lamp power of SK1250 is 250W;

The operation is the same. Generally speaking, a 150W lamp is enough, but the 250W lamp displays a much larger light intensity value during the demonstration. After the material is put in, the light intensity value has larger difference.

2. The glass size for the sales kit
VII. SK1250 Solar Film Sales kit After-Sales Service
● Infrared reflection performance demonstration
● Thermal insulation and UV proof demonstration
● Measure UV/ Infared power and rejection rate
● Use 150W genuine Philips infrared light
● Detect heat-insulating property of window film and glass
● Test infrared radiation power and IR rejection rate
● Power range: 0-40000 W/m²
● Spectral response: 1000nm-1700nm
● Thermal insulation and UV proof demonstration
● Measure UV/ Infared power and rejection rate
● Use 250W genuine Philips infrared light
● With larger data difference, the demonstration is more intuitive