A Misunderstanding about Testing Ceramic Films with Transmission Meter
Time:2019/04/17 09:01:00 Browse:693
When we knew the ceramic film, we first came into contact with the reflective ceramic film. This type of ceramic film generally has a higher blocking rate for 1400nm infrared rays than for 950nm infrared, so we also classify ceramic film as metallized film.
When recommending solar film testers to customers, we generally emphasize the difference between metallized film, ceramic film and absorption film. And then advised them to test different types of films with different solar film testers which have different infrared sources.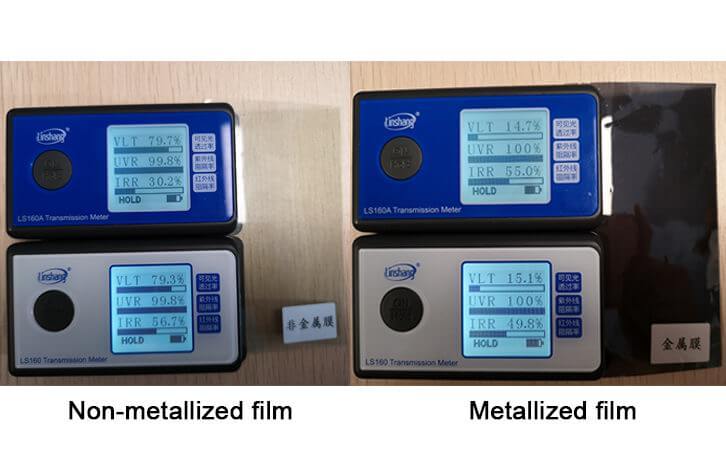 LS160 and LS160A window film transmission meter
However, some customers have reflected that the nano-ceramic film has a lower barrier value tested at 1400nm infrared than the value tested at 950nm near-infrared. Afterwards, we accidentally communicated with a customer who has been engaged in the solar film industry for many years, and asked him some technical questions about ceramic films. Actually the ceramic film is also divided into several types. According to the different processes, the ceramic film is divided into a ceramic magnetron sputtering film and a nano-cerium oxide tungsten bronze ceramic film. The magnetron sputtering film belongs to the infrared reflective solar film, and the principle is the same as that of the metallized magnetron sputtering film. Generally speaking, the barrier value at mid-infrared ray is better. The nano-cerium oxide tungsten bronze ceramic film is not an infrared reflective film, and they generally have a better barrier value at near infrared ray.
This is also the reason for the problems reflected by the customers before. It turns out that we have not touched other types of ceramic films, so we directly classify ceramic films as one of reflective film. Of course, this question has now been answered by professionals.
In fact, the technology of any industry is constantly updated. Only by continuous learning can we give customers a more comprehensive and professional answer and continue to innovate and make continuous progress.