New Product: LS220B Paint Meter for Cars
Time:2019/08/07 22:31:00 Browse:1353
Based on the concept of continuous innovation and improvement of products, Linshang Technology has always been committed to creating more valuable instruments for customers. Recently, a new paint meter for cars LS220B with Bluetooth data transmission function was launched.
What is the similarity and difference between the LS220B paint meter for cars with and the previous LS220 paint thickness gauge?
Compare in appearance. The LS220B and the LS220 paint meter for cars are identical in shape and there is no difference.

Compare from parameters. The maximum measurement thickness of the two paint thickness gauge is 2000um, and the accuracy and resolution are the same.

From a functional comparison. The new paint meter for cars LS220B has a Bluetooth data transmission function than the LS220 paint thickness gauge. LS220B can be connected to the mobile phone APP.
When testing the thickness of the paint surface of the car, the test data can be saved on the mobile phone APP. The APP can record the paint thickness data of the 17 parts of the car, and each part can record up to 8 sets of data. After the test is complete, you can preview the test report on your phone and share it with others or print it down. Through the test report, we can compare the paint surface thickness of each part of the car with the paint surface thickness of the car roof to judge the repair of the car. This feature is very practical in the used car industry.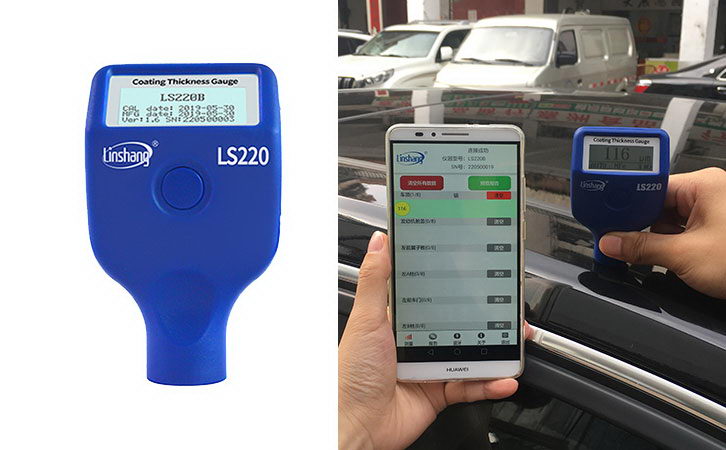 From the above introduction, it is not difficult to find that the biggest feature of the new LS220B paint meter for car is the addition of Bluetooth transmission function, which satisfies the customers' preference for data analysis and no longer relies on memory comparison data.
For more product information, please refer to "LS220B Bluetooth paint thickness gauge".