Sheen Gloss Meter Stability and Consistency
Time:2019/05/08 11:25:00 Browse:640
Only a sheen gloss meter with good stability can guarantee good consistency, and the accuracy of such glossmeters is not bad. Linshang sheen gloss meter has undergone a rigorous quality inspection process to ensure the stability and consistency of glossmeter data.
      As a professional glossiness measurement equipment, the sheen gloss meter has two important parameters which are the data stability and the consistency.
1. The Stability of Sheen Gloss Meter
The stability of the sheen gloss meter is good, which means that the data obtained by a user repeatedly testing the same sample using the same sheen gloss meter are stable. 
2. The Consistency of Sheen Gloss Meter
The consistency of sheen gloss meter refers to the data obtained by a user using multiple glossmeter of the same model to detect the same sample are stable. Only a sheen gloss meter with good data stability and good data consistency will have high glossiness measurement accuracy.
3. The Accuracy of Sheen Gloss Meter
If the data of a sheen gloss meter testing the same sample are quite different, it means that the accuracy of this glossmeter is very low. If multiple glossmeters of the same model are used to test the glossiness of the same sample, the greater the difference in data, the lower the accuracy of the measurement. It can be seen that the accuracy, stability and consistency of the sheen gloss meter are inseparable.
4. BYK Goss Meter and LS192 Sheen Gloss Meter 
Not only that, the glossiness measurement data of Linshang Technology LS192 sheen gloss meter is exactly the same as BYK gloss meter, and has the data statistics function, which can be used to detect the uniformity of gloss on the surface of the sample.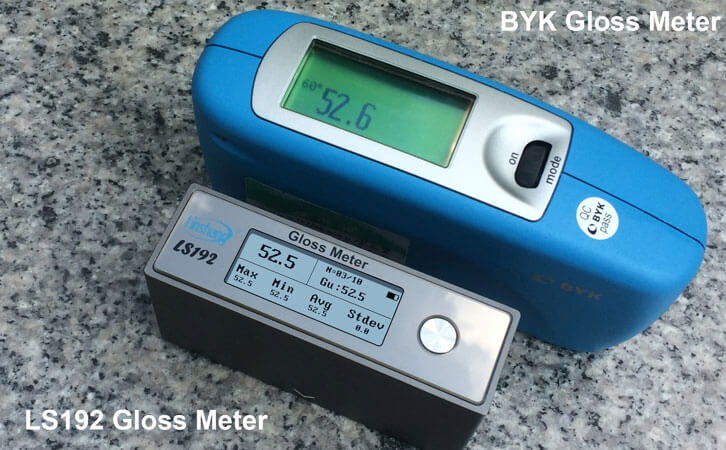 Linshang Gloss Meterand BYK Gloss Meter
As a professional manufacturer of sheen gloss meters, Linshang Technology offers two sheen gloss meters with high glossiness measurement accuracy and good data stability and consistency. Each glossmeter undergoes repeated quality checks after production to ensure data stability and consistency, and factory inspection reports are available.  More information about glossiness measurement principle and gloss meter selection, please refer to "How to Measure Gloss with A Gloss Meter?