Linshang Automotive Window Tint Meter LS110A
Time:2019/07/31 09:50:00 Browse:754
The Linshang automotive window tint meter for front windshield has a parallel light path design. Even when testing large thickness glass, the instrument data is still accurate. This is why more and more companies like 3M and Eastman chose to use the Automotive Window Tint Meter LS110A.
1. Why test the automotive front windshield?
The solar film has been existed on the market for many years. Some automotive window films are darker in color, and the infrared and ultraviolet rays blocking properties is very good, but the light transmittance is very low. This kind of solar film undoubtedly brings certain risks to driving.
    At present, the industry stipulates that the transmittance of automotive front windshield cannot be lower than 70%, so we need to judge the thermal insulation performance and light transmittance of the automotive front windshield of the automobile.
2. What kind of instrument can test the front windshield of the car?
Light transmittance, ultraviolet, and infrared blocking rate are three parameters necessary for the optical performance of automotive films. We can use the window tint meter for testing automotive film and film glass, but we must use a split automotive window tint meter for testing the front windshield.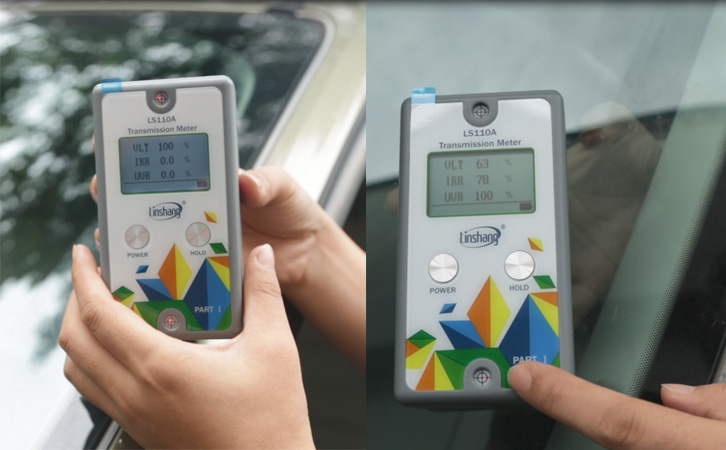 The LS110A automotive window tint meter is specially designed to test the front windshield of the car. The instrument can simultaneously test the light transmittance of the car, as well as the infrared blocking rate and the ultraviolet blocking rate.
3. Features of the automotive window tint meter
With parallel optical path design, testing large thickness glass can still ensure the accuracy of the data.

Powered by a rechargeable lithium battery, the main and auxiliary units of the instrument can be charged using a charging cable.

Large screen display, simple operation.
Of course, in addition to these characteristics, Linshang Technology's accumulated experience and reputation in the window tint meter industry is also the reason why many companies choose Linshang automotive window tint meter.