Gloss Meter BYK
Time:2019/10/10 15:55:00 Browse:665
The gloss meter BYK in Germany is superior in the whole gloss meter industry. Today we will give a brief introduction to the gloss meter BYK. Gloss meter BYK is mainly divided into the following categories: single angle, three angles.
1. Single angle gloss meter BYK  
Gloss meter BYK has many angles such as 20 degree, 45 degree, 60 degree, 75 degree, 85 degree. Below are some technical parameters:

Byk gloss meter has a wider range of optical path, so the application fields is wider than the other brands of gloss meter on the market. It can test materials such as paint, plastic, film paper, metal surface. Its unique performance and advantages become the standard for gloss measurement industry. The design is small and convenient and the built-in unique standard board can check whether the standard board is clean or not. It also has bluetooth function.
2. Tri-angle gloss meter BYK
The gloss meter BYK has three models of three angle products, the specific technical parameters are as below: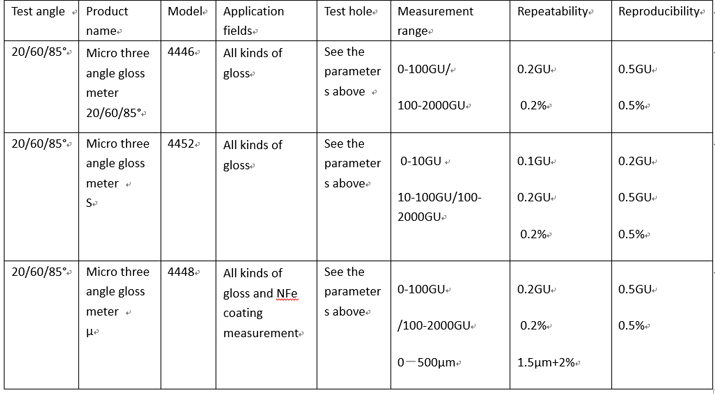 The gloss meter BYK is suitable for any application due to its wide variety of product models. This product can measure the gloss of any material - paint, plastic, high-emission metal. Its maximum measurement range can be up to 2000 GU, ensuring consistently reliable results. The gloss meter byk is in compliance with international standards and approved by DIN standards. 
    The gloss meter byk is widely used and the measurement angle is more accurate. Therefore, the price ranges from ten thousand-thirty thousand RMB. Users can choose the gloss meter that suits their needs according to their own needs.
3. Linshang 60 degree gloss meter
       As a professional gloss meter manufacturer, Linshang Technology has independently developed two 60-degree universal glossmeters, which are suitable for measuring the glossiness of various materials.  The product information is as follows:
Ultra-small design
LS191 gloss meter range:1000GU
LS192 gloss meter range:200GU
High accuracy
Self-diagnosis function
       Linshang portable gloss meter can be used for the surface gloss test of paints, coatings, inks, plastics, paper, tiles, ceramics, stone, metal and electroplated products. The gloss meter measurement range can be up to 1000GU. Gloss meter of small range (200GU) can also be your choice. The test data can be comparable to the German BYK gloss tester. For more information about the gloss meter, please refer to "Application of Gloss Meter in Enamel Industry".