Linshang Paint Thickness Tester Product Profile and Features
Time:2019/11/06 14:29:00 Browse:470
The Linshang paint thickness tester mainly has five products: LS220\LS220B\LS220H\LS221\LS223, which have their own characteristics.Among them, LS220 and LS220B coating thickness gauges, also known as paint thickness testers, are mainly used in the used car industry with a range of 0-2000μm.It is mainly used to help evaluate whether the car has been painted with sheet metal by measuring the car paint surface thickness. Thereby assessing the price of a used car.
Both the LS220 and LS22B are integrated design.The biggest difference is that the LS220 can only measure the car paint surface thickness in a single pass. The LS220B has a Bluetooth function and is equipped with a mobile phone APP,which can measure 17 positions of the car body and generate the test report.
The LS220H paint thickness tester is also an integrated design of the main unit probe.This paint thickness tester can be used in automotive evaluation,shipbuilding,aerospace,steel and other industries.This tester has a wider range of applications.

The LS221 paint thickness tester has a separate design.The probe is compact for use in narrow spaces.This paint thickness tester has a negative display function to ensure the accuracy of the zero point calibration of the instrument and improve the test accuracy. And the tester has a micro-power design,it consumes less than 0.01 micro amps of current in standby mode.

The LS223 paint thickness tester is also a separate design.This paint thickness tester is equipped with two probes,F3N3 and F5N3.The ranges are 0-3000μm and 0-5000μm,respectively. This large-scale process is mainly used in the industries of anti-corrosion and fire prevention.Users can choose the probe that suits them according to their actual situation.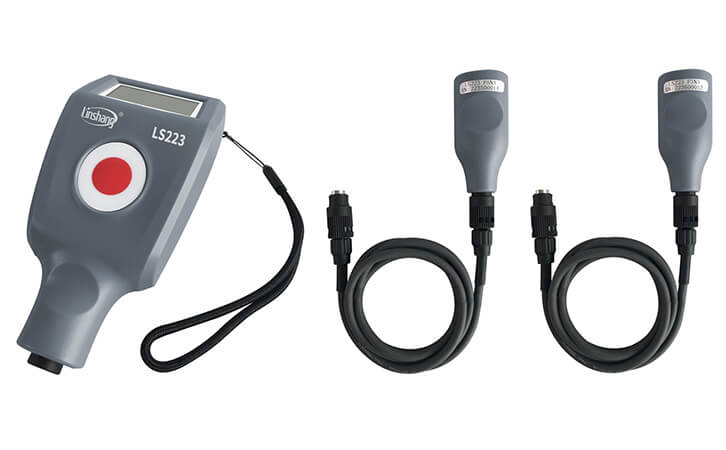 In summary,the Linshang paint thickness tester has the following characteristics:
The paint thickness tester adopt the magnetic method and eddy current method with non-destructive measurement.It can automatically identify magnetic or non-magnetic substrates.With 0.5s fast automatic conversion,high sensitivity and fast response.

Use of advanced digital probes which can ensure that the zero position is stable for a long time without drift.There is no need to frequently make zero adjustment.Moreover,the probe is made of ruby material,which is not easy to wear and prolongs the service life.

With temperature compensation function.It can ensure that the instrument can be used in different temperature environments.The body is small,convenient and the design is simple.
The Linshang paint thickness tester is precisely due to the above advantages and the cost-effective products.We hope the Linshang paint thickness tester will bring you more convenience in coating thickness measurement.