Linshang High-Precision Coating Thickness Gauge
Time:2019/12/16 13:56:00 Browse:492
Linshang high-precision coating thickness gauge can be used for automotive paint film thickness detection, plating layer, fire and anticorrosive coating thickness detection. The Linshang coating thickness gauge has small size and simple operation. It is a dual-use instruemtn for both iron and aluminum. The test takes only 0.5 seconds. The instrument is widely used in automotive evaluation, shipbuilding, aerospace and other fields. Linshang inspection instrument has excellent quality, reasonable price and excellent after-sales service.
      Linshang LS223 coating thickness gauge + F5N3 probe is an instrument that separates the host from the probe. The maximum measuring range of the probe is 5000 μm. It can automatically identify the measuring substrate. This coating thickness gauge is widely used in the fields of hardware manufacturing, shipbuilding, aerospace and mechanical equipment evaluation. It is especially suitable for large thickness coating inspection.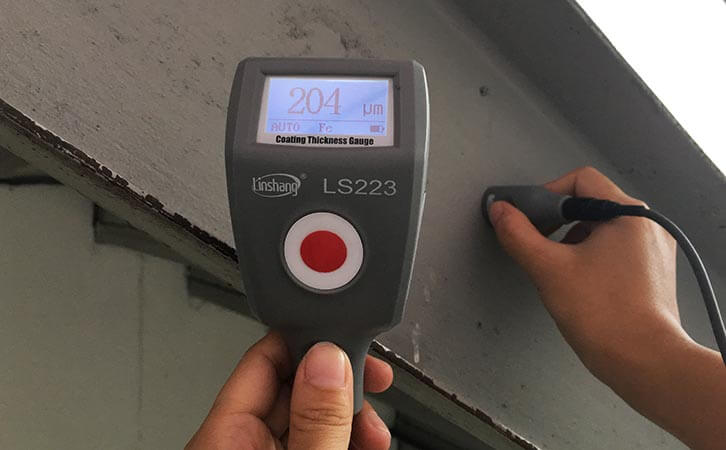 Linshang high precision coating thickness gauge LS223 has the following eight characteristics:
     1. Use of real ruby probe, which has a strong resistance to corrosion and abrasion.
     2. The probe can automatically identify the measurement substrate and can be quickly and automatically converted.
     3. No calibration is required, only zero adjustment is needed. One button is extremely easy to operate.
     4. Ultra-long range testing. The measurement range can be up to 5mm.
     5. The instrument has a temperature compensation function and an analog signal terminal digitization function, which can make the sensor signal of the coating thickness gauge more stable. The test accuracy of the instrument is not affected in the case of large temperature changes.
     6. It adopts advanced digital probe technology to provide good measurement accuracy and measurement repeatability to ensure that it passes the Chinese national measurement. The Linshang LS223 test data can be compared with the test data of imported coating thickness gauges from abroad.
     7. The instrument has three measurement modes and two switching functions: iron-based (Fe) measurement mode, non-ferrous-based (NFe) measurement mode and automatic identification (Fe / NFe) measurement mode, Chinese and English switching function and unit switching function.
     8.  The host and probe of the coating thickness gauge adopt a separate design. The host of the LS223 coating thickness gauge can freely switch the different measurement range of 3mm and 5mm.
      Linshang provides excellent after-sales service for high-precision coating thickness gauge. The warranty period of the LS223 coating thickness gauge is one year. If the instrument fails, the user can send the entire set of equipment to our company for repair. Provide long-term spare parts, life-long maintenance services , free instrument inspection services and long-term free technical support.
      Linshang specializes in the production and sale of various high-precision coating thickness gauges, creating its own brand with high scientific and technological content, excellent quality, high cost performance and market competitiveness. Since its establishment in June 2008, it has been continuously committed to continuous innovation and improvement of products and management. Linshang achieved sustainable development with high-quality products and timely and good pre-sales and after-sales service.