Difference between New Infrared Power Meter and Old IR Power Meter
Time:2019/03/29 14:48:00 Browse:720
Linshang Technology LS122 IR power meter, also called Energy Receiver. This instrument has two main functions: testing material's infrared rejection rate and demonstrating material's insulation effect.       
The LS122 IR irradiance meter is mainly used in construction, automotive insulation film, insulating glass, optical laboratory and other fields. Used to measure the radiant power density of infrared rays in various light sources, that is, the radiant energy per square meter, the unit is watt/Square meter (W/cm2), the data is intuitive and easy to understand. The business conception of Linshang technology is "Quality Innovation Concentration Integrity", to meet customers' demand, the instrument has been made the following adjustments:
The original operation button of the infrared "100%" change to "0%", we can read the infrared rejection rate directly, no longer need to calculate anymore. 

Compared with the old version IR power meter, the left-hand corner of the screen will display the "infrared rejection rate" words, used to distinguish the old version and the new version.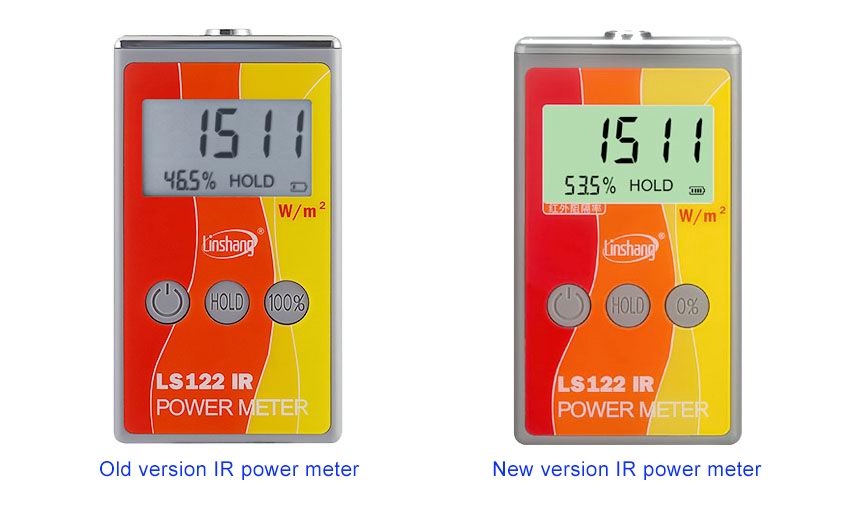 The LS122 IR irradiance meter is an indispensable instrument in the solar film testing equipment. More and more popular among the vast number of customers, many times it was sold out. We are very grateful for the new and old customers' recognition to us Linshang Technology, we will also improve our production efficiency, so that more customers can enjoy the convenience brought by our products.