Light Transmission Meter for Different Materials
Time:2019/10/12 10:36:00 Browse:593
As a professional testing equipment for detecting the transmittance of materials, the light transmission meter is widely used in various industries such as glass, plastic, translucent materials, glasses and mobile phone lenses. [Linshang] As a professional light transmission meter supplier, we provide you with information on the light transmission meter online direct sales, price, principle so as to provide a comprehensive reference for your purchase of light transmission meter.
   1. Linshang LS116 high precision light transmission meter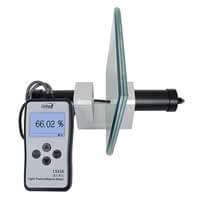 Mainly used for the detection of light transmittance of glass products. The instrument uses a white light source that complies with the CIE photopic luminosity function standard and the parallel light path design makes the accuracy of this light transmission meter reach within ±1%. It can be said that it is the most accurate portable high-precision light transmission meter on the market.
● Simple operation method, fast measurement and the resolution is up to 0.001%.
●  Two test methods: fixed seat measurement and on-site measurement (the probe has its own magnetic force and the probe can be taken off to test larger size materials).
● High precision, the tested material thickness can be up to 100mm.
●  Pass the inspection by the Chinese National Metrology Institute.
● Price: $292
---
2. Linshang LS117 light transmission meter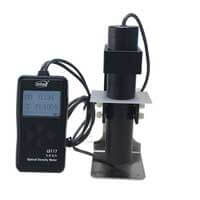 The Linshang LS117 light transmission meter is also called the optical density meter. It is an instrument for detecting the transmittance of translucent materials such as white, matte and fog. The instrument adopts the diffuse transmission principle which almost equal to the effect of integrating sphere. It is also an optical density meter suitable for film film, aluminized film and other materials.
●  The light source complies with the CIE photopic luminosity standard and ensures to pass the inspection of Chinese national measurement.
●  Suitable for light transmittance test of frosted glass, milky white acrylic and other materials.
● Transmittance measurement accuracy: ±1% (0% --- 50%), ±2% (50% --- 100%)
●  Transmittance resolution: 0.0005% (0% --- 10%), 0.005% (10% --- 100%)
●  Optical density measurement accuracy: ±0.02 (0 --- 2.00 OD), ±2% (2.00 --- 6.00 OD)
● Price: $550
---
3. Linshang LS110 split type light transmission meter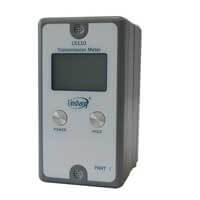 The Linshang LS110 is called the split-type light transmission meter because the instrument consists of two parts: the main unit and the auxiliary unit. There is a strong magnetic force between the main unit and the auxiliary unit, which can be automatically sucked together. Due to this special structural design, this instrument is especially suitable for the glass transmittance detection of the installed front glass and curtain wall glass. Because the light transmittance of the front windshield of the car has national standards, this LS110 split light transmission meter is widely used in vehicle inspection stations, vehicle management offices, traffic police brigades and other institutions.
●  Wireless split design, large LCD display.
●  Light source: 380nm - 760nm full wavelength, in line with CIE photopic luminosity standard
●  Measurement accuracy: better than ± 2% (colorless uniform light-transmitting material)
●  Power supply: rechargeable lithium battery 
●  Price: $292
---
4. Linshang LS108A/LS108D mobile phone lens light transmission meter

     The LS108A and LS108D lens light transmission meters are instruments used for cell phone lens transmittance testing. One instrument has two infrared bands at the same time: 850 nm and 940 nm. There is also visible light 550nm. It is especially suitable for the detection of the mobile phones photosensitive aperture transmittance. The detection of the infrared transmittance of the distance from the sensor aperture (IR aperture). The difference between the LS108A and LS108D mobile lens light transmission meters is: the test aperture of the LS108A is 1mm and the test aperture of the LS108D is 0.5mm.
●  With ultra-small test aperture, it is suitable for IR hole detection of various mobile phone lenses on the market.
●  Equipped with the fixed bracket and computer software, which is convenient for the quantity statistics in the batch inspection on the production line, as well as the determination of pass and fail to help improve production efficiency.
●  Measurement accuracy: better than ± 2% (colorless uniform light-transmitting material)
●  Resolution: 0.1%
●  Power supply: 5V adapter or 5V mobile power
●  Price: LS108A ($190), LS108D ($380)
---
5. Linshang LS108H desktop light transmission meter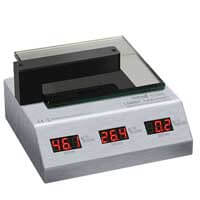 This is a general-purpose desktop light transmission meter that can simultaneously detect three wavelengths, namely visible light 550nm, infrared 940nm, and ultraviolet 365nm. The operation procedure of this light transmission meter is very simple. The instrument is designed with a flat tabletop for easy placement of test samples. The test aperture is only 3mm, which is especially suitable for the transmittance detection of small-sized plastic materials. The key parameters are as follows:
●  Measurement accuracy: better than ± 2% (colorless uniform light-transmitting material)
●  Resolution: 0.1%
●  Minimum test object size: ¢ 3mm
●  Power supply: 5V adapter or 5V mobile power
●  Price: $350
---
6. Linshang LS108 spectacle lens light transmission meter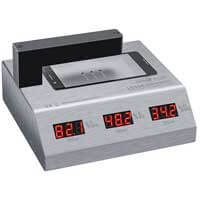 It is called the spectacle lens light transmission meter because the instrument is specially designed for the testing needs of spectacle lenses. Spectacle lenses require very high light transmission and most of the spectacle lenses now claim to have an anti-blue light effect. The test parameters of this LS108 are: 550nm transmittance, 395nm violet transmittance, 430nm blue transmittance. Therefore, it is especially suitable for the detection of anti-blue light and anti-violet effects of materials such as spectacle lenses.
●  Three parameters are tested at the same time to quickly detect the anti-blue effect of the glasses.
● Measurement accuracy: better than ± 2% (colorless uniform light-transmitting material)
●  Power supply: 5V adapter or 5V mobile power
●  Price: $350
---
7. Linshang LS183 light transmission meter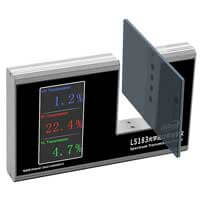 LS183 is a light transmission meter for infrared, ultraviolet, and visible light transmittance detection of flat materials such as film, PMMA and PC. The instrument adopts a parallel optical path design and the light source complies with the CIE photopic luminosity standard, ensure to pass the inspection of Chinese national metrology..
●  It has three display interfaces: Chinese, English and graphics. Three modes can be switched at will. The readings are simple and easy to understand.
●  Light source: 380nm - 760nm full wavelength, in line with CIE photopic luminosity standard
●  Measurement accuracy: better than ± 2% (colorless uniform light-transmitting material)
●  Power supply: 5V adapter or 5V mobile power
●  Price: $220
     In addition to the above seven portable light transmission meters, Linshang Technology can also customize the online transmittance test instrument for monitoring visible light, ultraviolet light and infrared light transmittance. Hope that the above introduction can help you find a suitable light transmission meter .