Use Linshang Gloss Tester to Measure Gloss
Time:2020/01/07 14:37:00 Browse:399
What are the unique advantages of the Linshang gloss tester?
Linshang Technology is a Chinese national brand. Since its establishment in 2008, the company has insisted on independent design, research and development, production and sales of various measuring instruments. It is popular with consumers for its good quality, high cost performance. Linshang provide thoughtful after-sales service which is well received by the industry. The LSI92 gloss tester (also called gloss checker),developed by Linshang Technology is the company's star product.
1. Powerful and wide application
Linshang LSI92 gloss tester is a high-precision, miniaturized gloss meter manufactured in accordance with ISO-2813 standard. It is suitable for mirror gloss of coatings, paints, inks, plastics, stone, flooring, wooden furniture surfaces measuring. It is a gloss meter produced in accordance with the national inspection regulations JJG 696-2002 "Mirror Gloss Meter and Gloss Board". All indicators meet the requirements of the first-class working machine in the metrological inspection regulations.
2.  Simple operation and accurate data
Linshang LSI92 gloss tester only needs to power on, calibrate and measure in three steps (without preheating and zero adjustment) to complete the gloss measurement. And the measurement can display real-time value, maximum value, minimum value, average value, standard deviation value, mean square values at the same time. The result is intuitive and the measurement data can reach 99 groups. At the same time, in order to enhance the user experience, the Linshang LSI92 gloss meter supports USB transmission and can be operated online to complete the test report.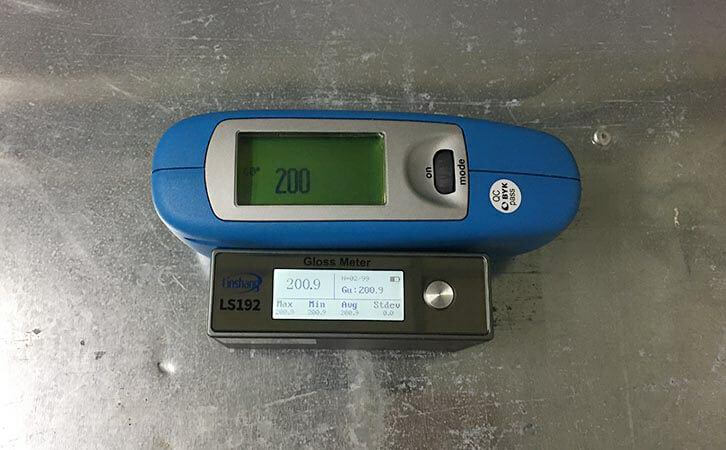 The high accuracy of the Linshang LS192 gloss tester can ensure that it can pass the testing of any Chinese authoritative metrology institute. There is no gap with the test data of imported German BYK gloss meter. The surface gloss data of coatings, paints, inks, plastics, stone, flooring, wooden furniture and other materials can be measured by the LS192 gloss meter. The instrument can ensure that the zero value error is 0.1GU; the value error is 0-100GU : ± 1.5GU; 100-1000GU: ± 1.5% degree.
3.  Small size and thoughtful after-sales service
First of all, Linshang LSI92 gloss tester adopts ultra-small design, which can be carried around and measured in real time. Secondly, it can be used continuously for 48 hours on a single charge to protect your long-term work. Finally, this product pays attention to after-sales service. The product warranty period is one year. It can be returned without reason within one month( the returned product can be used for second sales). It can provide spare parts and technical support and maintenance services for free for a long time to fully protect the vital interests of users.